Dedolights studio lighting.
You may get better results with studio lighting made especially for high-end digital scanning cameras such as Better Light or PhaseOne.
This comparative review discusses pros and cons of Dedolights and introduces an alternative, Sun Spots by North Light Products. Sun Spots are an exclusive of Calumet (and Calumet Digital Solutions),calumetphoto.com, tel 1 888 888 9083.
For twenty years I was perfectly content using basic portable studio lighting. Then I learned about Dedolights. At first their high cost cooled my ardor but once I tried one I kept buying more. I now have two complete sets (each of four Dedolights), one stationed in Germany (since I do lots of photography in Europe) and another case full of Dedolights in whatever country in the Americas that I am currently working in (Guatemala at the moment).
But if you are getting flimmer and fluctuation in your lighting (noticeable on your large format digital images as vertical gray lines) then you may need a constant voltage power conditioner. Sola makes recommended units. You may also need to change some of your lights to avoid potential digital disturbance.
After noting that some models of Dedolights may have caused black lines across our digital photographs I began looking around for studio lighting that was better suited to high end digital scanning backs. Michael Collette recommended I try Sun Spots from North Light. Test and review will be upcoming later this year.
The North Lights have now arrived and we will test them in our next photography season. Before the North Light Sun Spots arrived we continued to use and evaluate the Dedolights. Dedolights come in two basic kinds, with built-in electrical adapter (very expensive but necessary for digital photograph) or another model (the kind we have) powered by a multi-light transformer unit (more economical if you have several lights, since up to four can operate from the same power transformer). But our transformer system may possibly have caused defects in high-end digital photographs. I found it helps to have at least one of the independent units if you have to carry just one, though I find Dedolights so useful I usually have five with me at all times. Either the local electricity or the transformer was also causing the lamps to blow out when turned to 3400 degrees K.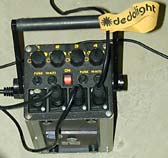 This is the transformer unit that is good for using with traditional film. This is also the unit to consider avoiding with digital photography, as it may cause digital banding.
I have the 12-volt series. Recently Dedo Weigert has come out with the more powerful 24-volt system.
When I just visited Munich, Germany, and spoke with Dedo Weigert on the phone. He said that his company recommends his Dedolight system with the transformer-on-board as more appropriate to use with digital cameras.
The present generation of digital cameras do not like any electrical interference. Certain classes of lamps and equipment can cause lines in the images. As soon as the transformer-on-board lamps are sent to us for evaluation, we will test the new "Dedo Digital" system and report our results.
Otherwise I have found that Dedolights tempting despite their high cost. With Dedolights I can illuminate art objects in a manner that other photographers cannot achieve. Once, in Munich, I competed against another professional photographer. In the end I got the assignment (even though I ask a fee twice that of the other photographer) because my lighting did the job better. It was Dedolights that won me this contract, indeed I bought an entire suitcase full of additional Dedolights with the profits.
The features about the Dedolights that I like the most are the framing shutters, the iris and the essential projection attachment. Changing the bulbs is easy. They hardly ever burn out unless your transformer zaps them (especially if you turn them on to their highest power suddenly).
Dedo Weigert Film GmbH, Rottmannstrasse 5, Munich, Germany. In America you can get them from Visual Departures.
Coming soon: we will be showing specific studio setups where Dedolights are employed in real-life situations.
For traditional photography we find Dedolights are essential. We have eight of them, and recommend them for their portable nature.
If you need a reliable source for professional camera and studio equipment, Calumet Photographic/Calumet Digital Solutions has everything. Besides, you can talk to them about the latest digital photography technology and get friendly information on what is the most practical equipment for your needs. Contact George Zimmerman, e-mail george@calumetdigital.com, tel (888) 237- 2022.
Comparison with NorthLights added Feb. 25, 2000.
Updated Nov. 4, 1999; links added Jan 23, 2000, Design updated April 9, 2001.