BetterLight scanning back, review at various tradeshows.
The BetterLight digital camera won the highest award for photographic quality, judged better than PhaseOne at the recent international photography trade show in Las Vegas.
The PMA photography trade show has a category for high-end professional large format digital cameras (CCD scanning backs). Cameras in this class are the Mack trucks and Rolls Royce of the professional studio cameras. The BetterLight scanning back won highest honors, beating out PhaseOne (which came in last!).
These snapshots of the display on the trade show wall do not do full justice to the pictures, but basically the PhaseOne came out too dark (above right, lost detail in the shadows). The Better Light came out, well, better (# 22 in both pictures; the PhaseOne result is the excessively dark one, # 20).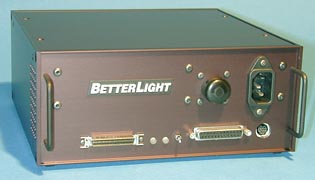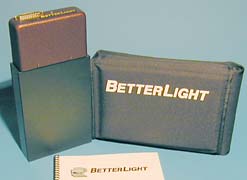 Here is the Better Light model Super 6000 CCD scanning back for large format cameras (we use a Cambo Ultima 4x5 camera, which replaces a Sinar X). Calumet just sent the Better Light, North Light Sun Spots, and the Cambo Ultima 4x5 camera to FLAAR. For our opinion. We will be testing and evaluating this equipment all year (after all, what good is a 30-day review? Don't you want your camera to last more than 30 days!). We tested the prototype model of the Better Light for two years, and the Better Light never stopped, never failed the entire grueling period (test was under extreme tropical conditions in Guatemala and Honduras; the Better Light system even survived constant fallout from major volcanic eruptions outside our test studio in Central America).
Contact is Mike Collete at info@betterlight.com
First posted Feb. 25, 2000; last updated Aug. 5, 2001
Design updated 03/07/2008.