Which digital camera to buy? Medium format or 35mm SLR?
We are currently using a Nikon D100, Kodak SLR/c, Leaf Valeo 22 wireless, a BetterLight digital back, and an 80-megapixel Cruse digital camera (yes, that is not a typographical error, it is eighty megapixels…and sells for about $75,000). Companies all over the US send us their paintings and artwork for us to photograph with this fabulous camera. The resulting photographs are printed and sold as giclee.
We have prior experience with a Nikon D1x and a MegaVision 6 megapixel on a Hasselblad, and comparing and contrasting their output with a Nikon D100. Prior to that we tested a Kodak Pro Back Plus on a Hasselblad and have interviewed other users of the Kodak Pro Back 645.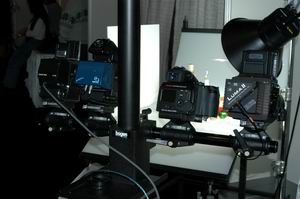 Camera comparison at a PMA tradeshow
Two of the medium format companies report their sales collapsed last year as most buyers went for the Fuji S2 Pro and Nikon D100, and then for the new full-frame13 megapixel Kodak 35mm SLR or Canon 35mm full frame. Trouble was that the full-frame CMOS cameras produced lots of noise and did not fare well at ISO of 400 or higher.
What has saved medium format from further demise was the advent of the 22 megapixel Kodak and then the 22 megapixel Dalsa chip. The 20 megapixel Fuji chip for their medium format back turned out to be vaporware.
Reports indicate that sales of medium format cameras picked up in recent months. During this period FLAAR has issued seven reports already on medium format digital photography, on nature photography, architectural photography with medium format, fine art photography for giclee, and many more subjects.
These FLAAR Reports are part of his "Medium Format Digital Iniatiative." You can acquire these reports on our download page.
Now, in 2005, the Canon EOS 1Ds Mark II offers close to 17 megabyes with 35mm size. Here is where it helps to have an independent voice to separate fact from fiction.
Since over 20,000 photographers a month read the FLAAR reports, we work hard gathering information about medium format compared with 35mm SLR at one end, and with large format tri-linear scanning cameras at the other end (we have two BetterLight scan backs).
If you own, or are thinking of buying a Hasselblad, Mamiya, 645 AF or Contax 645, or a PhaseOne, Imacon, Jenoptik EyeLike, MegaVision, Kodak Pro Back Plus or 645, you can count on pithy commentary. Nicholas lives in Cologne, Germany, so gathers abundant data from Photokina. He attends each PMA, PhotoPlus and other pertinent tradeshows.
Medium Format Digital Camera Initiative
Now 30 years of photography experience is available in the FLAAR course on digital photography. Several of the course units cover medium format, cover 35mm SLR, and large format digital photography. Dr Hellmuth has been a beta tester for BetterLight scanning backs for many years now. Nicholas is now doing extensive evaluation of the Leaf Valeo 22, the forerunner of the (Creo) Leaf Aptus.
Professor Hellmuth taught his advanced digital photography course for art conservation and museum photography via satellite video from the University of Malta. The purpose of this broadcast is to let photographers in other countries see precisely which equipment Nicholas has selected from his experience as the best for a museum, university, or photo studio to purchase.
The course also covers lighting, setting up your digital studio and everything else. We discuss HMI, tungsten (such as Lowel), fluorescent (such as Videssence and Balcar), ceramic discharge ( HID, CDM) lighting: which is best for which kinds of digital photography.
Most recently updated December 1, 2004.
Previously updated July 3, 2003. Posted March 18, 2003.