Videssence SRGB fluorescent lighting.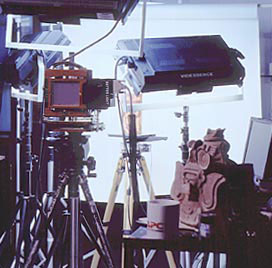 Maya vase on the rollout turntable. A Tiquisate incensario is waiting to be photographed (not rolled out of course). Museo Popol Vuh, Francisco Marroquin University.
View of the actual 4x5 large format professional digital photography equipment used in the FLAAR studio to do turntable rollout photography of Maya polychrome vases of Guatemala. This is the equipment we used in 1999.
The main advantage of the Videssence lights are that they are cool.
The sophisticated color management software of the BetterLight digital camera can accommodate any light source(s), fluorescent, tungsten, daylight--or mixed together!
With traditional film you could never take a picture with normal film with tungsten lights mixed with fluorescent lights, and pesky sunlight streaming through holes in the window shields. Now you can.
Although we started out with Videssence lighting, today we have upgraded to Balcar fluorescent lighting. The Balcar lights have better reflectors than the year-1999 Videssence lights.
Photographer Nicholas Hellmuth has just returned from 6 days at Photokina trade show in Cologne, Germany, and then attended 3 days at PhotoPlus trade show in New York. If you seek the latest information on what's new in photography equipment and digital cameras, then you ought to sign-up for his on-line Internet course of digital photography . You can take this course in the comfort of your home or office.
The long range goal of FLAAR is to provide reviews on all lighting technologies based on personal experience of actually having used these lights. FLAAR is a trusted source of factual feedback that openly discusses the pros and cons of each kind of lighting.
Strobe lighting (such as Photogenic or Elinchrome)
Flash lighting
Lighting modifiers (softboxes, reflectors)
Fluorescent lighting for digital photography ( Videssence and Balcar)
Ceramic discharge (CD, HID), a cooler and less costly form of HMI lights.
HMI lighting.
Balcar fluorescent lighting.

Click to enlarge. Nicholas Hellmuth with the FLAAR photographic equipment during the shooting session at La Ruta Maya Foundation.
Most recently updated, February 8, 2010.
First posted March 14, 1999.
Design updated 23/4/2008.