Lamps, the overlooked essentials in studio photography.
Professional quality digital photography requires lots of light. If you do indoor digital photography this means you need powerful lamps. Whereas most professional studio photographers used strobes, the advent of digital photography with linear arrays has brought back the utilization of tungsten lighting (digital cameras with area arrays can be done with strobe).
If you, your camera, or your subject cannot stand the heat, then you need cool lights, such as Videssence.
If you prefer hot lights, you can try out the Lowel DP series. They provide more than enough light for scanning cameras. We did not notice any banding from these lights either.
If you want some of the best features of hot and cold lighting, try HMI (if you have the budget). We recommend LTM (famous for their Peppers). Be sure to get HMI lighting with electronic ballast. Earlier forms of ballast cause electrical interference with the scanning cameras (and produce lines on your images as a result).
For years, indeed decades, I bought my bulbs wherever I happened to be. Recently I learned about a company named BulbMan. I get the impression this is the largest distributor of photographic lamps in the world (bulbs are called lamps, not the fixture, but what non-photographers call light bulbs).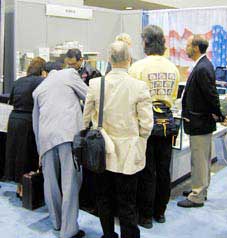 BulbMan headquarters is located in Reno, Nevada (zip 89502). They have offices all over the United States now. A pleasant lady in Miami provided me an introduction to their company office in that city, and subsequently I spoke with Jerry Roth, President. I recently visited their booth at PMA trade show in Las Vegas. As you can see, their booth was very popular. People seem to like their reasonable prices.

So the next time you need a lamp for your photo lights, now you know where to turn,
bulbman.com,
Contact:
telephone: (800) 648-1163
Fax: (800) 548-6216
fax if you are faxing from a foreign country: (775) 788-5657
e-mail: bulbman@mindspring.com
Customer Service: service@bulbman.com
Tips
Never touch a professional lamp (bulb) with your fingers. Finger oil on the surface of the glass will cause the lamp to burst at this point (in the future, not at the moment you touch it). Always use a paper or cloth to hold the lamp.
Do not use the bulbs too long, the color temperature will decline and your pictures will not turn out properly colored.
Bulbs can explode unexpectedly, so it is best to have a screen on the front of your lights. Some museums require that your lamps have a glass shield. But in 27 years of using tungsten lamps, they have explored only twice that I can remember.
Recommended studio lighting, Lowel-lights for floods, Dedolights for details. You will want several units of each kind of lighting to use together. If doing digital photography, however, be sure that the Dedolights you select are approved for digital photography. Not all of their models pass the muster for use with scanning backs. For normal photography with film, however, Dedolights are great.
Design updated June 9, 2008.
Feb. 25, 1999; links added April 22, 2000.