Which printer is the most cost-effective to produce beautiful exhibit-quality photos as well as signs, posters, and banners?
FLAAR currently has an Iris 3047 giclee printer, two 72" ColorSpan printers (DisplayMaker XII and Mach 12), effectively all current HP DesignJet printers (including two HP 5000ps, one at each university where we have a facility), several Epson printers, and a new Mimaki JV4. The experience with this range of both piezo and thermal printers allows us to document which printer also ought to be appropriate for your needs.
The Digital Imaging Resource Center is constantly studying current trends in digital printing. In addition to devouring all the trade magazines and attending the leading international trade shows, we also do our own digital photography and wide format printing.
Our reviews cover Europe, all Latin America, and naturally the USA.
If you need to do signs, posters, or banners, then four brands of printer are ideal, namely the trusty Hewlett-Packard DesignJet, (Western) Graphtek, the Encad, or the ColorSpan DisplayMaker. You might also like to try out the new wide format Canon bubblejet printer. Unfortunately the Canon BJ-W9000 can't offer long-lasting inks. To get all the details, just ask for the FLAAR Report on "Which Wide Format Printer is Best for Printing Signs, Posters, and Banners."
Why don't we list Epson, Roland, Mutoh, or Mimaki as options for signs, posters or banners? If you subscribe to the FLAAR Report-Series on Survival, you will find out why. Hint, piezo printheads are too slow for commercial sign shops. But if no one warns you about this, you might swallow the hype in their ads claiming fast speed. Amazing the illusions that Madison Avenue conjures up to sell inappropriate equipment. So it might be a good investment to obtain the FLAAR report series on signs, on photo-realistic printers, and especially on how to survive your purchase!
If you need to do fine art prints, giclee prints, or photographs for exhibits, then the best are from ColorSpan, Iris, Ixia. If you wish to get a giclee printer that costs less, you can always write and ask for our list of giclee printers that cost $7,000 to $25,000, instead of the $60,000+ of an Iris printer.
The Iris is costly and in any event the Iris Giclee printer is no longer made. It has been replaced by the Ixis from Improved Technologies (IT). We just obtained one; the legendary Iris giclee printer retrofited by IT, the Rolls Royce of printers. The Epson is far more reasonable cost but ink is expensive as is paper. Besides, you spend more on ink in a year than the entire cost of the printer. So your true cost is not the printer, but how much ink costs per liter (take the price per milliliter and translate it into the cost of a full liter. After you pass out from shock you will realize that the cheap price of the machine is just to entice you to be stuck buying expensive OEM ink.
ColorSpan is the industrial-strength wide format fine art printer which have been successful in the market for several years. We use our HP 5000 when we need pigmented output; we prefer the ColorSpan Mach 12 for eye-popping color in dye inks. For a thorough discussion of the pros and cons of each ink, FLAAR has a complete report on inkjet inks: part of the Report Series on Inks & Media for wide format printers.
What is the generic flaw of the new Epson 10600 printer and what are the flaws of the Roland printers? Again, all this is described in detail in the FLAAR Report-Series entitled "Survival," available via e-mail in Adobe Acrobat PDF format.
The illustration on this page shows a poster being produced to announce the new exhibit of Maya art at the Museo Popol Vuh on our university campus. Although this photograph shows the aging Encad, we actually used the HP 5000ps to print all our exhibits because its output quality is better than the Encad. We use these printers to evaluate media as well. Several reports are available on what paper to use for improved wide format prints.
If you are in a production environment, in other words, if you need to produce lots of prints every day, then avoid onboard RIPs because they are too slow. What is an onboard RIP and how does it differ from a hardware RIP or a software RIP?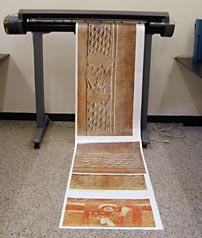 FLAAR has an entire Report-Series on RIP software. Some RIP software is slow; other brands are much faster. The FLAAR report indicates which is which.
Would you like us to assist you in figuring out which wide format printer to select?
Just fill out the Inquiry-Survey form. Please include enough information so we know what you need, how you intend to use it, whether you are new to wide format printers (most people are since these printers have only been around for a few years).
Depending on your needs, we will forward your e-mail to additional specialists in wide format printing where necessary (especially for people who want more facts on fine art prints (giclee printers), on archival inks, and special papers for fine art giclee prints).
No matter where in the world our review editor is at the moment, he will do his best to respond within 72 hours.
Our original entry into the wide format world was with an Encad NovaJetPro 36". This venerable printer is still in our office five years later. This trusy wide format printer is here shown still printing up to January 2000 in Guatemala, reproducing the photography of Nicholas Hellmuth at the Museo Popol Vuh and other archaeology museums in Central America. At the right, snapshot of a 7th century sculpture of a peccary (Museo Arqueologico, Hotel Casa Santo Domingo, Antigua). Downside is that the Encad requires a full-time in-house technician to keep the heads unclogged and the ink lines flowing. Newer models of Encad are improved but we long ago switched to Hewlett-Packard DesignJet printers. These are easier to use and also offer better quality than any Encad. Indeed our Encad finally clogged up totally. Encad did not answer our request for spare parts (probably Encad is still in turmoil from its collapse and partial rescue by being bought by Kodak). Now we use HP DesignJet 5000ps printers since they don't clog as frequently.
Since FLAAR. does professional digital photography worldwide it takes lots of storage to hold all the images. How can we store all these digital photographs? DVD-RAM?
Last updated Oct. 26, 2002
Design updated July 08, 2008.