Photokina will be a nice place to reveal the new HP Z3200, with better red ink.
Has 69 ml ink cartridges, which are kind of small for what should be a serious printer. But also has 130 ml cartridges. Ironic that Epson finally realized these small cartridges were not a good idea; the Epson 7900 and Epson 9900 now offer larger size ink containers (whew, at last).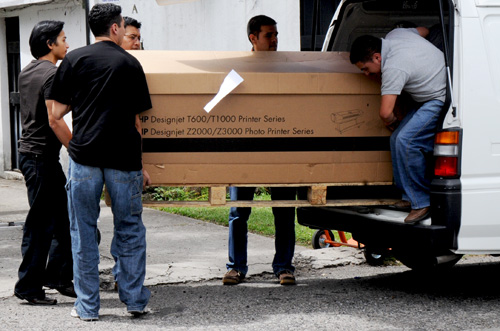 HP Designjet Z3200ps photo printer arrives at FLAAR (mid-October 2009) for evaluation for giclee, decor, and fine art photography.
Every several years there is either a new Canon iPF printer or a new Epson or a new HP water-based printer. It is hard to keep track of the advances in inks and color management features. FLAAR is keeping track by visiting printshops around the world that have these various brands. Each brand has its good points and a few issues and an occasional deficiency.
The HP Designjet Z3200 large format printer at Photokina 2008.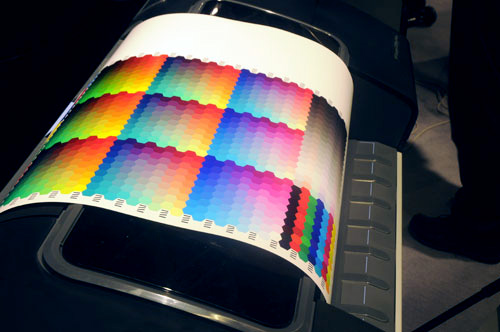 Sample printed by the new HP Designjet Z3200 printer.
The advantage of a place that offers both Epson, HP, and Epson is that they can provide some tips on the differences. If a store sells only one brand or the other, they will understandably push the brand they sell. One value-added retailer that we have visited several times is Parrot Digigraphic. They know each of the brands and models. Contact info is 978.670.7766.
HP Designjet Z3200 wide-format inkjet printer at Photokina 2008.
Samples printed by the HP Designjet Z3200 44-inch printer.
First posted September 9, 2008.
The complete FLAAR Reports are in full-color PDF format. Our institute has comprehensive FLAAR Reports on over 73 different wide format inkjet printers, RIP software, color management, scanners, digital cameras and on countless markets such as wide format inkjet printers for photography, giclee, proofing, CAD, GIS, graphic design, signs, and specialty applications too. All FLAAR Reports by Dr Nicholas Hellmuth and his team are available on Wide-format-printers.NET