FLAAR uses nik multimedia software in its digital imaging studios.
nik multimedia software is now Nik Software
The first time I saw nik multimedia software was at Photokina photography tradeshow in Germany. Then I then seeing nik multimedia products at several American trade shows. Their products looked great. At either CeBIT or DRUPA tradeshows in Europe we noticed that nik multimedia was inside the Epson booth. Epson would never allow anyone but the absolute best to exhibit inside their booth. Actually we suspect that some of the outstanding images being printed on the Epson printers had been tweaked with nik software.
So if you too want to stop people in their tracks with your photographs, at least check out nik multimedia software. In those years Nik was a German company, so you can count on made-in-Germany quality. They have offices in America so you can count on local service.In our course on digital photography we have a learning unit about "Software other than Photoshop" where we discuss nik multimedia products in more detail.
The one nik product we don't yet have is the nik penPalette with Wacom tablet. As soon as we have one to evaluate, we will update this page.
Nik Software been evolving over time and every time they offer more and better solutions for the improvement of digital photographs.
The interesting thing is that they unified the software interface to facilitate the use of them. In addition they are providing much more precise effects compared with a traditional sandard photo editing software.
Something that I think is great about the Nik Software is that they have a tool to select the area that you want to change and leave intact the areas hat you do not want change, in that way you can achieve amazing effects on the pictures which can hardly be achieved without these magnificent tools.
Our test software dates from so many years ago that it's hard to count. So we are going to look at the newer versions, since now we have an entirely new team of photographers and digital imagers at FLAAR. Out of our staff of 18+ employees at least nine or more have experience with graphic design, digital cameras, and digital imaging.
HDR EFEX PRO from Nik Software
Previously we used another excellent HDR software. So naturally we area curious how HDR EFEX PRO compares.
We do a lot of architectural photography, and you need the sunny portions and the dark shadow portions improved.
The observation I would make about results from HDR software made in the last four years is that the resulting photos look "sandy." They look like paintings. For some images the effect is wonderful, but for other themes I need an image which has balanced light via HDR but without changing the surface texture as other software's do.
SILVER EFEX PRO 2
I have been doing fine art photography since age 19, when I photographed vultures perching in leafless dead trees (the vultures needed dead trees so their wings would get sun and wind to dry off the gook from them excavating into dead animal carcasses.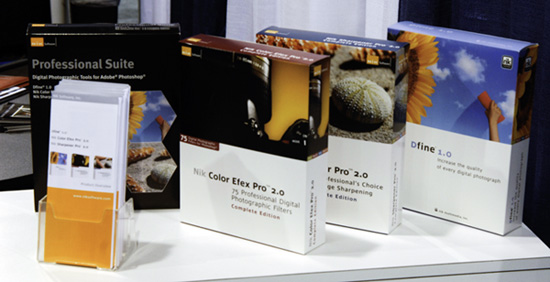 NIK software, PMA 2007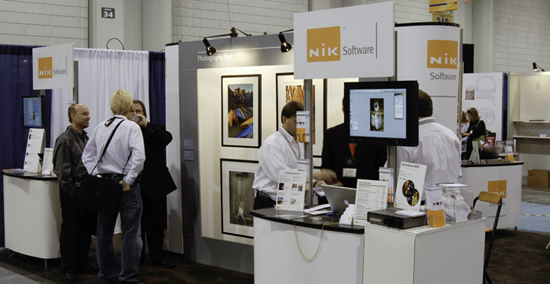 NIK software, PMA 2007
NIK software, PMA 2006
NIK Color Efex Pro 7, Photokina 2004
NIK Color Efex Pro, Photokina 2004
HP Artist Nikon giclee 397, Photokina 2008
Nik software, Photokina 2010
| | |
| --- | --- |
| | |
| Here are some pictures of nik software in our office. | This is a sample of the enhancements made by NIK and photoshop. |
Most recently updated January 6, 2012
First posted so long ago we don't have the original records.