FLAAR to initiate full-scale evaluation of Phase One P 45 and Hasselblad H2.
The Medium Format Digital Initiative of FLAAR is in full swing. We are currently finishing an evaluation of the Phase One P 30. The plans call for evaluating a P 45 from Phase One next (late July through August 2006).
Realize that we are relatively jaundiced. We have our third 48 megapixel BetterLight large format digital camera; just received the new upgrade to the Super 6K-HS. This arrived a few weeks ago and we flew it to Greece to test on the island of Lemnos. We also have an 80 Megapixel Cruse digital camera, a $75,000 digital camera of the kind you expect from German heavy industry. We use the Cruse to photograph paintings for subsequent giclee printing.
In 35mm we have a Canon EOS 5D, Kodak SLR/n, and a Nikon D100, and will shortly be upgrading to a Nikon D200.
The purpose of all of this is so when we offer our FLAAR Courses on digital photography that we can speak from experience about each and every size-class of digital camera (we also have a Nikon CoolPix and experience with Sony digital point-and-shoot cameras too).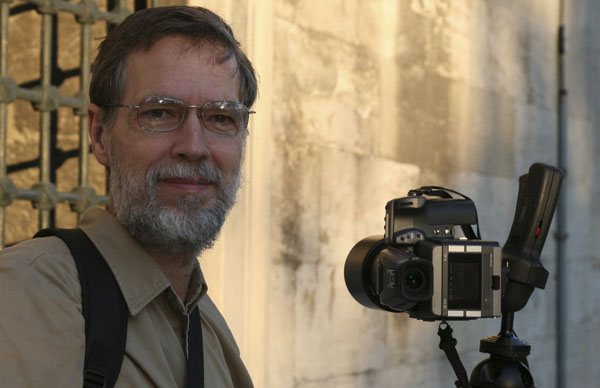 FLAAR specializes itself in the review and analysis of medium format digital back. In the image we can see Nicholas Hellmuth testing the Phase One P45 medium format digital back.
Applications for the Phase One P 45 that we can evaluate
We tend to do fine art digital photography, especially landscape photography and nature photography. We also photograph abandoned buildings, and rusted equipment: everything from rusted old cars to derelict factories. In past decades comparable fine art photography was accomplished with a Leica, Hasselblad, or 4x5 camera. Today cognoscenti use a medium format digital back or a large format scanning back (especially for panoramas). In the digital world a Leica, even a digital Leica, is a non-event.
Architectural photography has been an area where 8x10 and 4x5" film cameras still hold sway (we still have four 4x5 cameras and one 8x10 Linhof), but for ease of use a medium format digital camera is ideal. You can also utilize a large format camera but you may achieve better depth of field with a medium format solution.
We also use digital cameras to do scientific photography, especially of botany (ethno-botany of the Maya of Guatemala). An additional expertise of FLAAR is photography of art and artifacts, especially in museums.
Applications for medium format digital cameras in general
When you go to Photokina (every two years in Cologne), PhotoPlus or even PMA, you tend to see medium format digital cameras being used for portrait photography. So a brief list of major applications of a medium format digital camera back would be:
Portrait photography, including weddings, seniors, family, children
Fashion photography
Food photography
Travel photography
General commercial photography (product photography of all kinds)
Plus architectural photography and fine art photography mentioned above.
Photo-journalism was originally done with a Leica, then with a Nikon, and probably today with a Canon. But especially if you also wish to turn your images into fine art photos, a medium format camera would help.
General comments on Phase One medium format digital backs
Phase One allows you to upgrade from one digital back to another.
Phase One is a Danish company. So you can expect quality "Made in Europe." Plus Phase One makes only digital backs. Their survival as a company depends on them providing the best digital back and software to go with it. Other medium format digital back companies are subsidized by other businesses, so they don't fail if their backs are a bit slow to market, or slow to add features.
The Phase One P21 is 18 megapixels, roughly comparable to the 17 megapixel chip of a Leaf Valeo or Leaf Aptus. The Phase One P 30 is 31 megapixels. The quality is priceless. People come over to view the results. We zoom in 1:1 on a 91 MB file and they are frozen for a moment since they have never seen this quality. So the Phase One P 45, with even more pixels, show awe viewers even more.
Price, what price? If the price of perfection is an issue, then medium format digital cameras would not be experiencing a resurgence. Kodak advertisements, and still today Canon advertisements, try to bamboozle photographers into accepting 35mm as the ultimate in quality. They obviously have not used a medium format camera in the last four years (at which time medium format was 6 megapixels and barely ready to move to 11 megapixels). But, size is not everything. It is the quality of the image capture, not just that you can enlarge it to mural-size.
Phase One P45 medium format digital back.
And once you have high quality images, there are many new printers to print them on
In the past we found an Epson 7600 or Epson 4000 to be good. These are being replaced with the Epson 4800, 7800, and 9800. We have reviews on all three Epson Stylus Pro printers in progress.
The HP 30 and Designjet 130 are excellent for a really colorful dye ink that has longevity. For pigmented ink at comparable quality, the HP B9180 is the start of a new technology.
Canon printers, such as the iPF 5000, are not as well known. We have the HP and the Epson printers but don't have any recent model Canon printer at all. The standard is still Epson, although the new technology of HP will challenge that when the newer printer models are available at SGIA 2006, Photokina 2006, or PMA 2007.
Compare prices of medium format and Canon EOS 1Ds Mark III
If you compare prices naturally the Canon EOS 1Ds Mark III looks tempting. But if you walk into the shoot with a Phase One, you know the client will be impressed (and even more so when he sees the results).
New reviews beginning of the Phase One + series
Phase One now has a "plus" series. We are starting with the Phase One P25+. This new medium format digital camera back was so popular, and was in such demand, that we had to wait many months for it to arrive.
Most recently updated December 10, 2007.
First posted July 11, 2006.