Phase One P 25+ arrives at FLAAR for evaluation by Nicholas Hellmuth.
48 hours after the Phase One P 25+ medium format digital camera back arrived it was on a plane for Taiwan for a week then Korea for a week then Guatemala for three weeks.
After using a PhaseOne P25, PhaseOne P30, and PhaseOne P45 during the last year, there were many features of the PhaseOne P25+ that stand out: the battery charger for one. This is the best and most convenient battery charger I have ever used (once you figure out how to open and close it, which is not at all intuitive and totally unhelped by any indications on the unit itself). But once you get it open, it shows you immediately the % of charge you have remaining.
Phase One P 25+ medium format digital camera back arriving to FLAAR BGSU for evaluation by Nicholas Hellmuth
Phase One P 25+ for architectural photography
Since three generations of the Hellmuth family have been architects, and as Nicholas studied architecture at Harvard (and his brother studied architecture at Yale and another brother studied architecture at Georgia Tech and then at ETH in Zurich), it is not surprising that Nicholas engages in architectural photography. His father, George Hellmuth, founded HOK Architects, currently the largest architectural firm in the world.
So upcoming reports will document how the Phase One P25+ is a good choice for architectural photography.


Phase One P 25+ for fine art photography
FLAAR engages in fine art photography and prefers using a medium format camera over just a 35mm. The evaluation of the Phase One P25+ will feature showing how this system is ideal for fine art photography.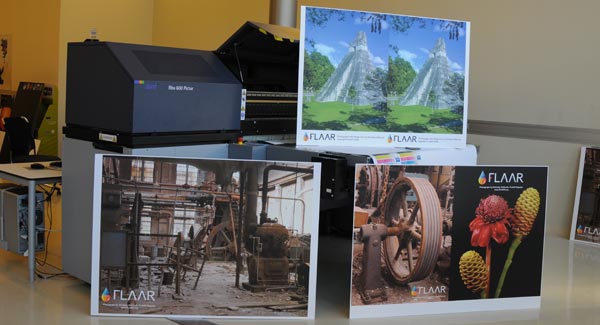 Images from Phase One being printed in Lienz, Austria at the manufacturing plant of the Durst Rho 600 Pictor, a combo style UV-curable ink flatbed printer.
Phase One P 25+ for digitization of paintings for giclee and décor
Since FLAAR is a leader in the world of giclee and décor (see www.FineArtGicleePrinters.org), and since we already have tested BetterLight and Cruse large format reprographic scanning systems for digitizing paintings, it is a logical continuation to test using medium format cameras for digitizing paintings.
Phase One P 25+ for botany field projects
Nicholas Hellmuth using the Pase One P 25+ medium format digital camera back in Peten, Guatemala.
One current FLAAR research project is studying Mayan ethno-botany, in other words, the plants, flowers, and trees of utilitarian use to the Maya of Guatemala, Belize, Mexico, and Honduras. Projects include:
* Cacao flowers, cacao fruit, processing of cacao for chocolate
* Sacred trees, plants, and flowers: ceiba, flor de mayo (frangipani), water lily
* Plants mentioned in the Popol Vuh, especially plants associated with the father of Hunahpu and Xbalanque.
* Plants mentioned in the Popol Vuh that are associated with the sacred ballgame.
* Edible fruits and vegetables.
Two Guatemalan biologists work full-time for FLAAR Mesoamerica on these projects: Eduardo Sacayon and Mirtha Cano.
Having a Phase One P25+ makes it possible to show botanists, zoologists, geologists and others who work out in the field that it a good camera is a good investment. If you are a scientist there is no excuse for second-rate photography with a point-and-shoot camera.
| | |
| --- | --- |
| Here is Nicholas Hellmuth with a sample made in Yuhan Kimberly | Picture taken with the Phase One 25+ by Nicholas Hellmuth |
| | |
| --- | --- |
| Phase One P 25+ medium format digital camera back. | Nicholas Hellmuth in Peten photographing the Achiote tree. |
Cost, compare prices
If you are in the league to consider a medium format back, comparing prices is not the way to shop. If you understand the differences between clean, crisp, high quality 22 megapixels of a medium format camera, as compared with a Canon EOS 1Ds Mark III, then merely to compare prices suggests there is a lack of awareness in the differences. There is more than merely having XY megapixels.


Acknowledgements
I thank Phase One and Global Imaging for providing this digital back for evaluation.
First posted December 10, 2007.