Photographer Nicholas Hellmuth evaluates 8-megapixel Sony Cyber-Shot DSC-F828 compared with Nikon D70, Nikon D100, and Canon Digital Rebel.
Most people want to know the difference between the 8-megapixel digital cameras: Canon PowerShot Pro1, Nikon Coolpix 8700, Minolta DiMAGE A2, and Sony Cyber-Shot DSC-F828.
The difference between a FLAAR review and others is that we are not paid by the camera resellers. We do not receive any commission.
Plus Nicholas is a photographer himself, so he actually uses the cameras he evaluates. So this weekend we did a "FLAAR First Look" at the Sony Cyber-Shot DSC-F828, 8-megapixel point-and-shoot digital camera.
But if you are serious about achiving award-winning digital photos, to amaze your friends, you really ought to compare the 8-megapixel cameras with true 35mm SLR such as Nikon D70, Nikon D100, and the Canon Digital Rebel.
Here are some sample prints. We will be adding more info.
This camera was kindly loaned by Erick Mancilla Orozco, Manager at DISTELSA, a Guatemalan distributor of Sony in Central America. Dr Hellmuth teaches a course in digital photography at Universidad Francisco Marroquin.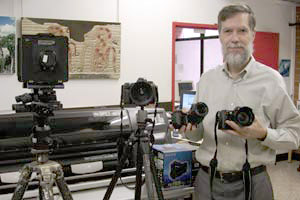 The advantage of reviews by Nicholas Hellmuth is because all his comments are comparative; every new camera is compared with all the others FLAAR already has. Here is Prof. Hellmuth with a large format digital BetterLight on Cambo Ultima 4x5, Nikon D100, Sony F828, and Nikon D70. Commercial web sites with pseudo-reviews do not offer this level of experience.
Directly in front of our office in Guatemala, this cooperative spider has been posing for the Nikon Macro lenses and then we tried the Sony F828 in "macro mode."
The Central American tropics offers lots of green leaves all around our office. Here is the same leaf, at different hours, photographed with the Nikon D100 at the left and Sony Cyber-Shot F828 at the left. Within a week we will have the full-text evaluation of the Sony compared with the Nikon 35mm. The results are surprising.
First posted July 5, 2004.