13x19 inch HP Photosmart Pro B9180 printer with Vivera pigmented ink.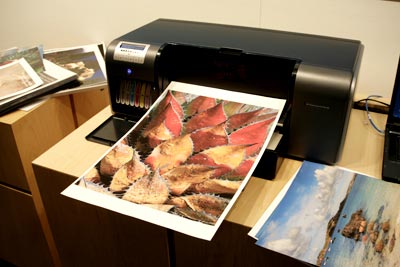 HP Photosmart Pro B9180.
At PMA trade show, Feb. 25, 2006 , the HP Photosmart Pro B9180 was first shown to the public. This is the first serious competition to the Epson R1800 and to some degree the Epson 4800.
The HP B9180 accepts media up to 1.5 mm thick, so can take thick canvas and watercolor paper. So you can use digital fine art papers from Hahnemuehle
The HP Photosmart Pro B9180 has individual ink cartridges, a requirement by serious prosumers and definitely by pros. The HP Photosmart 8750-series has group-ink (several inks in a single container).
As we learn more about this new printer we will update this report. In the meantime, a host of new HP Designjet printers have been heralded all over the Internet: the HP Z2100 and HP Z3100. We will see these at SGIA in Las Vegas and then we fly to Cologne to inspect what's available at Photokina.
Every several years there is either a new Canon iPF printer or a new Epson or a new HP water-based printer. It is hard to keep track of the advances in inks and color management features. FLAAR is keeping track by visiting printshops around the world that have these various brands. Each brand has its good points and a few issues and an occasional deficiency.
If you are looking for a place that is not a box-pusher (meaning you want a place that provides service after the sale), then one place we know for many years is Parrot Digigraphic. Their telephone is 978.670.7766.
13x19 inch HP Photosmart Pro B9180 printer with Vivera pigmented ink.
Most recently updated Sept. 25, 2006.
First posted February 26, 2006.
Available by october 2008

Available by octuber 2008

Available by october 2008

Available by october 2008

Available by october 2008

Nicholas Hellmuth's Medium Format Digital Camera Initiative

For over 40 years Nicholas Hellmuth has used Rolleiflex and Hasselblad cameras to record the flora, fauna, and archaeology of Belize, Guatemala, Honduras, and Mexico. Now for several years he is extending his medium format experience to digital photography.

Since FLAAR works both in a studio as well as out on location, we are an ideal focus for judging portability. We have experience with large format digital scan backs (the excellent BetterLight) and we also use Nikon and Canon digital cameras. A full-service digital pro should have at least one medium format digital system and should consider large format digital options as well.

Although we started with a Leaf Valeo 22 coupled with a Mamiya 645 AFD body and lenses, we are open to showcasing all bodies as well as other digital backs. Indeed we have tested an Imacon 4-shot back on a Hasselblad H1 body. Then (February 2006 onwards) we are evaluated a MegaVision black-and-white dedicated back for fine art photography. Next we are testing a 33-megapixel Phase One P 30. Since 2008 FLAAR has used a Phase One P25+ (a great way to update an aging Hasselblad ELX body with its excellent Zeiss lenses).

Camera resellers or manufacturers who wish to have their cameras, lenses, and backs included in this initiative are welcome to send their equipment for evaluation.

FLAAR is the de facto source of information because we have been university based, independent, blunt, and we are one of the few review sources that dares to review advertising specs, advertising claims, and advertising hype. We can afford to reveal all the pros and cons because FLAAR is a research institute. Photographers feel they can trust a university research professor who has devoted years to understanding the pros and cons of each aspect of a digital camera system and workflow.

Notice you are not blinded by blinking, flashing, or pesty ads for low-bid camera stores on a FLAAR photography review. I am always amused by a pseudo-review that obviously is simply paid to send you to a camera store.

You can download our colorful FLAAR Reports on our medium format digital camera initiative.