Novoflex Panorama=Q Pro has potential for being a good pano head for a medium format camera for landscape photography.
If you have a Hasselblad V or Hasselblad H, Rollei 6008, Contex or Mamiya AFD camera body, most QTVR panoramic heads are not adequate (see next section). The dozens of brands and models of QTVR panorama tripod heads such as Manfrotto, Really Right Stuff, Peace River Studios are all made for 35mm digital SLR cameras or for even smaller point and shoot digital cameras.
If you want to do a flawless panorama you really should use a BetterLight Pano/WideView accessory, but not everyone has such a professional large-format 4x5 panoramic tripod head system. If you have a medium format Phase One, Leaf, Sinar, MegaVision there are no easy to find automatic pano tripod head systems.
Panoramic photography with medium format cameras: Seitz?
Seitz Roundshot VR-Drive.
Seitz makes some of the most impressive panoramic photography systems in the world. I bought their RoundShot 220 system ten years ago (the last one they made) and was very happy with it (though my girlfriend about divorced me over my wanting such a sophisticated panoramic system). So when digital photography became more advanced (and the Roundshot 120, 220, and 70mm film system became obsolete), I moved to BetterLight Pano/WideView for panoramic photography. BetterLight is very impressive (they sent me two different models to test, and I am still using the more recent one ten years later).
QTVR pano head systems are available at every level, from entry level to complex professional systems. Most are too lightweight for a serious medium-format camera despite wishful thinking. And no QTVR system that holds a camera with an L-shaped arm or bracket can hope to hold any medium format camera sideways up in the air, not even the otherwise impressive Swiss-made Seitz VR-Drive system. I have repeatedly tried to make the Seitz VR-Drive pano head system work with my Hasselblad, but it is designed for 35mm and, most politely put, not envisioned for holding or handling a heavy medium format camera.
Actually I despaired of ever finding a system to do panos with a medium format camera until I spoke with the capable folks at Novoflex during Photokina 2008. As a result of these discussions Novoflex kindly provided a test unit so I can compare their pano systems with the several that I already have.
Novoflex Panorama=Q Pro has potential for being a good pano head for a medium format camera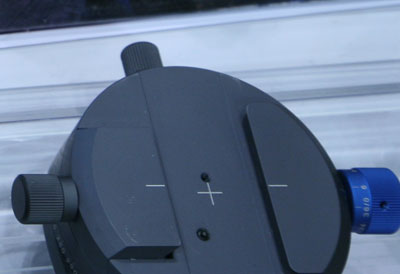 First rule: you want your heavy medium format camera to sit flat, comfortably, with all its weight flat on an equally flat turnrable (to turn for the eventual overlapping QTVR shots).
You do not want to raise your heavy Hasselblad, Rollei, Contex or Mamiya up in the air on a wobbly L-shaped bracket. Most of these brackets can't even hold a 35mm camera without bending.
Second, you want a sturdy rigid tripod system that does not have a lot of play in it. Play means something will flex, bend or get out of position.
The Novoflex Panorama=Q Pro has these capabilities. You place a Novoflex QPL-Panorama bar into the slot and now you can shift your camera to reach the nodal point. Just be sure to buy a 3/8ths European thread because most medium format cameras have the 3/8th inch thread. Yes, of course you can use an overlay adapter to turn 1/8th into 3/8th, but that is just one more thing to lose or to cause a tad of flexing.
"Pano heads" can also be used for wide-angle architectural photography
FLAAR specializes in nature photography, landscape and hence panorama photography, art history and archaeology, and also architectural history. Plus we do fine art photography (as you can see on www.FineArtGicleePrinters.org).
For architectural photography you want high resolution, and wide angle of view. A wide-angle lens introduces too much distortion. So a sliding back adapter (for two adjoining shots) may be a good tool. So far Novoflex does not make equipment specifically for medium format or large format cameras (though the Panorama=Q Pro is of interest to me specifically for being able to handle a medium format camera).
But with a sturdy pano head you can use your medium format camera to make three overlapping shots, and hence achieve better wide angle coverage than with a sliding back adapter (which can do only two for a medium format back of 22-megapixels or more). The Novoflex Panorama=Q Pro head is he first one I have seen that looks as though it can handle a medium format camera. Surely there are others, but most of the pano head manufacturers do not exhibit at trade shows so I never have access to their products. Novoflex is at all the key photography trade shows both internationally and in the US.
Novoflex also makes focusing rails, tripods, and tripod heads
Novoflex designs and manufactures focusing rails for macro photography. If you are doing panorama photography this means you like the outdoors so you may enjoy nature photography in general. If you enjoy photographing flowers you see a lot of photogenic insects. To record small flowers or details of larger flowers and essential in digital photography of insects you need a focusing rail for your digital camera and macro lens. FLAAR has three focusing rails: Really Right Stuff (wobbles), Manfrotto (much better than the Really Right Stuff), and we just received a Novoflex Castel-XL, which is their top of the line focusing rack. We will test this as soon as we get it to Guatemala.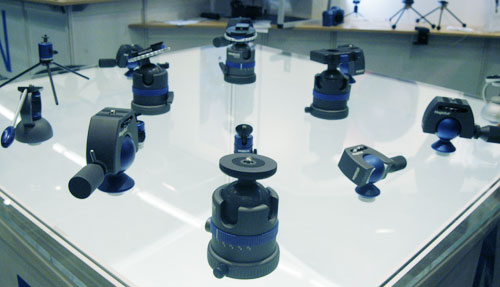 Novoflex also makes ball heads, which frankly are the best kind for most aspects of nature photography. And Novoflex makes tripods, actually a four-legged tripod, the QuadroPod (that I inspected at Photokina 2008). Novoflex also makes a Novoflex Zebra grey card for white balance and exposure balance.
However FLAAR does not yet have any of this to evaluate: the Q Pro panoramic photography tripod head and Castel-XL are the first Novoflex accessories that I have received for testing (since I first became acquainted with Novoflex at Photokina, probably 1998).
While on the subject of tripod heads, I find pan and tilt tripod heads the worst for serious photography. I prefer a ball head for general photography (the original Arca-Swiss of 27 years ago is my favorite). But if you have only a pan-and-tilt tripod head, they are okay if you are accustomed to their movements; if it works for you then stick with it. There are plusses and minuses on every kind of tripod head: no one head is perfect for everything. This is why we have six tripod heads to select from when we go out to test other digital photography equipment. We have tripods for studio and for long treks. We have tripods for 4x5 cameras, for medium format cameras, for 35mm digital SLR and for point-and-shoot digital cameras.
For panoramic photography of landscapes I would recommend a geared head such as Manfrotto 3263 from Bogen. This is their giant geared head that is of course best in a studio, though the head is so good I take it into the field also; the weight is actually a benefit in heavy wind.

Novoflex photographic and cinematic accessories.
Compare prices for low cost is not a clever way to shop for a panorama head
If there is flex, bend, wiggle, or wobble anywhere in the tripod head (or the tripod), then you will have bend and wiggle to repair in your QTVR stitching to create your panorama photography.
Do comparison shopping by attending PhotoPlus East trade show in New York (every winter) and inspect the panorama heads in person. "Made in Germany" means these are not cheap accessories, but if cheap is your motto, then it's not always easy to have precision. I am frugal, but in camera equipment I want to be proud of the brand name and proud of the tripod or tripod head.
This is also a reason why I prefer Gitzo tripods as a solid platform for all my panorama, landscape, and nature photography. And now that I have the first Novoflex accessories, I look forward to testing their solidness and precision. I do this testimg primarily in Guaetemala, so actual field results will be when I am next there. I was just in Guatemala and Honduras for five weeks testing the Cambo sliding back adapter.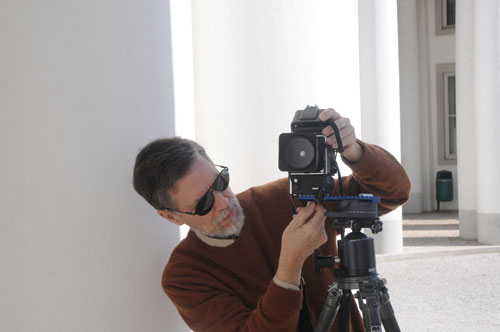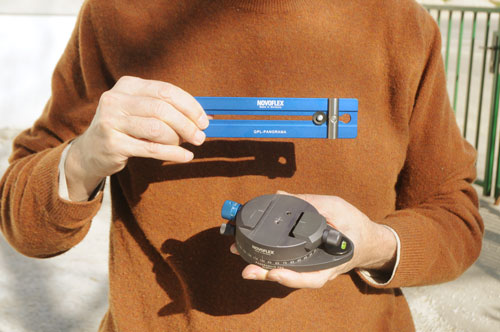 Dr Nicholas Hellmuth holding the Novoflex Panorama=Q Pro base plate and top positioning rail (Novoflex QPL-Panorama rail)
If you wish to learn more about Novoflex panorama heads for digital panoramic photography, contact: mail@novoflex.de
First posted January 19, 2009.