Manfrotto and Novoflex panoramic tripod heads are better than most cheap imitations.
If you desire to do serious digital panoramic photography then it is recommended to buy a professional quality pano head for your tripod. Skip the cheap tripod heads because they wobble and are not precise.
I try to avoid listing Chinese pano heads because cheap pano heads made in the US and Europe have enough slippage already and it is a waste of time and money to have a sloppy panoramic tripod head. But there are probably some heads inadvertently in this list that are Chinese or made in China.
I try also to avoid listing pano heads from the last millennium, such as those by Rollei. These are great if you already have one, and if you find one and try it and like it, don't let me spoil your day. But otherwise I prefer to list tripod heads made for digital cameras and preferably since the late 1990's.
Manfrotto QTVR head 303 plus. This head is suitable for use with larger traditional or digital SLR cameras equipped with standard or wide angle lenses, or for medium format cameras.
There are a hundred of more web sites saying how easy it is to build you own pano head. If you are so inclined, help yourself. But in the meantime, here is a good starting list of tripod heads for QTVR stitching for beautiful panoramic landscape photographs.
360 Degrees of Freedom
360Precision
Agnos
Bescor
BetterLight Pano/WideView
DOBAS-01 made by QTVRHEADS Poland
Jasper Engineering, Pano Head 3 (dates back to the 1990's or earlier)
Kaidan
KingPano
Kirk Enterprises (they make a lot of tripod heads and attachments)
Manfrotto
MK Pano Machine, MK Panorama Systeme
Nodal Ninja
Panosaurus panoramic tripod head
Panoscan
Pano Maxx
Peace River Studios
Pinnacle VR
Really Right Stuff
Rodeon VR Head
RTV
Seitz
Spheron VR
Wimberly
Of these 25 brands, I know Manfrotto, Kaidan, Novoflex, Spheron VR, BetterLight and Seitz the best. I have put them in boldface font. But I have not interacted with Kaidan for ten years.
I have heard of Peace River Studios but never seen them at Photokina. I see the people from Manfrotto, Bogen, Gitzo, and Novoflex several times a year and see Spheron VR people at every Photokina (every two years in Cologne).
I was not satisfied with my one and only Really Right Stuff product (focusing rail) but perhaps their panoramic tripod heads are okay. But I have always preferred dealing with the people at Kirk Enterprises. But to really see high quality, be sure to look at Novoflex and Manfrotto equipment (Manfrotto from Italy is sold by Bogen Imaging in the US).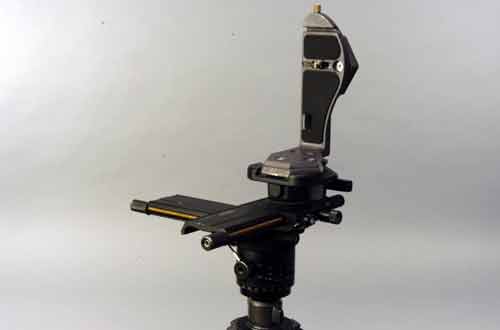 Manfrotto panoramic tripod heads or QTVR heads are used to create single-row cylindrical or multi-row spherical composite photographic images for immersive virtual environments or simply for long (or tall) panorama prints.
QTVR Stitching Software
Nowadays most people use Adobe Photoshop CS4 for stitching. In past years there were several other options. One that I have only read about (but never seen in person) is from RTV. They offer 3D Animation, 3D Walkthroughs, 3D Rendering, and 3D Objects.
Here is a partial list; you can get more from panoramas.dk, IVRPA, IAPP (we are a member of this, or at least have been in the past), and Panoguide.com. Here is an introductory list of QTVR Stitching software. Some are simple, others are sophisticated and more professional than others.
Autopano Pro
Panovue
Panoweaver
PhotoVisa
PTGui
PTMac, PT Batch, and Calico Panorama, all from Kekus
RTV
VR Tookbox VR Vorx
First posted January 19, 2009.