Drytac is one solution to provide protection for your photographic prints.
FLAAR is squarely situated in photography and printing of fine art photography especially, and even more in giclee+decor. In our field we define decor as low price giclee. I realize that other industries divide giclee and decor differently. Décor prints are what decorate hotels, motels, cruise ships, etc. Giclee is what decorates banks, corporate headquarters, museums, and homes in the half-million dollar range and up. We cover giclee and décor on www.FineArtGicleePrinters.org. On the present site (where you are now) we cover photography in all aspects, including fine art photography.
Protection of the image, finishing in general, and framing, are the aspects that tend to be forgotten in most education programs. Everyone (including FLAAR) tends to concentrate on the printing, on the ink, on the dpi. But if you intend to do an exhibit of your photos, or if you are preparing an exhibit of any educational material for a museum, it is essential to learn about mounting and lamination of prints and signage.
But unless a print is protected, all that dpi just gets scratched, abraded, or suffers from sunlight damage or ozone even. But the printer manufacturers don't stress finishing; indeed most ads for solvent and UV printers claim that no lamination is needed (this is not true for floor graphics, vehicle graphics and a lot more). When you buy a Canon, Epson, or HP, the focus is on imaginary dpi, how many black inks it has, and the general allure of successful printing of stunning photographs.
But these stunning photos get dings and defects within seconds (of course that uses up more ink and media…).
Since FLAAR does not have to buy or sell printers, we are interested in assisting photographers, artists, and the general public learn about all aspects, including lamination. Some materials need liquid lamination (top-coating, clear coating), others need dry lamination (hence the name Drytac).
FLAAR is inherently interested in lamination, in part because our main office is in tropical Central America . Lots of sun and high humidity.
Our personal experience is that inkjet prints scratch very easily, so protection is essential. Thus we are finding allies and partners among the laminating companies. We have visited the headquarters of LEDCO in the past and anticipate visiting other companies if necessary.
A good example of our developing program in assisting end-uses in lamination was a result of a visit to the Drytac booth at Photokina 2006. About three months later we received an invitation to visit their corporate headquarters in Toronto , Canada . Three days were spent being trained by Luigi Cristicini, National Product Manager.
As time and funding allow, we will be expanding our coverage of lamination because what we saw and learned at the Drytac demo room was of definite interest to us, and to our many readers worldwide. For example, you can do a lot more than laminate, you can add texture to your image. And mounting is an essential aspect of finishing a photographic printing workflow, whether from the darkroom or from an Epson.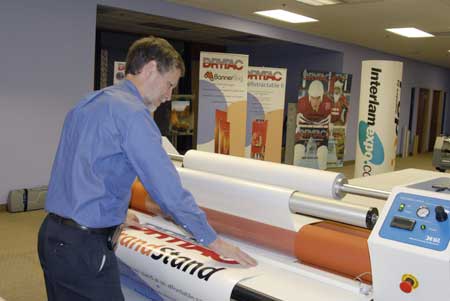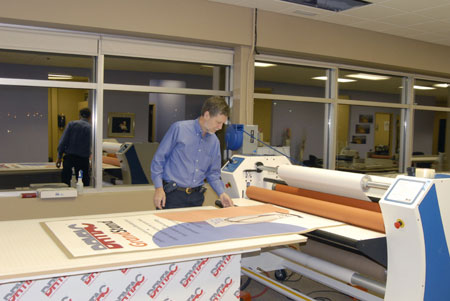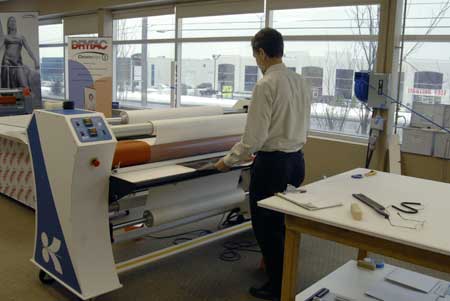 Here is Nicholas at the Toronto headquarters of Drytac, practicing using the laminators that Drytac offers. FLAAR works at getting first hand experience with each product, when possible.
Nicholas practices unrolling the Drytac Banner Bug .
First posted Feb 28, 2007