Leaf Aptus 75 with Leaf Aptus 65, add to Leaf Aptus 22 megapixel and Leaf Aptus 17 megapixel medium format digital camera backs.
I got to see the original Leaf Aptus 22 and 17 first during 6 days at Photokina 2004, then again at PhotoPlus in New York. The folks in the Leaf booth are knowledgeable, patient, helpful, and if you are a pro or pro-sumer, you ought to visit with them at the next trade show. Yet by PMA 2006, Kodak had taken over and the Leaf back had effectively disappeared from PMA. There was no traditional Leaf team in Orlando at all; no Leaf studio whatsoever. But there was a Rollei booth with the great Rollei 6008 AF camera and an active Phase One booth.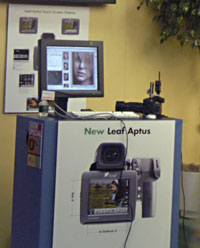 Leaf Booth at Photo Plus 2004
The Leaf Aptus is about the only camera that allows two completely separate viewing monitors (one portable and wireless) so that everyone in the crew can see the images without butting heads. The problem with the wireless is that on the Leaf Valeo did not work over a third of the time (did not connect). So you had no software available during the shoot. Whether the Aptus has the same problem with wireless we do not know, since we do not use an Aptus. We have been using a MegaVision instead, since it has an entire computer clipped onto the digital back, so you don't need to worry about when your wireless connection is not going to work.
The Leaf Aptus inherits the advantages of the Leaf Valeo, and then even more. I especially like the space for a CF card, since you can pop it into your pocket. But I find the 20 GB removable hard drive great for week-long shoots out on location. And I notice they are offering 250 GB portable disks now. Have to check that out. I used my Leaf Valeo wireless constantly: in Guatemala, Greece, in Charlotte, New York. I took the Leaf to Photokina and got some nice shots of architecture of Cologne. You can see the colorful results on the FLAAR digital review download page.
Prices change so it is safest if you contact Leaf directly for the current price. Obviously the Leaf Aptus 17 is lower price. 17 megapixels is more than enough for many situations. But at FLAAR we do everything in wide-format size, so we go for the full 22-megapixel version (we have the Leaf Valeo, but it already has most of the features of the Aptus; however the Aptus adds a host of features we would recommend highly).
I challenge any 35mm digital camera, including the Canon EOS 1Ds-Mark II to produce cleaner pixels and a better enlarged image than the Leaf Valeo. Besides, there is no comparison between the status when people see you carrying a medium format 22-megapixel camera, as compared to using a 35mm camera.
At PhotoPlus trade show I met two students of Hallmark Institute, the heavily advertised commercial photography school in New England. When I praised they Leaf Valeo they were surprised, because they said they had many problems with the Leaf camera backs; I believe it was the Aptus.
This is why it is crucial for FLAAR to have these backs available to evaluate, so we can know whether this is a systematic problem, or whether it is a fluke, and the camera back is really ideal. But since we do not have the Aptus, we are not able to judge. It is not possible to recommend a camera system that we do not utilize ourselves on a regular basis.
Compare prices; is it best to buy by lowest price comparison?
It will be interesting to see the politics of Mamiya America Corporation which sells both Leaf and Mamiya cameras. Sales of the Mamiya ZD will eat substantially into sales of the Leaf.
And Phase One is not sitting still; they have a 39-megapixel digital back available now; we have already tested it (the Phase One P 45). Currently I am evaluating a Phase One P25+ that arrived in early December 2007.
Continue on our FLAAR digital-photography.org website for comparative comments on all the other medium format digital backs: Hasselblad Imacon, Kodak, Jenoptik, Leaf, Phase One, Sinar, Mamiya ZD and MegaVision.
Available by october 2008

Available by octuber 2008

Available by october 2008

Available by october 2008

Available by october 2008

Nicholas Hellmuth's Medium Format Digital Camera Initiative

For over 40 years Nicholas Hellmuth has used Rolleiflex and Hasselblad cameras to record the flora, fauna, and archaeology of Belize, Guatemala, Honduras, and Mexico. Now for several years he is extending his medium format experience to digital photography.

Since FLAAR works both in a studio as well as out on location, we are an ideal focus for judging portability. We have experience with large format digital scan backs (the excellent BetterLight) and we also use Nikon and Canon digital cameras. A full-service digital pro should have at least one medium format digital system and should consider large format digital options as well.

Although we started with a Leaf Valeo 22 coupled with a Mamiya 645 AFD body and lenses, we are open to showcasing all bodies as well as other digital backs. Indeed we have tested an Imacon 4-shot back on a Hasselblad H1 body. Then (February 2006 onwards) we are evaluated a MegaVision black-and-white dedicated back for fine art photography. Next we are testing a 33-megapixel Phase One P 30. Since 2008 FLAAR has used a Phase One P25+ (a great way to update an aging Hasselblad ELX body with its excellent Zeiss lenses).

Camera resellers or manufacturers who wish to have their cameras, lenses, and backs included in this initiative are welcome to send their equipment for evaluation.

FLAAR is the de facto source of information because we have been university based, independent, blunt, and we are one of the few review sources that dares to review advertising specs, advertising claims, and advertising hype. We can afford to reveal all the pros and cons because FLAAR is a research institute. Photographers feel they can trust a university research professor who has devoted years to understanding the pros and cons of each aspect of a digital camera system and workflow.

Notice you are not blinded by blinking, flashing, or pesty ads for low-bid camera stores on a FLAAR photography review. I am always amused by a pseudo-review that obviously is simply paid to send you to a camera store.

You can download our colorful FLAAR Reports on our medium format digital camera initiative.