FLAAR is increasingly interested in 3-D digital imaging technologies.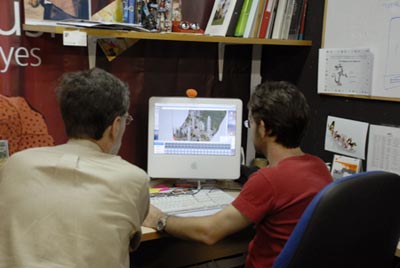 Here is Nicholas Hellmuth in the Human Eyes 3D lecticular factory visit in Israel
FLAAR continues to delve deeper into 3D digital imaging software so that we can help people learn about these technologies. 90% of the people I speak with have never heard of most of these digital imaging technologies.
A sample of what we are working on includes:
3D rapid prototypers: both from Objet Technologies and Z Corporation.
CO2 laser engraving (which can create 3D images inside blocks of crystal)
3D photography (such as HumanEyes, on this page).
Visit to world headquarters of HumanEyes, leader in 3D photography software
There are several traditional ways to learn about these products:
Visit a trade show
Visit a company that already has experience with the product you are interested in
We definitely visit trade shows: have seen HumanEyes exhibiting at shows in the US and Europe for the past three years. But trade shows are hectic. We find it is more productive to visit the company's headquarters.
Since Israel is like a giant Silicon Valley of high tech companies, I spent a week in summer 2007 visiting NUR Macroprinters UV-cured flatbed printers, Leaf (22 to 33 megapixel digital cameras), CreoScitex scanners (5600 true dpi flatbed scanners, now part of Kodak), Objet Technologies 3D rapid prototyping, Kata bags, and HumanEyes 3D visualization technology software.
You can see HumanEyes at some major international signage trade shows, such as FESPA, DRUPA, etc. It is worth getting to know them and their software products: Creative 3D for Designers, PrintPro for printers, Capture 3D for photographers.
The snapshots here show aspects of the training that HumanEyes kindly provided to FLAAR after our long trip to Israel.
Examples of 3-D digital imaging technology software
Original photography
Most recently updated July 27, 2007.
First posted May 28, 2007.
Available by october 2008

Available by octuber 2008

Available by october 2008

Available by october 2008

Available by october 2008

Nicholas Hellmuth's Medium Format Digital Camera Initiative

For over 40 years Nicholas Hellmuth has used Rolleiflex and Hasselblad cameras to record the flora, fauna, and archaeology of Belize, Guatemala, Honduras, and Mexico. Now for several years he is extending his medium format experience to digital photography.

Since FLAAR works both in a studio as well as out on location, we are an ideal focus for judging portability. We have experience with large format digital scan backs (the excellent BetterLight) and we also use Nikon and Canon digital cameras. A full-service digital pro should have at least one medium format digital system and should consider large format digital options as well.

Although we started with a Leaf Valeo 22 coupled with a Mamiya 645 AFD body and lenses, we are open to showcasing all bodies as well as other digital backs. Indeed we have tested an Imacon 4-shot back on a Hasselblad H1 body. Then (February 2006 onwards) we are evaluated a MegaVision black-and-white dedicated back for fine art photography. Next we are testing a 33-megapixel Phase One P 30. Since 2008 FLAAR has used a Phase One P25+ (a great way to update an aging Hasselblad ELX body with its excellent Zeiss lenses).

Camera resellers or manufacturers who wish to have their cameras, lenses, and backs included in this initiative are welcome to send their equipment for evaluation.

FLAAR is the de facto source of information because we have been university based, independent, blunt, and we are one of the few review sources that dares to review advertising specs, advertising claims, and advertising hype. We can afford to reveal all the pros and cons because FLAAR is a research institute. Photographers feel they can trust a university research professor who has devoted years to understanding the pros and cons of each aspect of a digital camera system and workflow.

Notice you are not blinded by blinking, flashing, or pesty ads for low-bid camera stores on a FLAAR photography review. I am always amused by a pseudo-review that obviously is simply paid to send you to a camera store.

You can download our colorful FLAAR Reports on our medium format digital camera initiative.