Link getaway on ink-jet printers.
This gateway offers links to all the reviews of ink-jet paper and photo paper (glossy, semi-glossy, and photo matte media) for wide format printers in the four web sites of FLAAR which are dedicated to digital imaging, graphics, ink jet printing and laser printers and laser paper.
Review of American Ink Jet Corporation photo quality media for wide-format ENCAD. American Ink Jet Corporation was our first corporate sponsor in this area, www.maya-archaeology.org.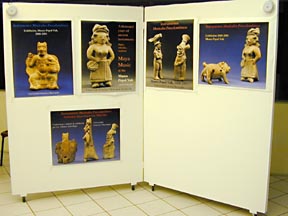 Review of American Ink Jet Corporation photo quality letter size paper for Epson, Lexmark, and Canon, and HP ink-jet printers.
Review of wide-format printer media from Rexam Graphics, a major corporation in this field.
Review of wide-format printer media from Precision Coatings Inc, makers of specialty media for wide-format ink-jet printers such as ENCAD. We especially liked their photo-repositionable media, www.cameras-scanners-flaar.org
If you need help in finding archival inks and special papers for fine art printing (giclee prints) with wide format inkjet printers (such as the Epson 9000 or wide format printers from Roland, ColorSpan, or Iris), send us an e-mail and we will be glad to suggest a reliable source of the best inks and the best paper. E-mail : ReaderService@flaar.org
Information gateway to laminating equipment for wide-format Ink-jet posters and banners
Laminating your wide-format ink jet color prints will make them look even better. Text will stand out more, the colors will be more vibrant.
Many different companies offer laminating machines:
Axiom Graphics, 905 Market St., Yuba City, CA 95991, tel (530) 673-3034. Now part of Seal (Hunt), so may have new numbers.
Coda, Inc, 30 Industrial Ave, Mahwah, NJ 07430, tel (201) 825-7400
GBC, 4151 Anderson Road, DeForest, WI 53532, tel (608) 246-8844. The GBC staff that I have met at trade shows both in Orlando and in California have been pleasant and informative. GBC is one of the two largest laminating companies around (Seal being the other).
LEDCO Inc, 4265 North Main St, Hemlock, NY 14466, (800) 937-9293
USI, 33 Business Park Drive, Suite 5, Branford, CT 06405, tel (800) 243-4565. We visited their stand at the recent Gutenberg Festival (printing trade show in California) and then again at several other trade shows. The USI staff was pleasant and helpful, young and energetic. It helps when the people are not stuffy.
Seal is probably the best known, Seal Products Inc., 550 Sprint St (P.O). Box 596), Naugatuck, Conn, 06770-0596, tel (800) 257-7325.
Updated April 18, 2000.
Design updated July 07, 2008.