Hi definition monitors review at tradeshows.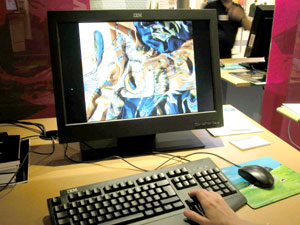 At Print '01 we saw the outstanding prototype high definition (HD) monitors from Totoku (U.S. Electronics).
At IPEX 2002 we saw actual production models of what is surely the most stunning monitor available in the world today. This is IBM's T221 flat panel monitor with TFT LCD technology. You get wide angle of viewing on a 22.2 inch monitor.
Resolution of this phenomenal IBM monitor offers 3840 x 2400 which is 9.2 million pixels.
We will check on the Totoku monitors to see if they are still in prototype stage, or whether they are now shipping.
In comparison, the Apple cinema display HD monitor offers 1920 x 1200 resolution.
Although my PhD is not in advanced math, it appears that the IBM offers twice the resolution as the Macintosh.
So if you are a real Power User, imagine a dual 2.2 GHz PC computer with dual IBM T221 monitors !
I have no idea whether you can run two of them at once, but sure is a nice dream machine for viewing digital photographs.
First posted April 22, 2002.