Memory card and card readers.
It's easy to upgrade your digital camera's memory. Just pop in a new SanDisk memory card.
The current generation of digital cameras come with 8 MB memory cards. Such a card holds perhaps a dozen JPEGed images. If you want to save the hassle of constantly downloading the memory to your camera then simply get a card with more memory. 40 MB is a good economical alternative unless you are doing commercial photography in which case you will want 80 MB or more.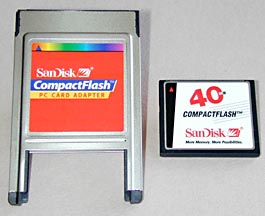 SanDisk is the industry leader. SanDisk cards fit the majority of today's new megapixel digital cameras.
Instead of downloading via a serial cable it is easier to buy a card reader. A card reader fits into the card slot on any modern laptop computer. On a Macintosh the card shows up as would any other drive volume.
For a desktop PC a wide variety of card readers are available.
Be sure you acquire the proper size and shape of memory for your particular camera. The Sony memory stick may work only in Sony products and so on. It is good to select another brand of camera in this case, a camera that uses an industry standard. Thus the Nikon CoolPix cameras use the standard memory cards (from SanDisk, for example).
| | | |
| --- | --- | --- |
| Iomega | | |
| Lexar Media | | |
| SanDisk | leading manufacturer of memory cards for digital cameras | SanDisk flash cards are available at all good mail order companies. Try Publishing Perfection |
I do not yet have the specs on the Iomega ZipCD, but unless it is 8x writing speed don't bother with it. Also, unless it is the same or less cost than other CD's, don't bother with it. A CD-R burner is a CD-R burner, a generic commodity. You do not need the name Zip on the CD burner. Also, be sure your CD comes with Adaptec's Toast software. Otherwise, select a brand that offers Toast.
What is a good digital camera? The Sony Mavica offers the advantage that it uses a floppy disk. But if you need higher resolution, more options, and larger memory, try the Nikon CoolPix 950. Most of the product shots in the FLAAR network of web sites are done with the Nikon CoolPix 950. Originally we did product shots with a Hasselblad but it was a pain to wait for the film to be developed and then have to digitize it. Using a digital snapshot camera was considerably more practical.
Most recently updated Aug. 5, 2001.