ATTO SiliconDisk II.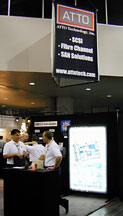 As digital images get larger how can you store digital photographs more effectively?
The FLAAR. Digital Imaging Technology Center produces up to 10 GB of fresh new images every week that our photo crew is on location (usually photographing in Central America, but also in Germany or Japan).
At a recent Comdex trade show in Las Vegas we visited the ATTO Technology booth and found a product that was tailor made for digital photographers, any photo archive, museums, repro shops, design studios, advertising agencies, and anywhere that deals with digital image or even digital files.
These two products are the ATTO SiliconDisk II, a nonvolatile UltraSCSI solid state disk and the ATTO SiliconCache II, a transparent SCSI-3, in-line cache.
Just as soon as we can obtain units for our main research and test centers we will report back our findings.
ATTO Technology, Inc., 40 Hazelwood Drive, Amherst NY 14228, tel, (716) 691-1999, fax (716) 691-9353, attotech.com.
Design updated April 9, 2001.