Tips on how to handle large digital files, the need to backup files, RAID arrays and related information.
Unless you have a RAID system, there will never be enough hard drives on your desk. So how do you store 300 Gigabytes worth of files?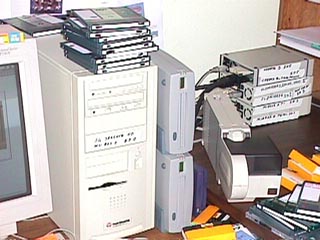 No staged shots here. This is an actual production studio for digital images. Seagate hard drives are trustworthy enough to handle the large files. Seagate Cheetah, 10,000 rpm, is the best. We also have a few of the older Barracudas as well.
We tried everything from CD-ROM to all kinds of optical disks, Zip, Jaz, and everything else. If the individual files average 240 MB, you can hold only two or three per CD-ROM. A Zip will hold only half a file! Thus we recommend Pinnacle Micro. Their Apex can handle 4.6 GB per disk. As you can see, we have piles and piles of disks, and this is just from 6 months photography. But now the new DVD-RAM technology is tempting us, especially since we have about 250 Gigabytes of digital photo files stored on 'Toray and Panasonic PD drives (dual PD-CD PhaseWriter system, popular back in 1996). The Panasonic DVD-RAM system will read and write to our considerable investment of PD disks. Even the software for the new DVD-RAM systems is made by the same experienced company who made the software for the earlier PD drives, namely Software Architectus.
Now that CD-burner software is so easy to use anyone can burn their own CD-R disk. Blank 650 MB disks cost only about $1 each (in bulk of 50 no-name disks per box), no jewel case at this low price. The new CD burner from Smart and Friendly is so fast they call it the rocket.
You can stack two Pinnacle Micro Apex units together and get twice the access. We use these to write books about pre-Columbian Mayan artifacts.
FWB just sent us their HardDisk ToolKit for testing. The current version includes RAID software for Level 0 and other crucial levels. We will be posting the results of our testing shortly.
Posted early 1998, last updated Aug 6, 1999.
Design updated June 26, 2008.