ViewSonic monitors.
So many monitors to chose from; which will be easiest on your eyes yet with color that is accurate? Everyone told us to buy Sony professional monitors but to save money we selected ViewSonic. We liked their quality and now have ViewSonic monitors for all our PC's and for all our Macs.
If you are opening up a prepress shop, digital graphics studio, or a fine art giclee printer company, then you will want a Barco or Miro Radius color management monitor. But for basic digital imaging we find the ViewSonic monitors are a good way to equip your office.
If you work with your monitor all day (and often all evening) it helps your poor eyes to have a good monitor.
We tried two Panasonic monitors and were not overly impressed, so returned to ViewSonic.
We use ViewSonic monitors in our office in St Louis and also in Essen, Germany.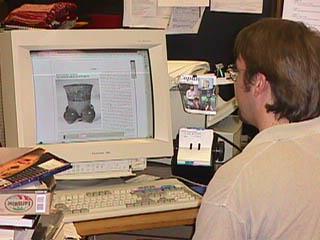 This is a 20" monitor. But working with several 11x17" page layouts is much more cost-effective on a 21" monitor, indeed dual 21" monitors are needed for full-time professional graphics work.
Lance Beck, computer technician for FLAAR., preparing our newest publication on Maya vases, 1000 years of Classic Maya ceramic art.

Apple Cinema Display.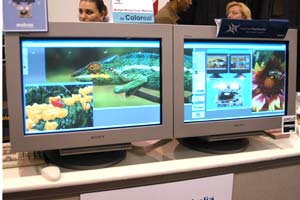 Dual Sony monitors at seybold 02.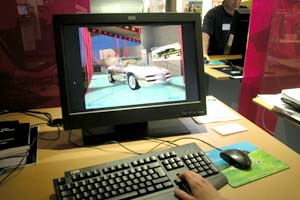 IBM flat panel monitor a IPEX 02.
Design updated July 17, 2008