Learn how to do digital portrait photography: tips, help, information.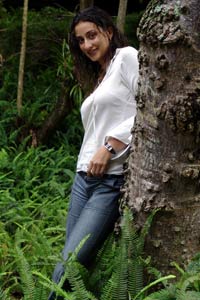 Andrea takes time out from working in the FLAAR office as a graphic designer to help test the Leaf Valeo 22.
We can help you learn how to improve your portrait photography. We teach how to use a 35mm camera, how to use a point-and-shoot, or how to use a medium format (Hasselblad, Mamiya, Contex).
FLAAR is unique on the Internet. We are the only public service institute that is non-profit, university-based, and which has the complete range of digital cameras from 5 megapixels through 6, 8, 22, to our 48 megapixel large format digital camera.
Photographer Nicholas Hellmuth has taught in Europe, Japan, and Latin America. Photographers all over the world take his course via the Internet.
In past years the course featured nature photography, art & architecture photography, commercial (product) photography, lighting, and camera equipment.
Now we are adding more on portrait photography.
For years, commercial photo institutes lured eager students by showing a male photographer with a shy, young female. The insinuation was that if you bought this correspondence course you would become a stud and lure young women into your studio for lurid photography to fulfill your dreams.
Sorry, we are family oriented and university-based, so no nude photography. Indeed we prefer to show how you can photograph your friends, relatives, and your co-workers. Make them all happy with themselves and pleased in your doing their portraits so well.
o our sample photography is dedicated to providing the FLAAR employees with a portfolio of themselves. Here are some of the results during test sessions with the Sony F828 8 megapixel CyberShot camera. Next week we will post results of portrait photography with the Leaf Valeo 22 on a Mamiya 645 camera.
If you are even dreaming of such an 8 megapixel camera, save yourself by getting ahold of our review, which is part of our photo course. We can save you the entire cost of the course (the Sony is about $899, our course is less than that since FLAAR is a non-profit institute).
| | |
| --- | --- |
| | |
| In outdoor portrait photography it is essential to use Lastolite reflectors. Lastolite reflectors are available from Wescott and from Bogen Imaging. We will be showing the results from the Leaf Valeo 22 in portrait photography in PDF reports later this summer. | Eduardo, one of the photo equipment testers in the FLAAR facilities in Latin America, helps shine the sun on Michelle. FLAAR has 15 employees at this university and more back at BGSU in Ohio. |
Most recently updated July 21, 2004.
First posted July 16, 2004.