Panoramic tripod heads.
Kaidan, Peace River Studios, Seitz, Novoflex and Manfrotto, among others, make panoramic tripod heads for QTVR virtual reality scenes. I have seen the Kaidan and Manfrotto panorama heads at trade shows including PMA and Photokina, but have not yet seen the 3Sixty head from Peace River Studios.
We ourselves have two digital panoramic tripod heads from BetterLight. With the BetterLight Pano/WideView system you don't have to stitch overlapping shots since this motorized pano head takes on continuous 360 degree panorama. So you stitch only at the end, just once. Hence you don't get ugly joining-lines where viewers can see the poor overlap.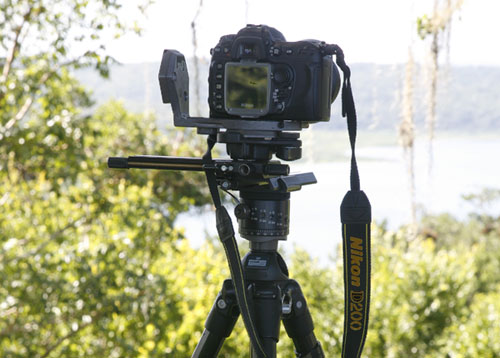 Manfrotto QTVR head.
Most professional brands of panoramic tripod heads (those listed above, Novoflex, Manfrotto, Seitz) do a good job for 35mm cameras, but some brands tend to flex too much. And most are for point-and-shoot, or at most for 35mm digital SLR cameras. I have not found any that can hold the weight of a medium format camera adequately (and most lack a 3/8ths size thread attachment anyway). But recently I had time at Photokina 2008 to meet with the Novoflex people and found their Novoflex Panorama+Q Pro. So we are now testing this in early 2009.
Additional information on Gitzo tripods, Manfrotto tripod heads, Elinchrom strobes, Metz flash equipment, and Bogen Imaging light stands is readily available from the distributor (Bogen Imaging) at: info@bogenimaging.com or telephone (201) 818-9500.
Updated 27/01/2009.
First posted August 12, 2001.