The Foveon Digital Camera Studio System.
Foveon presented its novel digital photography technology at Seybold Seminars at Seybold 99 San Francisco. Foveon President and CEO, Ray DeMoulin, demonstrated the considerable capabilities of the Foveon digital camera. At present the Foveon digital photography system is in advanced development stage but working prototypes reveal considerable potential.
Several aspects of the Foveon Studio System are clever. First, the computer monitor and studio camera are integrated. This means you can comfortably view the previews as well as final images directly in line with the image. You can also view the image enlarged on a 21" monitor off to one side.
The Foveon Studio System is practical in every aspect. The entire processing station is stacked on an AnthroCart rather than being spread out awkwardly on a desktop (which just occupies excessive space).
It would be nice if the actual production model of the Foveon Studio System allows direct coupling with a Macintosh portable. A considerable percentage of professional photographers prefer the Macintosh platform.
Unfortunately, an initial inquiry to Foveon (last year) to see if they had a demo unit to test went unanswered. This suggests they did not yet have a functioning product that is available for outside independent scrutiny.
But at the PMA trade show (Feb. 2000) the camera was in full view and fully functioning. The Foveon system is geared towards portrait photography but would also be ideal for museums and for recording art and artifacts. If an evaluation unit becomes available we will provide abundant reports on the multiple capabilities of the Foveon.
Foveon, Inc, toll free (877) 4-Foveon, information by e-mail to: info@foveon.net
Corporate address:
Foveon (Customer Service Dept.),
3565 Monrow St
Santa Clara CA 95051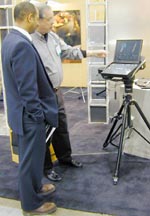 It was pleasing to find that the Foveon people were well aware of Maya archaeology. It would be ideal of camera systems as sophisticated as the Foveon were better known by archaeologists and museum people.
Design updated June 24, 2008.