Gitzo, a practical Tripod system for the Photographer who travels.
If you work out in the field, if you have to move your tripods frequently, get a Gitzo catalog immediately.
No matter what kind of tripod you already have, if you have never tried a Gitzo, then you are missing out on one of the most highly developed tripod systems in the world. I stress the word system because there are dozens and dozens of tripods to select from. Each series of Gitzo tripods has a corresponding quantity of accessories.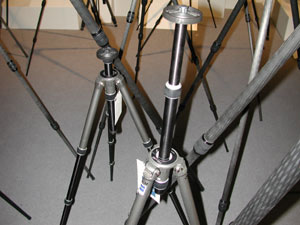 GITZO formerly (when distributed by Carl Heinz company) had clever advertising that lures you into buying their product. I got lured three times, and find many outstanding features with Gitzo tripods. The way the legs can go up in the air is especially useful in rocky terrain (which includes collapsed Maya pyramids). The Gitzo Big Ball head is good as well (more about that in the section on tripod heads).
But Gitzo center posts are the weak point of their system. They are not precsion made in a German or Swiss tradition. Quite simply, Gitzo center posts wobble. And they wobble because the parts do not fit flawlessly. Far too much play exists. I still recommend Gitzo tripods over many other brands, but their former advertising slogan is neither realistic nor backed up in practice. I sent in my tripods for repair on several occasions and was accused of maltreating my tripods and thus causing the wobble due to misuse. In actually I treat all my tripods like delicate instruments. They wobbled from the day I got them, they wobbled after "repair," and I suspect they will continue to be loose and wobbly until Gitzo's factory completely retools them to millimeter precision.
The day Gitzo presents a tripod that does not wobble I will be glad to review it with an open mind, after all, the other features are far superior to other brands. I have three Gitzo tripods still very much in useful service, but I began looking for a replacement system after repairs failed to end the excess play in the central portions. The Gitzo was incapable of sustaining a stable platform when I used a Seitz Super Round Shot in panorama mode (this panorama mode generates so much circular movement that only a tripod with absolute precision fitting could survive this torture test).
The average photographer using a 35mm camera will never even notice the wobble. I am talking about 2 millimeters of play in the center post and thus in the head, and that is only if you kick the tripod. For normal outdoor photography, and for any time you have to move the tripod with you, my first choice would be the Gitzo. If I am strict with the Gitzo, then you should hear what is wrong with any lesser tripod.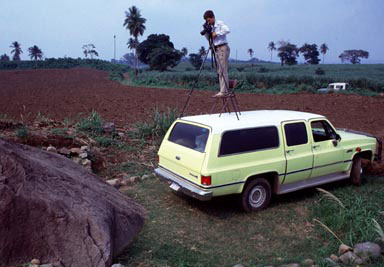 Nicholas Helmuth on the roof of a GMC truck using a Gitzo tripod.
If you remove the normal (long) center post and replace it with a short column or a platform (no column protruding at all) then you can photograph artifacts almost at eye-level (along the ground).
If you have architecture to photograph but lack a view camera with perspective correction you can get my favorite Gitzo. This remarkable tripod rises up at least twelve feet, and then its center column gives you another 18 inches more. I use a ladder to reach the camera. All this is completely portable and I do all this even with 8x10 inch format.
If you are a botanist or zoologist working in any climate, the Gitzos hold up through rain and heat. I especially like the Gitzo ball heads, though I also use Arca-Swiss heads and the remarkable giant Manfrotto head as well.
MANFROTTO, if their tripods are as good as their light stands and tripod heads, these would be worth trying out. Manfrotto is the mother company back in Italy; BogenImaging is their distributor in the USA. I have seen BogenImaging/Manfrotto tripods that looked nice and stable but do not have hands-on experience with any of them. I believe it was a BogenImaging tripod that Michael Collette uses (Better Light) and thus the tripod that took the first rollout of a Maya vase in digital format (along with a Gitzo--the setup requires two tripods, one for the camera, another for the camera). All the tripods for training students in the photography program at Brevard Community College are BogenImaging tripods.
Gitzo has changed distributor in the USA recently, from Karl Heitz to BogenImaging.
BogenImaging Photo Corp., 565 East Crescent Ave., Ramsey, NJ 07446
Tel: (201) 818 9500.
Additional information on Gitzo tripods, Manfrotto tripod heads, Elinchrome strobes, Metz flash equipment, and BogenImaging light stands is readily available from the distributor (BogenImaging) at: info@bogenimaging.com or telephone (201) 818-9500.
last update Aug. 5, 2001.
Design updated April 23, 2008.