Serious problems with Nikon DX AF-S Nikkor 18-70mm 1.35-4.5 G ED lens for Nikon digital SLR .
This Nikon DX AF-S Nikkor 18-70mm 1.35-4.5 G ED lens has several major problems:
The lens shade is too stiff and when you put it onto the lens it ends up turning the entire lens in its camera socket, which puts pressure on the attachment mechanisms of the lens.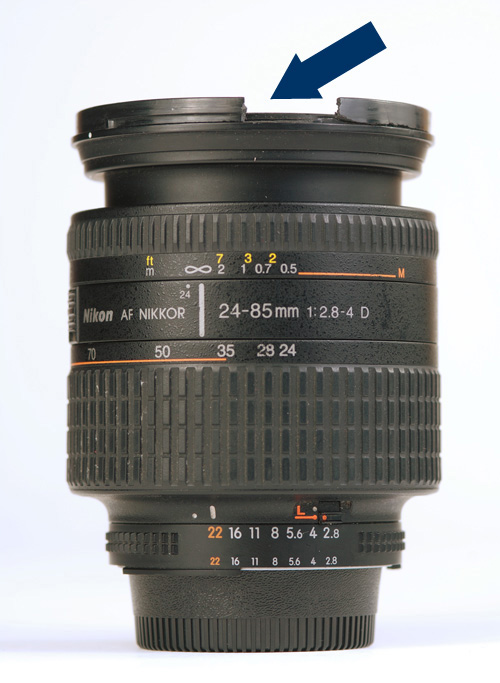 DX AF-S Nikkor 18-135mm f 3,5-5.6 G ED lens.
So the tolerances of design and manufacturing of the sunshade and its attachment flanges are off by about a half millimeter. But this is enough to cause a buyer warning/buyer advisory (FLAAR evaluations are read by over a quarter million photographers a year).
Second problem is that some of my Nikon leness do not activate the f-stop; in other words, the DX AF-S Nikkor 18-135mm f 3,5-5.6 G ED lens does not sit well in the camera body. Probably off a micron.
This is unacceptable on a camera attempting to reach the professional market.
As an aside, a new Nikon D200 problem is that the first few shots are blank, totally blank. This may be a result of the lens not seating properly, but at least one other user of the Nikon D200 reported the same issue. We junked our Nikon D200 as a result. No wonder Canon sells more cameras.
These problems are enough to send photographers off to buy Canon, which would be a shame (both for Nikon and for the photographer, see below).
As soon as I have a spare minute in trans-Pacific and trans-Atlantic travel (I am writing this en route to Novosibirsk, Russia, from there to Israel…), I will return the lens and ask for my money back in full.
But it would be difficult for a camera manufacturer to replace my broken trust. This is simply a cheap lens shade, and a cheap manufacturing option. By December 2007 part of the sealing strip had begun to come out. In effect the lens was poorly made and was falling apart faster than any lens I have bought in the last 40 years.
It may have increased Nikon profit a bit, but loss of sales due to mention of these defects is unfortunately more costly than having made the lens correctly to begin with.
For most photography I use a Phase One P25+ or a large-format tri-linear scanning camera (48 megapixel BetterLight). The latter uses Rodenstock and Schneider lenses. So I do understand the difference between a professional lens and a cheap lens. I use the Nikon D300 to photograph wide-format printers at trade shows exclusively for posting on the Internet or in PDFs on the web. So a 22-megapixel Phase One is too heavy and you don't need a Zeiss lens to make a usable PDF. But I would expect that even for entry-level that Nikon would be ashamed to manufacture lenses as poorly made as these.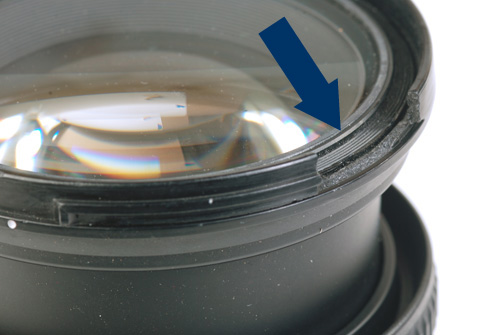 Closeup to the Nikkor AF lens broken part.
Normally I expect quality of Nikon to be better than a Canon
Canon is successful because of spending a billion dollars in advertising from their profits in copiers and now their profits in digital cameras. It is not their cameras that are professional quality, it's their slick advertising. It's an okay camera, better than Olympus's puny sensor; better than most other brands. But if I want better quality in 35mm digital, I expect to get this in a Nikon.
The Nikon DX AF-S Nikkor 18-70mm 1.35-4.5 G ED lens is a cheap product. At first I thought it was made in China; no, it's made in Thailand. And even if made in Germany, if the design specs are off a micron it will have a flaw. The Nikon DX AF-S Nikkor 18-70mm 1.35-4.5 G ED lens has been a flawed lens from Day 1.
I bought a Nikon D200 and this lens because I found the Canon EOS 5D unsatisfactory in every aspect. The Canon EOS 5D is not a professional quality camera, neither in results nor in features. I speak from 40 years experience, having my photos published in National Geographic etc. I am sure many National Geographic photographers use Canon products, but once you have used medium format digital, no Canon is impressive enough. I will need to test the new Canon 21.1 megapixel model, EOS-1Ds Mark III digital SLR, but anyone who can afford medium format quality will be tough to convince.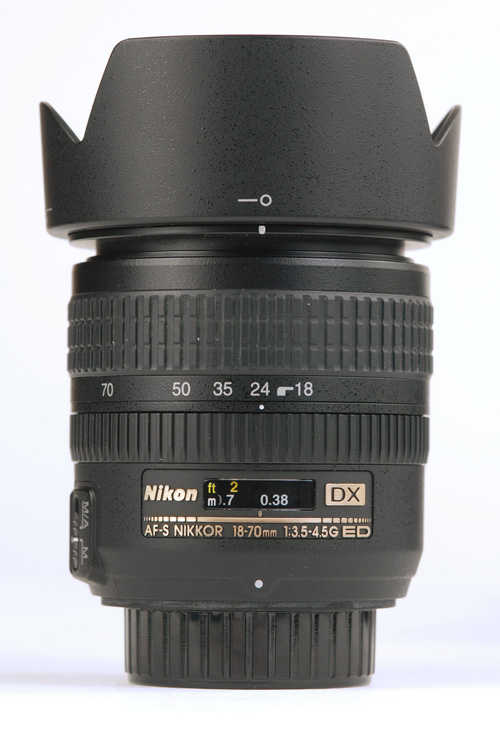 Nikon AF-S 18-70mm 1:3.5-4.4G lens.
Nikon personnel laugh and say it is my own fault for buying their cheap lens
At PMA I twice went to the Nikon booth to politely point out the issues. They really did not care, and clearly said that if I bought their cheap lens, what did I expect.
Hmmm, so Nikon clearly is aware their lenses are cheap and fall apart?
I was told that if I wanted a lens that did not fall apart, I had to buy their more expensive lenses.
What is sad is that the two Nikon lenses that have fallen apart quickly were both made in Thailand. Yes, the Nikon DX AF-S Nikkor 18-70mm 1.35-4.5 G ED is the second Nikkor lens that has fallen apart. I have spoken with several other photographers, and they too said their DX lenses made in Thailand failed to function fairly quickly.
Why does not Nikon at least make them in China, and lower the price so you know the lenses are useless in the beginning?
Now I can see why Zeiss is so successful. If you want a lens for a Nikon that lasts, consider Zeiss. My Zeiss lenses for my Hasselblad are over 25 years old and work perfectly still today.

Nikonians organization say they don't care because if you buy a cheap lens you get what you pay for
I went to the booth of Nikonians at a trade show in 2008, and asked why they don't warn end-users about the bad features of Nikon lenses. Basically they had no interest in listening to my comments whatsoever. So perhaps the 340,000 readers of this FLAAR web site might like to learn that from an independent organization, namely FLAAR, you can learn the truth about definicient products.
Now the lens is completely failed: so not just one problem, but many with the Nikon DX AF-S Nikkor 18-70mm 1.35-4.5 G ED
Now (in summer 2009) the lens will not zoom at all. For the last year it would not zoom past about 35mm (so the lens failed to be able to zoom to 135mm).
Interesting that Japanese engineers can design a lens that can fail in this many ways.
This Nikon DX AF-S Nikkor 18-70mm 1.35-4.5 G ED lens has not been dropped, has not been mistreated. It is always taken care of. The materials out of which it is made are cheap low-bid, the kind of poor quality you usually get in China. There is no precision: the construction is sloppy.
Most recently updated June 16, 2009
First posted Aug. 24, 2007, after month after month of ire at this lens defect. Updated January 22, 2008.
Available by october 2008

Available by octuber 2008

Available by october 2008

Available by october 2008

Available by october 2008

Nicholas Hellmuth's Medium Format Digital Camera Initiative

For over 40 years Nicholas Hellmuth has used Rolleiflex and Hasselblad cameras to record the flora, fauna, and archaeology of Belize, Guatemala, Honduras, and Mexico. Now for several years he is extending his medium format experience to digital photography.

Since FLAAR works both in a studio as well as out on location, we are an ideal focus for judging portability. We have experience with large format digital scan backs (the excellent BetterLight) and we also use Nikon and Canon digital cameras. A full-service digital pro should have at least one medium format digital system and should consider large format digital options as well.

Although we started with a Leaf Valeo 22 coupled with a Mamiya 645 AFD body and lenses, we are open to showcasing all bodies as well as other digital backs. Indeed we have tested an Imacon 4-shot back on a Hasselblad H1 body. Then (February 2006 onwards) we are evaluated a MegaVision black-and-white dedicated back for fine art photography. Next we are testing a 33-megapixel Phase One P 30. Since 2008 FLAAR has used a Phase One P25+ (a great way to update an aging Hasselblad ELX body with its excellent Zeiss lenses).

Camera resellers or manufacturers who wish to have their cameras, lenses, and backs included in this initiative are welcome to send their equipment for evaluation.

FLAAR is the de facto source of information because we have been university based, independent, blunt, and we are one of the few review sources that dares to review advertising specs, advertising claims, and advertising hype. We can afford to reveal all the pros and cons because FLAAR is a research institute. Photographers feel they can trust a university research professor who has devoted years to understanding the pros and cons of each aspect of a digital camera system and workflow.

Notice you are not blinded by blinking, flashing, or pesty ads for low-bid camera stores on a FLAAR photography review. I am always amused by a pseudo-review that obviously is simply paid to send you to a camera store.

You can download our colorful FLAAR Reports on our medium format digital camera initiative.