Panoramic photography with Gigapan Epic Pro digital camera systems
When the first GigaPan panoramic camera systems came out, it was fascinating to watch how a several hundred dollar system could come close to my many thousand dollar panoramas with large-format and medium-format cameras.
I waited until the third generation Gigapan Epic Pro could hold a full-sized 35mm Nikon or Canon DSLR. I did not want to try any of the earlier Gigapan models, since I already had plenty of professional panorama photography equipment. But now I have the Gigapan Epic Pro also, and am content with it. I will be even happer when we can get more diverse after-market panoramic software for the Gigapan.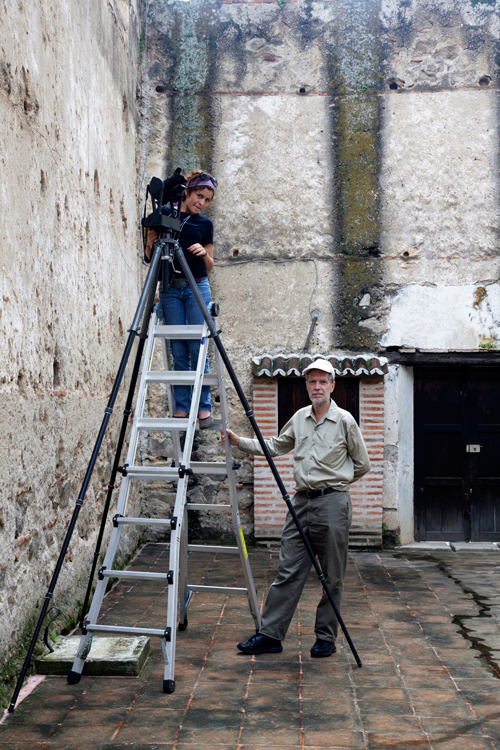 Sofia Monzon and Dr. Nicholas Hellmuth taking pictures with Gigapan
Jaime Leonardo taking pictures at the National Theatre in Guatemala City with Gigapan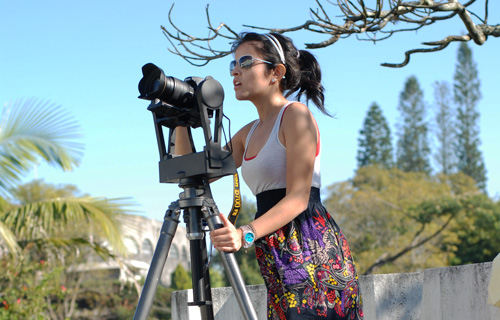 Sofia Monzon taking pictures at the National Theatre in Guatemala City with Gigapan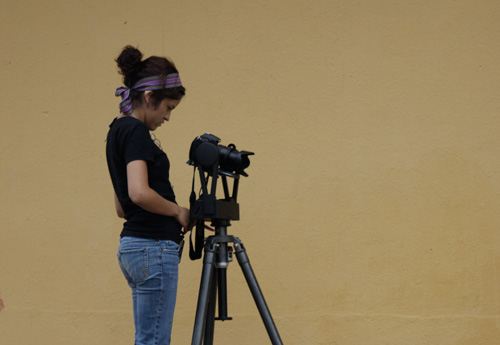 Sofia Monzon taking pictures at the National Theatre in Guatemala City with Gigapan
GigaPan Epic Pro FAQs
In this review of the GigaPan Epic Pro we will be creating a FAQs month by month as we do more panoramic projects.
GigaPan Epic Pro costs
The low price of the original GigaPan Epic Pro robatic camera rig is only the down payment of the actual overall system. You also need a professional tripod, a serious computer, and lots of RAM and memory.
You can also use a medium format camera in the Gigapan Epic Pro
Jim Trotter was able to use his Hasselblad digital camera on the earlier Gigapan Epic (the model before the Pro came out). But unless you want to have a file so big that your computer canít handle it realistically, 35mm cameras are plenty good enough.
Indeed you can take an impressive Gigapan panoramic with a point-and-shoot camera (which are 10 and 12 megapixels nowadays anyway; 35mm are already at 20 and 21 megapixels). Although FLAAR has a medium format PhaseOne P25+, we donít see much need for a multi-ton file size. So we are content using our Nikon D300 camera in the Gigapan Epic Pro.
Accessories: tripod and tripod head
You do not really need a tripod head since the Gigapan Epic Pro is its own tripod head: it fits directly onto the top of a head-less tripod.
Most professional tripods have separate heads, so you just take off the head and put on the Gigapan. If I remember correctly it fits onto a ďEuropean threadĒ (I am writing this en route to South Africa and I am not bringing my Gigapan systems with me; this is one reality check, it does require space to transport it).
Since you will want the Gigapan level, even though it has its own leveling indicator, I always prefer that the top of my tripod have its own leveling indicator also. At FLAAR we use primarily Gitzo and also Manfrotto tripods (for tripod heads we use Gitzo, Manfrotto, and ArcaSwiss).
Accessories: carrying case
I would be very very careful carrying a Gigapan around inside a case with anything else inside. The Gigapan is intended for the mass audience; this is not made in Germany or anywhere else in Europe. It is not flimsy and probably not made in China, but I would protect it inside its own carrying case.
Accessories: you need a serious computer
Everything in life has positive and negative aspects. The Gigapan requires a serious computer and tons of free RAM and many tons of free storage space. But at least it works on a Mac. FLAAR is not fanatic about either Mac or PC: we have a dozen Macs and a dozen PCs (mostly Dell since the Compaq brand were low-end).
But a typical computer is usually so full of normal files that there is rarely enough space to handle more than one or two Gigapans. We went on a three day photo session and found that by the end of the first day we could not handle any more Gigapan files!
So prepare your computer in advance if you intend to go out on a field trip with a Gigapan camera.
Accessories: Stitching software for Gigapan panoramic photography results
Gigapan itself mentions PTGui and Autopano Pro. Someone mentioned an excellent French software but did not remember the brand name. I would indeed prefer additional software. What Gigapan Systems offers is great, but there are glitches with the photography and not everything fits perfectly all the time.
Comparison with other panoramic photography systems: photo film-based
Doing digital panoramic photographs is such a pleasure, it is amazing how many old-fashioned film-based panoramic systems are still offered today: Linhof and Fujifilm are only a few of the many that have been exhibited at Photokina in past years.
Seitz has an interesting panoramic digital camera system, but since we donít have access to test it, we have no FLAAR Reports on Seitz digital panorama systems. We did have FLAAR Reports on their medium format 120-roll film, 220 roll film, and 70mm roll film system (we still have it and it is available for sale; still in excellent condition, e-mail info@FLAAR.org).
Comparison with other panoramic photography systems: digital
Chinese panoramic systems we donít yet evaluate since there are so many precision systems made in Germany and elsewhere.
BetterLight Pano/WideView is the digital panoramic system we know the best since FLAAR has been beta tester of this back in the 1990ís and we thus still have two versions. We still use the more recent version: itís remarkable as long as you realize it is a tri-linear scanning system, so vehicles, wind-blown tree branches, waves, and other aspects of landscape panoramic photography are tough (but not impossible, if the wind is light).
Cambo makes equipment for using medium format digital backs to make at least short panos. that we like because it is precision manufactured in Europe.
Novoflex Panorama=Q Pro is described on our web page and in several PDFs.
Point-and-shoot panoramics with Adobe Photoshop
If you have extreme patience, and if you prefer to spent your time cutting-and-pasting, you can simply wave your camera around and repair the results in Adobe Photoshop. But we prefer to use a heavy-duty tripod, a serious tripod head for rotating the system
History of Gigapan systems
If you know the word Gigapan you already know this is the third generation. The rest of the history is best explained on their own official web sites: Gigapan EPIC, Gigapan EPIC 100, Gigapan Epic Pro
Pictures added Decembre 3, 2010
First posted November 29, 2010