Black and white digital photography and inkjet printers for B&W photographic prints.
Photograph taken by Nicholas Hellmuth in color. Nik Effects would be the appropriate software to use to change this to black-and-white instead of Photoshop.
The move from traditional black and white film into black and white digital photography offers many advantages to the photographer. Whether hobbyist, pro-sumer, or professional photographer, you can get better B&W prints from digital photography than you ever could from old fashioned 35mm, medium format, or 4x5 large format photography.
Photographer Nicholas Hellmuth is in the process of developing an innovative course for the pro-sumer, professional, and B & W hobbiest. In the future this course will be available anywhere in the world, brought directly to your home via the Internet from FLAAR at Bowling Green State University. In the meantime our regular course on digital photography continues to be offered. You can download the syllabus from most of our pages. You can take this course by Nicholas Hellmuth at home via the Internet.
Recent participants were from England, Chile, Mexico, and across the USA. This course comes to you from the professional photo studios on several locations where FLAAR has evaluation facilities for digital cameras. Portions of the course are based on the newest cameras from Photokina trade show in Cologne, Germany, PMA and then PhotoExpo East in New York. Since Photokina is held every two years, and since Dr Hellmuth had an office in Cologne, this was a good opportunity to learn the latest digital imaging technology
You can attend the course from your home or office via the Internet.
If you prefer this course in person, there is an introductory version in the summer (in Spanish). If you wish this course in your home town in person, the course is available in Spanish, auf Deutsch, or in English anywhere in the world. Dr Hellmuth has taught digital photography and digital imaging in Osaka (Japan), on the Island of Malta (University of Malta, Malta Centre for Restoration), and in Guatemala.
Now you can see why people like to take a course with Dr Hellmuth: he has the experience and international exposure to exciting digital technology. Plus he shares all his knowledge with the participants of the course.
All these courses cover the complete spectrum of digital photography, cameras, lenses, lighting, and software. B&W digital photography and subsequent B&W printing on inkjet and/or laser printers is part of this general course. Thus the course covers far more than just black and white digital photography.
For example, Nicholas is installing a quad-black inkset together with seven main colors to create a combination of 11 ink colors (possible only in a 12-ink-line ColorSpan Mach 12 printer). So if you aspire to learn about black and white printing, it helps to learn about black and white digital photography (ironically has to be done in full color to start with), then how to select the multi-black inkset, whether with Epson 2200, 7600, 9600, or more recent Epson Stylus Pro 4800, 7800, and 9800. You will also learn from Nicholas about some other printers which may not be as well known to you (there is another printer with triple blacks, one yellow, two cyan, and two magentas).
New option for black and white fine art photography: dedicated B&W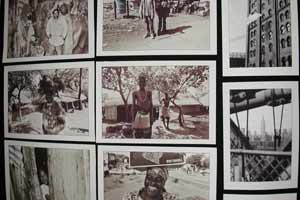 Lyson inks for Black and White prints, this is a display from the Photo Plus trade show.
Generally the best black-and-white digital images come from color originals. Color digital photos are the best of all. The reason is that scanning old negatives results in film grain appearing in the scans. We cover this in www.flatbed-scanner-review.org.
But now there is a new alternative, a dedicated B&W digital camera. There is no color, no Bayer Pattern color filters over the CCD sensor. We tested this unique MegaVision black-and-white camera in August 2005 and again during February 2006.
As you may notice, Nicholas's interests include B&W fine art photography and printing B&W images on digital printers. Several people who work with FLAAR are also into black-and-white digital photography. We are posting Jacqueline's black-and-white photos here.
Most recently updated June 22, 2006.
First posted February 27, 2006. Previously updated June 21, 2006.
Available by october 2008

Available by octuber 2008

Available by october 2008

Available by october 2008

Available by october 2008

Nicholas Hellmuth's Medium Format Digital Camera Initiative

For over 40 years Nicholas Hellmuth has used Rolleiflex and Hasselblad cameras to record the flora, fauna, and archaeology of Belize, Guatemala, Honduras, and Mexico. Now for several years he is extending his medium format experience to digital photography.

Since FLAAR works both in a studio as well as out on location, we are an ideal focus for judging portability. We have experience with large format digital scan backs (the excellent BetterLight) and we also use Nikon and Canon digital cameras. A full-service digital pro should have at least one medium format digital system and should consider large format digital options as well.

Although we started with a Leaf Valeo 22 coupled with a Mamiya 645 AFD body and lenses, we are open to showcasing all bodies as well as other digital backs. Indeed we have tested an Imacon 4-shot back on a Hasselblad H1 body. Then (February 2006 onwards) we are evaluated a MegaVision black-and-white dedicated back for fine art photography. Next we are testing a 33-megapixel Phase One P 30. Since 2008 FLAAR has used a Phase One P25+ (a great way to update an aging Hasselblad ELX body with its excellent Zeiss lenses).

Camera resellers or manufacturers who wish to have their cameras, lenses, and backs included in this initiative are welcome to send their equipment for evaluation.

FLAAR is the de facto source of information because we have been university based, independent, blunt, and we are one of the few review sources that dares to review advertising specs, advertising claims, and advertising hype. We can afford to reveal all the pros and cons because FLAAR is a research institute. Photographers feel they can trust a university research professor who has devoted years to understanding the pros and cons of each aspect of a digital camera system and workflow.

Notice you are not blinded by blinking, flashing, or pesty ads for low-bid camera stores on a FLAAR photography review. I am always amused by a pseudo-review that obviously is simply paid to send you to a camera store.

You can download our colorful FLAAR Reports on our medium format digital camera initiative.