X-Rite DTP41UV spectrophotometer for ICC color profiles and color management.
The Digital Imaging Resource Center is constantly studying current trends in digital printing. In addition to devouring all the trade magazines and attending the leading international trade shows, we also do our own digital photography and wide format printing. We have been introducing color management and ICC profiles over the last several years. We use an X-Rite DTP41 UV with Monaco Profiler software.
In the meantime X-Rite has come out with their Pulse ColorElite System, for creatives. For advanced color management X-Rite now offers the DTP70 scanning X-Y spectrophotometer.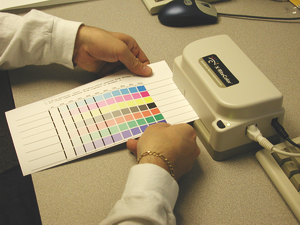 X-rite color management at FLAAR.
Our reviews cover Europe (from our office in Germany), all Latin America (from our office in Guatemala), and naturally the USA.
A bewildering choice of spectrophotometers are available, from Techkon, Ihara, Mutoh Focus, Barnieri, Spectroscan, and the popular GretagMacbeth EyeOne. Of course this implies that you have figured out the difference between densitometers, colorimeters, and spectrophotometer. Next you need to decide on a UV spectrophotometer or a transmissive spectrophotometer. All this is why it helps to get your hands on the color management tips and help from the FLAAR Reports series.
We have found that if you need color management to achieve museum quality fine art prints, giclee prints, or photographs for exhibits, then a good solution is from X-Rite to use with ColorSpan, Iris, Ixia, Epson, Encad, Roland, and HP DesignJet printers.
Like many photographers, artists, and sign shop printers, we jerry rigged color for years without any X-Rite or GretagMacbeth spectrophotometer. But that is not a good solution. Sooner or later it is best to learn color management once and for all.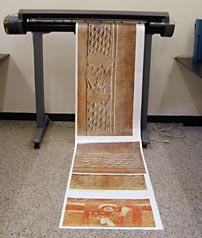 All kinds of ICC color management software is available for ICC color profiles: Kodak ColorFlow, Creo (Scitex) Profile Wizard, ProfileMaker from GretagMacbeth, Praxisoft WiziWYG, ColorBlind Elite Version, ColorSavvy ProfileSuite, ProfilePrism... and others. After visiting a dozen tradeshows in Germany, England, and across the USA we noticed there was one international standard, namely Monaco Profiler. So we now use Monaco Profiler at both universities.
Here is a poster being produced to announce the new exhibit of Maya art at the Museo Popol Vuh. Although this page shows the aging Encad, we actually have the HP DesignJet 5000ps, ColorSpan DisplayMaker XII, Mach 12, IRIS 3047 giclee printer, the HP 1055, HP 800, and HP 2800, several Mimaki printers and several Epsons as well. We use these printers to evaluate media, RIPs, ink, and now, color management tools and software. Several reports are available on the results.
FLAAR has an entire Report on RIP software. Some RIP software is slow; other brands are much faster. The FLAAR report indicates which is which.
Our original entry into the wide format world was with an Encad NovaJetPro 36". Now we use HP DesignJet printers since they don't clog as frequently.
Last updated October 22, 2004.
Updated July 2, 2003, page posted Jan 23, 2000; updated with additional photograph Feb. 20, 2000; links added Nov. 20, 2000; updated Dec. 21, 2001
Design updated June 19, 2008.