Sola heavy duty conditioners.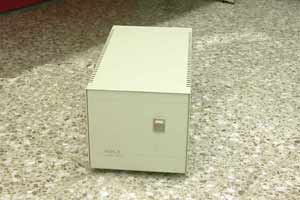 Sola heavy duty power conditioner at FLAAR UFM digital photography studio
If you have any kind of digital scanning back we highly recommend that you use Sola Hevi-Duty power conditioners.
We tried to squeek by with our regular wiring,but so much flicker in the lighting that we switched to Sola Hevi-Duty power conditioners. When we are not running the lighting for the digital cameras we use the units for conditioning the power for our digital imaging computer workstations.
During the time you don't run your studio lights from these power conditioners, you can put your computers on them. We use the # 63-13-210-6 from the MCR Portable series. These units are completely portable, something we need in Guatemala.
In the museum we use a heavier duty Sola unit. This required rewiring the photo studio but was worthwhile. Without the Sola power conditioner our digital photographs had unsightly vertical banding, caused by fluctuation of the lighting during the several minute exposure of the tri-linear scanning back digital camera system.
Contact for Sola: Clyde Knoppe, Sola/Hevi-Duty, 7770 N. Frontage Road, Skokie, IL 60077, tel (847) 763-6603, fax (847) 773-6033, email: clyde.knoppe@egs-eg.com
Most recently updated April 09, 2001.