Pinnacle Micro Apex.
Zip is useful for sending small files to other companies or trading within an office, but a Zip will not hold the class of files produced by Dicomed, Better Light, or Phase One digital cameras. After 6 months testing of a host of storage systems, we settled on the 4.6 GB capacity of Pinnacle Micro Apex.
In a single season of digital photography with a Better Light Dicomed digital camera we generated over 120 GB of files. No way that even a Jaz or any wimpy 1 GB system can handle such a professional rate of output. The additional advantage of the Pinnacle Micro Apex is that the system works.
The attractive blue unit at the back, right, is the EFI Fiery hardware RIP for the wide format ENCAD NovaJet Pro ink-jet printer.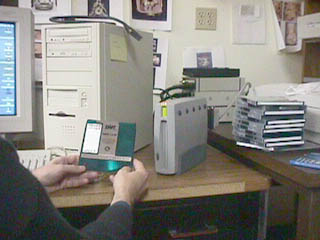 We tried the Nikon Beluga, lured by the advertisements touting its direct overwrite capability. It was direct overright alright, it wrote through from one side to another! This technology was not yet mature, or at least not last year. Fortunately the dealer accepted all the Beluga and media back. We should also admit that Nikon technicians, as far away as Tokyo, were an immense help, but they could not rescue an unfinished technological development.
We understand that Nikon Beluga technology has now matured and we are willing to test it again, and revise our assessment if the units work flawlessly (as we expect they will).
what is a RAID array and why do all digital photographers need one?
The Apex 4.6 GB disks from Pinnacle Micro are sturdy. We carried them back and forth from the USA to Guatemala many times. Heat, tropical humidity, and volcanic dust of Central America did not seem to disturb them.
Shortly we will be testing CD-R, CD-RW, and DVD-RAM systems. Panasonic DVD-RAM is our initial favorite because it can also read and write the older PD PhaseWriter format of 'Toray' and Panasonic.
We will also be reviewing Seagate Cheetah, Seagate Barracuda, and other hard disks systems.
In the meantime we can report that FWB HardDisk Tool Kit is a useful item to have in your software arsenal, especially if you need a software RAID system at level 0, the level we prefer for fast movement of large files.

Last updated April 6, 1999; links added July 10, 1999.