Macintosh Norton Utilities.

What software utilities do you need if you have one o more Macintosh computers but do not have a full-time technician?
Since FLAAR. is associated with a university (for our office in Latin America) and is associated with a community college (for our office in St Louis), we often have capable Macintosh technicians available. But our office in Germany is completely independent, so we depend on the Mac Repair and Upgrade Bible, and crucial utilities software.
Every home or office which has a Macintosh needs Norton Utilities (from Symantec), Hard Disk ToolKit (from FWB), and TechTool Pro.
With all the large format digital photography going on at the FLAAR. studios, we produce tons of digital files. These huge digital files clog countless hard drives (stacks of 34 GB drives). With all these hard drives you can count on hard drive failures frequently. These are not hard drives which crash or wear out, but drives where the directories get confused or otherwise have software hang-ups.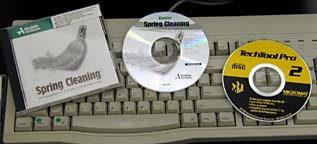 This is where you need every Macintosh software utility that is available. We recently had a situation where only TechTool Pro could easily and quickly rescue all the priceless digital images on a 34 GB drive. As a result we wholeheartedly recommend TechTool Pro.
The capable Mac technician who responded to our emergency call had the TechTool Pro, so we have to wait until we can get our own for review.
He also had Spring Cleaning, which he recommended, but we do our tests only when we have the software ourselves, so we will have to wait until we get Spring Cleaning from its manufacturer.
Posted Jan 23, 2000.
Design updated July 09, 2008.