Better Light Rollout Super6K-HS System for archaeology and museum photography.
BetterLight continues to offer new advances in digital camera technology every year. We had their prototype system since 1997. It was then updated to the Super 6K circa 2000. Now (2006) the new USB-2 system is available (ours is the older SCSI system). USB-2 is better in every respect, so last week we updated to the Super6K-HS.
The software of this remarkable digital camera system peels off the circumferential decoration around a cylindrical object. A "Rollout Photograph" is a picture of the decoration on the circumference of a round object. It takes a special camera and coordinated turntable to rotate the round object (in this case a 7th century Maya vase). Better Light is a company which invented the software and hardware to make this class of camera available in digital format.
Previously rollouts of Maya vases were done by trial-and-error with modified Hasselblad cameras and 220 or 70mm film. The digital results are vastly superior to using film (we know since we have two old film systems for rollouts that we used before we had the Dicomed and then the newer BetterLight system).
| | |
| --- | --- |
| | |
| BetterLight scanning back in a Wisner 4x5 wooden camera. We do not use wooden cameras any more because they are not precise enough. We use a Cambo instead. | The newer model BetterLight Super 6K scanback as it arrives for evaluation. The fact that BetterLight is an active company, still offering new models, is important. Too many other companies have abandoned tri-linear scanning technology and the people that bought those brands (JOBO, etc) got stuck with a dinosaur. BetterLight is among the first that introduced tri-linear scanners to the professional camera market, and ten years later BetterLight is still producing new models. I was just at the BetterLight headquarters recently (February 2008). |
The Better Light version of the Dicomed Field Pro DDC was a good digital system for that year (circa 1997). The Better Light Dicomed has earned its place in the history of photographic technology as the first production model of digital rollout and large format digital panorama.
Better Light now has a pano, QTVR, and rollout system which we tested extensively since summer 2001. The camera still works great, so this is a testament to how sturdily it is built. You can't get this kind of testimonial from a 90-day loan.
The Better Light rollout system is better than either of the two other rollout cameras which FLAAR already has, and both of them were in turn the previous Best of Class for their kind.
| | |
| --- | --- |
| | |
| Nicholas and Brent circa 2004-2005, testing a BetterLight scanback. | Brent Cavanaugh, former manager of the FLAAR digital imaging testing facilities for several years, with a BetterLight scanback. |
Most of the year we are out in the jungle or in a far away museum doing intensive and extensive photography. Now at least we have the absolute ultimate in high-end large format photography, on the cutting-edge of rapidly developing technology from the Better Light company
Better Light can be reached via info@betterlight.com. Visit them for the latest information about the new digital camera systems.
For technical aspects of the hardware and software please you contact the inventor and developer Michael Collette directly at that same e-mail. You can also speak with him personally at PMA and PhotoPlus, the two leading trade shows.
This 7th-8th century Maya vase rollout shows stylized feline coloration patterns (jaguar, ocelot or margay). This Mayan vase rollout was taken with a BetterLight Pano/WideVue tri-linear scanning camera. We use Cambo Ultima to hold the BetterLight.
People often ask how this digital technology holds up in real life? Well, we spent 6 hardworking months with the system all over Guatemala. If the jungle heat and humidity cannot phase the system, you can count on it working in your studio.
We moved the camera constantly, packed and unpacked, shuffled around in cabs, even put it on a boat out in the Caribbean. The original Dicomed version of the BetterLight camera system is now back in Ohio. The newer BetterLight Super6K was stationed permanently in Guatemala because it is too difficult to get this complex gear through airport screening security (yes you can get it through, but I got tired of the headaches of explaining to security people who knew zip about digital camera technology).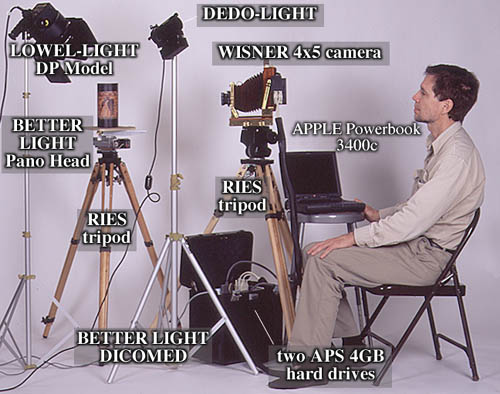 This is Nicholas about 11 years ago with the original Dicomed branded version of the BetterLight. We do not use Dedolights any more, because their transformer causes interference with the scanning (and leaves lines in the image). But we still use the same Manfrotto geared tripod head though we use Gitzo tripods instead of wooden tripods nowadays.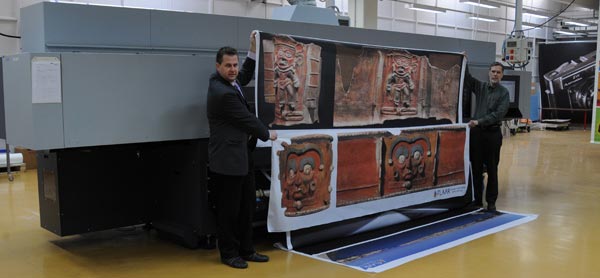 Here are some samples of rollout photographs of Maya pottery of Guatemala, taken with the BetterLight scanback with Pano/WideVue accessory. These images from the large-format BetterLight tri-linear scanning back have enough resolution to be enlarged to over three meters long and over a meter high. These prints were made in the world headquarters of Durst, in Brixen, Italy, on a Durst 351R.
Most recently updated March 24, 2008.
Updated August 2, 1998, again Feb. 3, 1999; links added July 10, 1999; Updated Aug. 5, 2001. Updated Jun. 19, 2006; Updated May 6, 2006.