Training in panorama photography.
Many solutions have been developed to take panoramic photographs. Often the panorama photograph is simply a nice wide angle view, such as the 6 x 17 centimeter format of Linhof or Fuji panorama cameras. Other panoramas have moving lenses or rest on a turntable and the entire camera turns. Panorama cameras come in all sizes from 35mm through medium format to large format panorama cameras. I have seen panorama adaptations of the 6 x 17 cm Linhof format that took up to 20 or 24 inches. Actually an effective "panorama camera" is an 8x10 Linhof with a Rodenstock wide angle lens, cropped down to a band across the middle of the 8x10 area.
Panorama view by Nicholas Hellmuth of farm in the Missouri Ozarks. If you take the dedicated panorama training course you should be able to take a photograph of this quality after the first week. This image has been enlarged to 3 feet high by 18 feet long, printed on an HP DesignJet 5000.
But nowadays all the half-and-half panorama cameras are surpassed in every respect by the new digital turntable models. No longer do you need to stitch overlapping snapshots together to form a QTVR virtual reality view. No awkward angles or different lighting in adjacent snapshots that did not quite mesh with the adjacent shots. Now the entire picture is seamless.
The panorama below is taken from the Hotel Cortijo Reforma. It is about 160 degrees wide because of the side walls of the porch of this 14th floor view towards Zone 10 on the left and Zone 9 straight ahead. That is Volcano Pacaya to the right of the middle (erupting its usual plume of smoke) and Volcano Agua and probably Acatenango towards the left (at least one of these is erupting as well). They erupt day and night and spew black grit over the entire city. Yet the camera survived six months of this powdered abrasive material.
Volcanos on the horizon, ringing Guatemala City, Central America, the first panoramic photograph taken by Nicholas Hellmuth with prototype system courtesy of BetterLight.
The Better Light adaptation of the Dicomed Field Pro is capable of allowing you to read the text on a billboard at over a mile distance (almost two kilometers). This newsworthy photograph was taken with a 120 mm Schneider wide angle lens (not cheating using a telephoto).
Here, in the actual panorama you cannot even see the billboard, but you can zoom in on the monitor (with the original image, not JPEGed to transmit on the Internet) and read the text on this billboard. This is a billboard at the end of Avenida Reforma.
With this kind of quality there is not much need to worry about people who ask "when will digital cameras be able to take as good a photo as a regular camera?" Digital cameras have already equaled, and in this case, exceeded, the capability of even a medium format (such as a Hasselblad).
"The Sinks," where Sinkin Creek flows through a hill, one of the natural landmarks of the Missouri Ozarks, pictured in almost every book on the geological curiosities of Missouri. Photo by Nicholas Hellmuth; camera courtesy of Wisner; scanning back courtesy of BetterLight.
Better Light digital cameras are available directly from BetterLight, e-mail info@betterlight.com. The regular models as well as the Pano/WideView panorama option are now available (the panoramas here were taken with a working prototype four years ago). For additional panoramas taken with the Better Light system, see the web site of landscape photographer Stephen Johnson, sjphoto.com.
Panoramic of the Missouri Ozarks, photo by Nicholas Hellmuth, FLAAR with BetterLight rotating seamless digital panoramic system.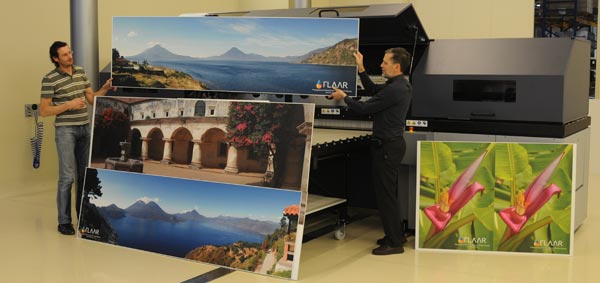 Images from BetterLight being printed in Lienz, Austria at the manufacturing plant of the Durst Rho 800 Presto, a combo style UV-curable ink flatbed printer.
Contact is Mike Collette at info@betterlight.com.
Most recently updated Jan. 17, 2006.
Previously updated: August 5, 2001, June 24 2002, Jan 28, 2004. Design updated April 9, 2001.