Tripod Heads are as important as the tripod on which they sit.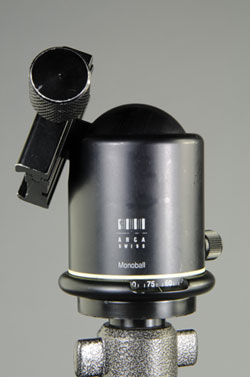 Serious amateurs and professional photographers select the head for their tripod with as much care and research as they do the base tripod itself. Often the tripod will be one brand and the head will be another brand. Cheap cameras for weekend hobby photographers tend to not offer interchangeable heads--these less costly tripods will come with one head already permanently fixed to the tripod.
The most popular head of all times, especially for advanced amateurs and many professionals is the Arca-Swiss monoball. Indeed this tripod head is so popular worldwide that two separate companies make accessories just for the Arca-Swiss head. Of course the Arca-Swiss head will fit any and all professional tripods. You do not have to have, want, or even know about an Arca-Swiss camera to need and own an Arca-Swiss head.
My personal favorite is the old original model Arca-Swiss monoball. The newer ball is most likely far superior but I never learned to use it, probably because it locked in transport, a quirk of the new head. It can be unlocked, but I lack the patience to do this exercise, so I loaned it to Jack Sulak for him to use.
Tripod heads are not the place to save money. So avoid the temptation to buy any other head just because it is a few bucks cheaper. And before you sink money into the attachment plates from Arca-Swiss, check out the custom made attachment plates specifically fitted for your own brand of camera. Most of the people who use the Arca-Swiss heads are actually photographing with Leica, Nikon, and comparable 35mm cameras though I have used my Hasselblads with weighty lenses with full confidence and ease on Arca-Swiss heads.
I would also use my 4x5 Linhof Technikardan on an Arca-Swiss head, but once you move into 4x5 inch format you will probably also have reached the point where you should move up to the Manfrotto head. Manfrotto is a geared head, which means it has brakes. You do not want your 4x5 camera to sag just because the monoball head is not locked tightly enough. The Manfrotto is not a monoball.
When I moved up to the Seitz panorama camera system I began looking around for a better tripod. Although I was satisfied with the Manfrotto head, if I was getting a new tripod system I figured I might as well try out a new tripod head, so I asked Linhof what they offered. So I visited the Linhof world headquarters in Munich, Germany. Dipl.-Ing. Ullrich Weigand showed me their Profi 3 Universal pan/tilt head. Since it offers solid locking it appears to be worth trying out.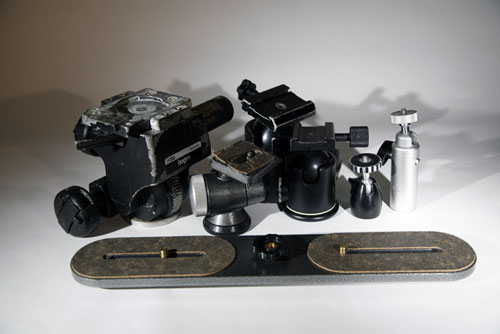 Dr. Hellmuth has examinated for many years the use of tripods.
I got the earliest version of the Manfrotto head Model # 3263) and liked it so much that I bought another one as soon as I could afford it. This is keeping in mind I already had two Arca-Swiss heads and at least one or two Gitzo Big Ball heads (either the #375 Ball 3 or the #475 Ball 4 models). Since I have tripods stored in all the countries where I work frequently, Germany, Mexico-Guatemala-Belize, and the USA, I need many heads. This way I do not have to drag tons of equipment through airports. At least 25% of my equipment is already waiting for me at my destination.
The Manfrotto is great for 4x5 and 8x10 format. I also use it for Hasselblad and of course it works with a Leica as well though is overkill for 35mm format. You will want to be sure to get some extra camera mounting plates (I prefer the thinnest ones, 13 cm high, to keep the center of gravity down).
For several years it was a challenge to find an Arca-Swiss dealer or even a main distributor in the USA. Now they have moved to Chicago. If you lose track of them, the corporate headquarters that is in a past catalog is: Arca-Swiss Phototechnik AG, CH-8810 Horgen.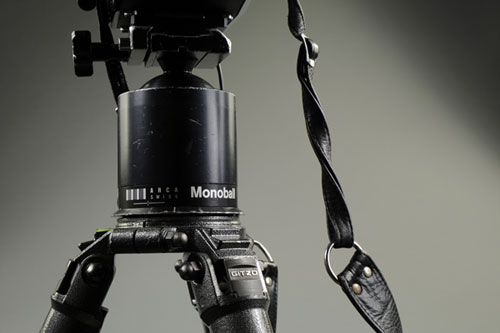 Arca-Swiss tripod head.
Must be a pleasant small town where no street address is required. Probably half the town either works at Arca-Swiss or is related to someone who works there. The phone I have is 41 1 725 61 60, fax 41 1 725 64 37, but I do not know if these are still valid since Arca-Swiss recently moved to France in order to be within the European Common Market.
Additional information on Gitzo tripods, Manfrotto tripod heads, Elinchrome strobes, Metz flash equipment, and BogenImaging light stands is readily available from the distributor (Bogen Photo is now known as Bogen Imaging) at: info@bogenimaging.com or telephone (201) 818-9500.
Last updated Aug. 5, 2001.