Colex ReproScan 8000, Metis DMC 1015, Jumbo Scan III from Lumiere Technology.
The Colex ReproScan 8000 with Anagramm digital Picture Gate 8000 scan back is one of several modern overhead scanner systems that replace the old-fashioned reprographic copy stand. Alternatives are the tti, Kaiser rePRO stand, ZBE Satellite and Cruse scanner system.
These reprographic copy stands are intended to photograph paintings, drawings, rare books, maps, documents, photographs that need to be enlarged, and samples of every imaginable kind. Most of these objects are too large to fit on top of a regular flatbed scanner. Realize that any model 8000 scanning back has a depth of field of about zilch. These are not made for photographing objects; these are intended to photograph maps or other flat things with not much depth to them
This is the Cruse scanner being test at the Siggraph tradeshow 2003.
Beginning about 1998 the FLAAR Photo Archive reviewed a variety of overhead scanning systems based on a reprographic copy stand. We have checked these out at Photokina trade shows in Cologne, Germany (1998, 2000, 2002, 2004, 2006, and recently at 2008), PhotoEast trade show in New York every year including 2008, and PMA 2000, 2001, 2002, 2002, 2003 through 2006 (by 2007 PMA had deteriorated to entry-level electronics and not as much interest to FLAAR, since our field is professional level, especially medium format and large format). Our report is included in Prof. Hellmuth's comprehensive course on digital photography.
Essentially the Colex and ZBE Satellite reached the end of their development several years ago. They are not presented any more at most trade shows. So far the two most sophisticated reprographic copy stands that I have seen at the tradeshows are by Linhof, tti and Cruse. However just seeing them at trade shows does not tell us how well they actually function. Therefore we need evaluation units. The company that sends an evaluation unit gets scrutinized first. Kind of tough to review a reprographic stand if we don't have it available!
So the Cruse system has been shipped to the FLAAR evaluation studios at Bowling Green State University of Ohio. Altogether we have space and personnel to evaluate virtually any and every item of equipment that arrives (FLAAR has a staff of 15 employees). We have several wide format printers available to print the scans which these repro stands provide, so we the results are now available in the FLAAR course on digital photography, conveniently available on-line anywhere in the world. You can take the course in the comfort of your home or office any hour or day of the week.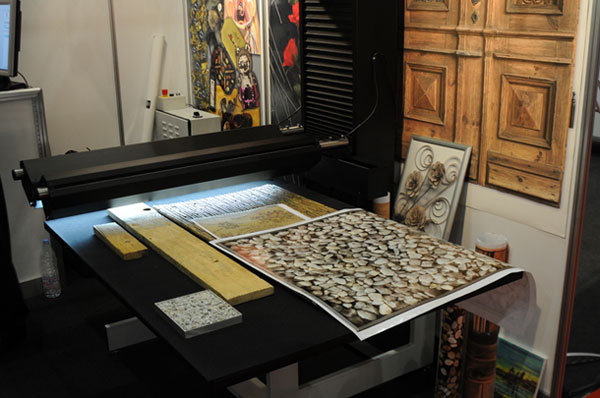 Cruse reprographic stand is ideal for fine art giclee digitizing of paintings, for photo studios, for pre-press shops, etc.
This picture was taken at FESPA digital 2008.
At Photokina 2002 we saw the Metis. It looked like a flimsy knock-off copy of the Cruse. The construction details did not have the appearance of sophistication or strength of the Cruse. There is evidently a patent issue to, since Cruse has a patent in Germany for their Synchron lighting system. The other advantage of Cruse is that they have a full-time office in the USA and three full-time staff, including an installation technician, all three of whom knows the Cruse inside out. There is no way a French or Italian company can provide that level of support across the entire USA on a daily basis. Calculate how long you would have to wait for a spare part, or a tech support person, and in English too. With Cruse it's all in English and all when you need it.
Cruse copy stand digital camera system at Photokina 2008.
We corresponded with one company that was considering a Jumbo Scan from Lumiere Technology. The decided to not go with that brand. I believe they chose the Cruse instead. We have not seen any Jumbo Scan machine at any trade show in the US or in Europe. We will see if they appear at any show during 2004. Since these giant units are obviously not portable it is a challenge to have an opportunity to test them, but we tested the Cruse both at BGSU for over six years now, and then tested a new generation model at SIGGRAPH '03. As a result the new model was installed at the FLAAR facility. In 2007 we updated to an even more sophisticated model of the Cruse scanner.
BGSU does scanning for many commercial companies and the results are outstanding. We do not see any need to switch to any other brand, but we are always curious to know the pros and cons of every brand so we can better inform our readers. Thus we can document that the Cruse works, and produces quality scans that a library, museum, university, or commercial customer expects. The Cruse is especially good for photographing oil and watercolor paintings for giclee.
We also like the ability of the Cruse to scan objects up to 4 inches in depth. Although all digital cameras have limited depth of field, and although closing down the aperture in the lens does not produce the same results with trilinear scanning backs that it did with regular film, you can still tweak slightly more depth of field from the Cruse system than from some model 8000 scanning backs.
In the meantime, for more information on the Cruse, contact: Mike Lind, malind@msn.com (for years the sales and installation outlet for this company, managing director of USA office of Cruse GmbH of Germany).
Most recently updated December 1, 2008.
Previously updated: January 28, 2004, July 3, 2003. links added October 14, 2001 Design updated April 9, 2000. Page posted Jan 23, 2000.