Masking software, Adobe Photoshop CS4 plugins, major brands.
This page is an introduction to a long-range initiative by the research institute FLAAR to cover all major Adobe Photoshop plug-in software tools related to digital photography.

We fully recognize that there are a host of other digital photographing imaging programs, such as Corel Paint Shop Pro. Indeed the author of Paint Shop Pro X evealed, Sonja Shea, works at the FLAAR office in St Louis. But the FLAAR staff of about 10 graphic designers, web designers and photographers all use Photoshop CS and Adobe inDesign so it is natural that we focus initially on plugins for Adobe Photoshop CS4.

We rank software by whether it is used in graphic design businesses, or used at home. Obviously thousands of home-users also use Photoshop so we have a generic break at price level. The six software tools listed here initially are what we consider the potential top six (this assessment is fluid and can change).
onOne software Mask Pro 4 (former Extensis Mask Pro)
Vertus Fluid Mask 3 4 masking software compositing
EZMask Digital Film Tools masking software selection tool
Corel Ultimatte Knockout masking software
Ultimate AdvantEdge masking software
Adobe Photoshop CS4 extract, background eraser, etc tools for masking
So far we have received the Fluid Mask software from Vertus and are beginning to evaluate it for a review that will appear shortly in the FLAAR Reports.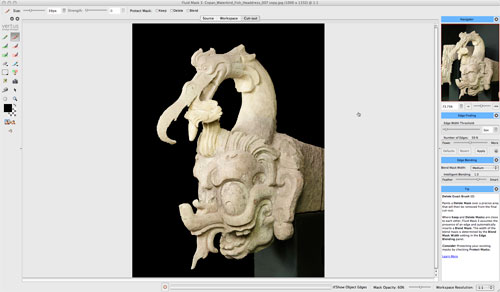 Processing Copan Waterbird Fish Headdress with Fluid Mask software.
Masking software listed on an early FLAAR web page on digital photography (1999-2004).
Ten years ago FLAAR was already listing masking software. Some of these software tools did not survive; others survived but did not gain much market share, and a few survived and moved to the higher level rating today in 2009.
Human Software AutoMask masking software
Autofix MaskFX masking software layer-mask
Digital Dominion Cinematte background
Chroma Magic Mask masking software for Mac
Other plugin masking software, but not major brands.
If you spend hours on the Internet you will find an endless number of other masking software plugins. Since FLAAR is a non-profit research institute, even in a non-recession year it is not realistic to do a full evaluation of every single product, so "other" masking software plug-ins we list but will unlikely be able to do a full review on them.
We do not even begin to list the endless home-made plug-ins. These are great for photographers who have abundant time in the evenings or on weekends, or who are retired, to devote time on these other plugins. So here we list only the masking software that have at least a basic corporate structure behind them.
Metakine Decompose extract objects masking software
Stepok Image lab Recomposit bluescreen chroma key extract masking software
GrowCut 2 3 extract cutout tool isolating maskng software
If you compare prices obviously some software is less price than others. In a recession economy the lowest price is tempting. But if you wish to get a job doing commercial graphic design and/or commercial digital photography, they will more likely notice when you mention your ability to handle a known brand name. So buying based on the lowest price is not always the best idea.

But where you can make an impact at a job interview is to indicate that you know how to operate the big brand names in digital imaging software, but hey, you also know products that cost much less that can do 75% of what the big brand names can do. In other words, in these troubled times of 2009 it is safer to cover all options.

Major bluescreen masking software.
Some masking software requires a bluescreen or green screen background. We list two here. We do not yet list masking software that is primarily for video.
Digital Film Tools zMatte bluescreen green-screen-composites
Digital anarchy Primatte chromakey bluescreen green-screen/ Ambient Design Ltd Primatte 2 3 Photron

Digital Anarchy bluescreened images
Note: it is confusing what is the difference between the Digital Anarchy and Ambient Design versions. They seem to be the same; see artrage.com and look for the page on Primatte.

Other masking software for Adobe Photoshop.
You could easily spend an entire weekend making lists of masking software, but it is not realistic to learn so many atypical software. But one that I should at least list is
Advantage, from Ultimatte Corporation.
The FLAAR format of covering any subject.
Since FLAAR is a research institute dedicated to education, we will produce an introduction to masking software, a glossary on masking software, tips, help, and practical information.

First posted March 9, 2009 as part of our moving into systematic cataloging and slowly evaluating Photoshop plug-in software.