Reports by FLAAR Mesoamerica
on Flora & Fauna of Parque Nacional Yaxha Nakum Naranjo
Peten, Guatemala, Central America
---
Posted July 14, 2023
Today I do most of my precision photography with an iPhone 14 Pro Max. I wanted to show here some results. This is out in the dry scrub forests of the hills of El Progreso and Zacapa areas. We have worked during three weeks of field trips to find and photograph and document manzanote trees, a cactus that is a complete tree. Last week, while photographing the flowers there were a lot of bees. I noticed one bee was stuck behind the petals so I opened the petals and a green spider came out with the bee in its mouth! I took several quick snapshots with the iPhone 14 Pro Max and was frankly amazed at the quality.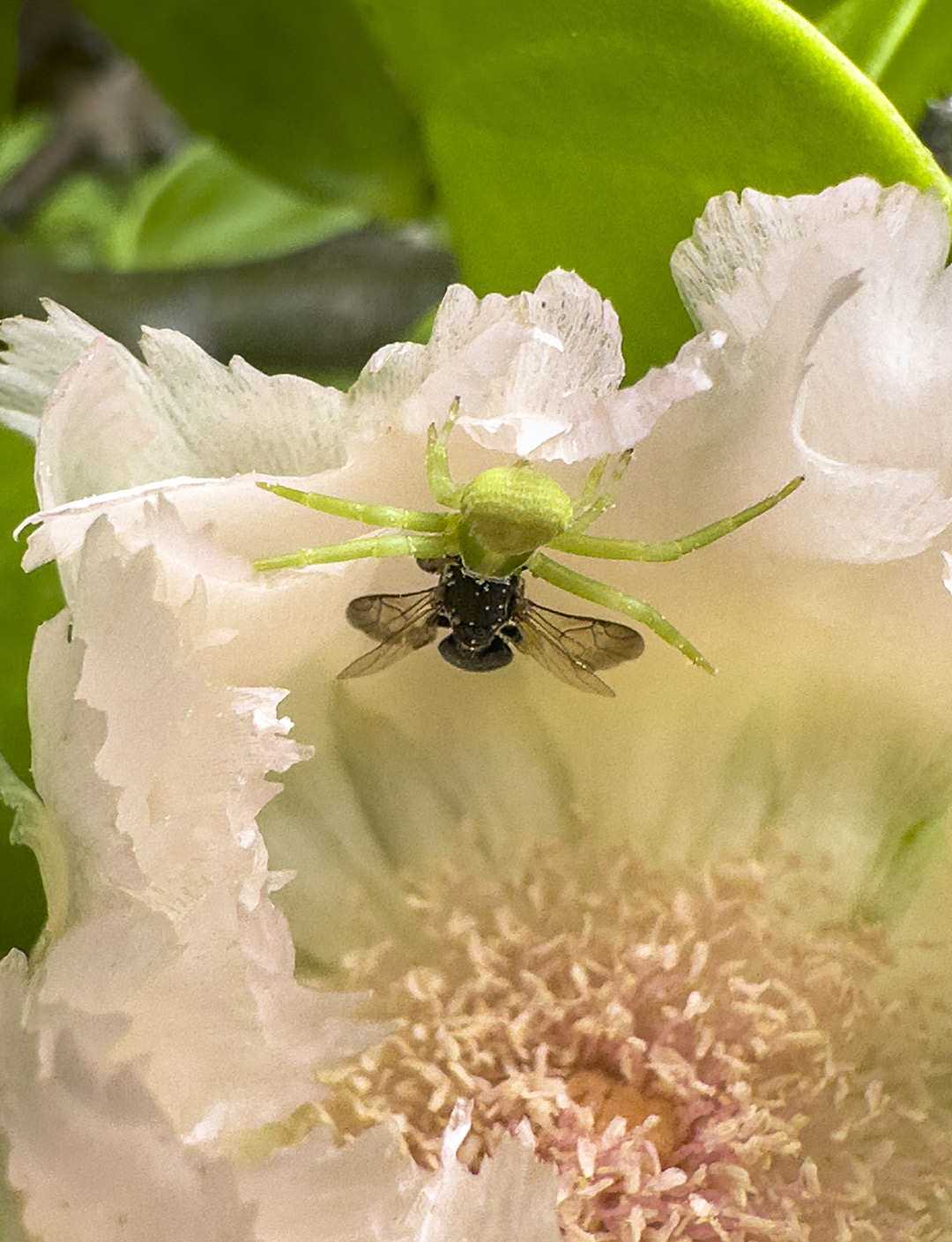 Here is a sample of what we show more of inside our web site. iPhone 14 Pro Max photo by Nicholas Hellmuth, July 6, 2023, in the dry scrub forest hills of central Guatemala. I thank David Arrivillaga, photo processor at FLAAR Mesoamerica, for handling the two photos. We show both the complete photos on an additional web page.
Our team that day had Canon EOS 1D X Mark II, Sony a1, Nikon D810 and Nikon D5, but since we are visiting dozens of different locations it's easier for me to use an iPhone 14 Pro Max.
Later this week we will have a side-by-side review of this iPhone compared with the most recent Google Pixel 7.
Obviously there are many kinds of assignments where a digital camera has benefits. So far the best mirrorless cameras are from Sony. Canon will gradually catch up by later this year or next year. Nikon still has a long way to go in the mirrorless competition. But if Nikon produces a better mirrorless digital camera in the future, we will be open to testing it. For medium format digital cameras, Phase One is so far ahead most other medium format brands have ceased to exist.
Posted February 13, 2023
For Valentine's Day consider giving a fine art giclee print that will last over a century (rather than actual flowers that will wilt in a few days).
FLAAR focused on fine art giclee photography and fine art giclee printers, inks and printable media during the 1990's-2005. This photograph is from the Ozark Mountains of Missouri, where Nicholas Hellmuth grew up as a child. Many of his family still live there.
To get a lot in focus it helps to find a rare find of lots of flowers at the same plain (and the out of focus flower reminds you how the other flowers are in focus).
Plus, you want your background totally out of focus. Do this with your lens, not afterwards in Adobe Photoshop.
When you print to mount on your wall, be sure it is a pigmented ink or other ink that does not fade in the sun (even if inside on your wall).
If you wish to download this photograph and print it for a holiday gift, help yourself. No permission is needed for this photo.
Posted January 09, 2023
Currently, we are working in cooperation with the National Council of Protected Areas of Guatemala (CONAP) to document the biodiversity of ecosystems, and wild species of the Maya Biosphere Reserve (RBM). Our main approach to do so is through professional high-resolution photography and aerial photography with a good quality drone. So we take photos with quality that later can be used by researchers or technicians in the areas we visit.
In addition, we are looking to explore savannas and wetland ecosystems, in order to attract people's attention to such scarcely studied habitats. By doing so, we want to improve any future or current research that could be or is being done in the Reserve (RBM). We also look forward to enrich any species inventory of the area through the photographs, videos, lists of species and other materials (maps, bibliographic compilation, etc.) that we are generating.
After our field work, and processing the photographs and bibliography, we work to show everything we find with students, scientists, explorers, tourists, photographers and nature conservationists in general. At the end of this five-year project (2025), we will have shared examples of the materials that we create with the administrators of each protected area that we visit. By doing so, these resources could be helpful in the update of any master plan, as well as in the edition of any activities reported that are currently being made.
Take a look at two amazing reports that show some of our most incredible photographs we have captured with different cameras and drones.
Posted September 22, 2022
On 27 September 2022, at the XXII Congreso Mexicano de Botánica in Puebla, Mexico, Dr Nicholas Hellmuth will use high-resolution digital photos to show wetlands ecosystems and wild plants native of Izabal and of Peten areas of Guatemala. Belén Chacón Paz, FLAAR Mesoamerica, will assist.
To study ecosystems or botany of any area of the world, to do this without a good quality aerial camera means your project has incomplete coverage. GoPro drone cameras are too wide-angle and too low-resolution. We use a DJI Mavic 2 Pro and will start using a DJI Mavic 3 aerial camera in October. It is also essential to have a full-time professional pilot. Our cameras are licensed in Guatemala and we fly only over areas where we have registered the location, in advance, with each administrator of the national park or biotope. We then donate photos to these entities.
For ground-level photography we use iPhone 13 Pro Max to take panoramas. If you want to document an ecosystem, panorama photos from the ground are as essential as aerial photos from a drone.
To photograph insects and flowers we use macro lenses. Our team is gradually switching to mirrorless cameras: we have four Sony mirrorless cameras and one Canon mirrorless. Nikon has not yet reached the technology of Sony so we skip all the early first-generation Nikon mirrorless cameras.
Posted July 21, 2022, Dr Nicholas Hellmuth
This giant Ceiba pentandra tree at the entrance to the road to the ruins of Tikal is the most frequently photographed Ceiba tree in all Guatemala. This Ceiba is so tall (it's over 200 years old I estimate) that there is no way to take a photograph of the entire tree from the ground (without the tree being distorted by a wide-angle lens).
So I used Pano mode on my Apple iPhone 13 Pro Max. I have no earthly idea how the software inside the phone camera can understand that the tree needs to be straight up. Because when you do a pano, after the first lifting up of your arms to take the camera upwards you reach the end of your arms and your hands then have to rotate the iPhone over 60 degrees to capture the complete top of the tree.
You simply wait a milli-second after you take the photo and when you click to look at the photo, the entire tree has been put in undistorted size and shape. Amazing.
Works best on a single tree; if there are too many other trees alongside, they will distort.
So if you are doing botanical or ethnobotanical field work in the rain forests of Mesoamerica (or anywhere in the world) where you need to photograph an entire tree from trunk to top, the iPhone 13 Pro Max Pano mode is essential.
We (FLAAR in USA and FLAAR Mesoamerica in Guatemala) have provided three of these model 13 Pro Max iPhones to our team since this same phone camera can also take macro mode.
Photo by Nicholas Hellmuth, Parque Nacional Tikal (PANAT), Peten, Guatemala, FLAAR Photo Archive of Neotropical Flora of Guatemala.
Posted May 19, 2022
Many different species of vanilla orchid vines are native to Mexico, Guatemala, Belize and surrounding areas. Since their flower is open only about 3 hours once a year, it is a challenge to find one of these vanilla orchid vines flowering out in a rain forest. But during May 2022 our field trip team found two different vines with flowers; both were identified by Fred Archila as Vanilla insignis.
To photograph them an iPhone 13 Pro Max is helpful and a Sony mirrorless camera with in-camera stabilization and in-lens stabilization because most tripods are not tall enough. We use a 3-meter high ladder to get in front of the flowers on these vines.
We were able to capture how Edwin and the whole FLAAR MESOAMERICA team helped throughout the road to Yaxha to Nakum, to take the best picture of the Vanilla insignis flower. Photo by Sergio Jerez, with a Google Pixel 6 on the 05-11-2022 at 10:40am.
Posted March 15, 2022
"Livingston Biodiversity Documentation" is our way to share with you all of our discoveries, experiences, and achievements during our expedition journeys. Please join us in our Facebook live to know more about FLAAR Mesoamerica
This presentation will be in Spanish starting 6 PM on Thursday, 17 March.
Posted September 14, 2021
We started our September expedition under the Livingston Biodiversity Project. This time we are in the Río Dulce Canyon area and right next to the house where we have our research base there are several aquatic plants which we want to identify and learn more about. Our researcher, Víctor Mendoza, started taking pictures underwater with a Canon G16. Now we have purchased SONY RX100 VII Camera, SONY Underwater Housing MPK-URX100A, Weefine Ring Light 1000 to get new results. Soon we will share with you an unboxing of this new photographic equipment and the first photographs obtained.
Researcher Victor Mendoza at Ceside, Cañon de Rio Dulce, Livingston. September, 2021.Photo by Roxana Leal, FLAAR Mesoamerica.
Photography equipment at Ceside, Cañon de Rio Dulce, Livingston. September, 2021.Photo by Roxana Leal, FLAAR Mesoamerica.
Macrophytes at Ceside, Cañon de Rio Dulce, Livingston. September, 2021.Photo by Roxana Leal, FLAAR Mesoamerica.
Posted June 08, 2021 by Nicholas Hellmuth
Just acquired a 50MP Sony Alpha 1 mirrorless camera and am flying it to Guatemala along with lots of macro lenses plus a Canon RF 800mm is STM lens for our Canon R5 mirrorless camera.
We will be doing photography of waterbirds and gorgeous Neotropical flowers in the rainforests, swamps, and marshes of Rio Dulce area (Izabal, Guatemala) and then at Tikal, Yaxha, El Zotz, Bio Itza, and Cerro Cahui nature reserve areas.
We have a 15-month project in Municipio de Livingston, Izabal and a new 5-year project of cooperation and coordination with CONAP for the Reserva de la Biosfera Maya (top half of Peten, Guatemala). Each project is to find, photograph, research, publish, and help initiate conservation and educational programs about fragile biodiverse ecosystems and flora and fauna of Guatemala.
We have over half a century of experience photographing in Guatemala (and of course in adjacent countries).
Posted April 20, 2021
This presentation will be in Spanish starting 10 am this Saturday, 24 April.
Though obviously nothing is there until Saturday morning. If you wish to be on our mailing list, please write us FrontDesk at FLAAR.org
Posted September 11, 2020
If you are in your photo studio, it helps to have a wide range of photography lighting.
If you do location photography, different kinds of lighting will help achieve better results.
There are four photographers on the team of FLAAR (FLAAR Reports and FLAAR Mesoamerica). Below we show five of our past reports on Westcott lighting of past years.
Now there is new lighting from Westcott, mostly LED. So lighting is evolving: in past decades was tungsten halogen lighting (we used that for almost half a century). Then came fluorescent lighting. And now it's mostly LED. Strobes and flash still exist.
The five evaluations here are from past years, on the fluorescent lighting of the Westcott Spiderlite system. As soon as the newer Westcott ring light and the newer LED lighting is available to us we will prepare evaluations on these two new aspects of lighting for studio photography and for on-location photography.
Posted May 20, 2020
I prefer to show lots of photos for any plant, animal, or ecosystem. A peer-reviewed journal article will have space only for a few, or will not have color. Or if photos are used they are packed four tiny ones to a page. I prefer full page height for vertical photos and full page width for horizontal photos. Plus it helps if the photos are well focused and high resolution.
We have both Canon EOS 1D X Mark II and Nikon D5 cameras, so the top of the line (and recently we added Sony). But when you need to hike several kilometers to see and experience a previously undocumented area of remarkable biodiversity, then setting up a nice Gitzo tripod, unpacking and putting on the Manfrotto or Novoflex panorama systems, putting on the camera, is best accomplished on a return trip. More practical if the first trip is exploration and discovery; here an Apple iPhone Xs and a Google Pixel 3XL are frankly game-changers. But to accomplish even higher resolution, and with "no camera shake" we recommend a sturdy tripod and a Novoflex Panoramic tripod head VRpro pan system. Novoflex has several other panorama and VR-system tripod head systems for you to choose from.
An iPhone photo or a Google Pixel 3XL photo is great for a web page or in a PDF, but is not adequate for a photo exhibit where you want to show a palm tree several meters high. You need a serious tripod head if you want a serious photo.
Posted May 13, 2020
This series of photographs of ecosystems of Izabal and Peten is available in two formats, 6MB and 27MB. You can post this, share it, use in in your classrooms presentations (no permission required).
The Spanish original (with video and voice) is already available below. The PowerPoint (in .pdf format, above) is updated with additional written text.
Posted May 01, 2020
We use Nikon D5, Canon EOS 1DX Mark II, and the 61 megapixel Sony alpha A7R IV, plus other Nikon and other Sony cameras.
To photograph birds we use 200mm, 300mm, 400mm, 600mm, and 800mm prime telephoto lenses (and not low-bid brands). We use these same lenses to photograph flowers high in treetops.
For macro photography we have an array of macros, from tele-macro 200 for Nikon and MP-E 65mm f/2.8 1-5x Macro for Canon, plus lots of other macro lenses: helpful for butterfly larvae, colorful tropical beetles, and tiny mushrooms rising from the floor of the rain forests of Guatemala.
Our Monday presentation will be about flora and fauna of biodiverse ecosystems, but we will also mention that it helps to have a complete range of digital photography equipment.
We also use iPhone Xs and Google Pixel 3XL for panoramas as well as photographs of flowers, bushes, and trees.
First posted March 19, 2020
As predicted, the Photokina organizers finally realized there was no way to hold their May 2020 expo. Sadly it was not postponed to later in the year, it was totally cancelled, and scheduled for 18 to 21 May 2022.
This is unfortunate since there is a lot of new digital photography equipment that we would like to see so we can write about it. About half a million people read our four photography web sites:
Updated March 16, 2020.
First posted March 11, 2020
I wrote to Photokina asking what were their plans for their nice expo during the worldwide epidemic. They wrote back and explained that for now, Photokina is still scheduled as planned for May 2020.
Hopefully the warmer weather will prevent Germany from having a lockdown as was created in Italy.
By the middle of April we should all have better understanding of the situation for Photokina 2020.
Although last week Photokina itself said they saw no reason to postpone Photokina. But drupa 2020 is now closed for its date in 2020, and ISA also is postponed. Thus it is highly unlikely there will be any Photokina in May if drupa later in the summer is now closed.
We at FLAAR (USA) and FLAAR Mesoamerica (Guatemala) are out in remote swamps, rivers, lakes, rain forests, and mountains doing photography of Neotropical flora and fauna.
We use Canon EOS 1D X Mark II, Nikon D5, and Sony, and are curious about Phase One, Leica, and Hasselblad medium format (now that full-frame mirrorless Sony α7R IV has 61 megapixel camera at a really reasonable price).
Since we have many in-house photographers, we are curious what a Canon EOS 1D X Mark 3 and/or Nikon D6 are worth adding?
We also need lightweight stabilizer for iPhone Xs and Google Pixel phone cameras that can hold the camera with the thick Otter case and with lens in the center (most stabilizers have the phone in the center which means the lenses are off-axis to right or left). Most stabilizers can't grip a phone protected by a thick Otter case.
Posted February 19, 2020
These panos are not achieved by moving the iPhone at all; hold the iPhone steady pointing straight ahead (Xs or any model). The boat is moving at 90 degrees (you are at the side of the boat, looking straight to the shore).
In one direction you have to hold the iPhone upside down (since the arrow points only in one direction; and on the boat this has to be the direction the boat is going). Google Pixel 3XL has arrows in two directions, but I myself am so used to the iPhone Xs that I don't use any of our three Google Pixel 3 cameras).
Click to enlarge
Snag with either mobile phone is the bouncing up and down of the boat; and often the boat is not equal distance from the shore. So the pano is not horizontal.
Click to enlarge
Here is a better example. If the boat is stopped, your pano will be distorted (because you have to move your hand in a semi-circle to take a normal pano, so the shore will be different angle at each end).
We are looking for a mobile phone stabilizer that will hold the phone vertically; the nice DJI video stabilizer holds the phones horizontal (so can't take a pano).
Cheap Chinese stabilizers don't hold an iPhone in its thick protective Otter case; and cheap Chinese stabilizers don't hold the iPhone with the camera in the center (since the camera is at the left side of the phone).
Lago Izabal, El Golfete, Rio Dulce, and the entire Municipio of Livingston are a great place to visit and do photography for your travel blog or your Facebook or Instagram.
Posted February 19, 2020
By using pano mode and moving the camera straight upwards (parallel to the subject) you can take a taller photo, closer to the subject.
Click to enlarge image

I am standing several meters away from the tree. This is a single shot.

Biotope Chocón Machacas CECON-USAC, El Golfete (Rio Dulce), Livingston, Izabal, Guatemala.


Click to enlarge image

Now I am closer; and shooting from lower down. I put the iPhone Xs in pano mode, arrow pointing up, and raise the camera up (straight up, as far as I can reach without wobbling the camera). So I get a view (under the giant leaves of the vine above).

With a selfie-stick should be able to do even a higher pano. But would require two people: one to move the camera with the selfie-stick, and another person to press the TAKE A PANO button on the front base of the iPhone.

Biotope Chocón Machacas CECON-USAC is an awesome area to visit to experience Neotropical flora and fauna you will really be happy to see. This nature park is in the Municipio of Livingston, Izabal, Guatemala.
Posted February 08, 2020
When using a photo studio to record Neotropical plants and flowers of Guatemala we use a Nikon D810 or Nikon D5 or Canon EOS 1D X Mark II (20 years ago, to photograph Maya pyramids, temples, palaces, and rubber ballgame ball courts, we had a three Leica cameras (nice range of Leitz lenses), three Hasselblad cameras (with full range of Zeiss lenses (Made in Germany in that era), Linhof 4x5, and Linhof 8x10, with Schneider and Rodenstock lenses).
We also have experience with many point-and-shoot cameras from Canon and Nikon during the last two decades. But today the only point-and-shoot camera we find useful is the Sony Cyber-shot RX100 V. Normally we use the recent full-frame mirror-less Sony A9 II, and the Sony A7R IV, 61 megapixels. Plus we have the studio cameras from Nikon and Canon which work fine on a field trip.
But since 2019, two brands of smart phones have cameras that blow-away 90% of the point-and-shoot cameras of the past decade: we have two Google Pixel phones (one Google Pixel 3XL and one Google Pixel 3), Apple iPhone Xs.
Huawei telephone cameras are great but the color balance of the recent model of year 2019 is awful (too spiked, and still not fixed in year 2020). So we have not been interested in any of the recent Huawei phone-cameras.
The Apple iPhone Xs is awesome for photographs and panoramas. The Google Pixel 3XL and the lower priced Google Pixel 3 are great for macro close-ups of flowers and insects (but the Canon camera with their Canon MP-E 65mm 5x macro beats every camera and macro lens on earth). Nikon has only traditional 1:1 macro: zilch anything else (and Nikon has zilch ring-flash). Would be great if Nikon had at least a 2x macro and a ring-flash that was brighter than Metz or any of the others so readily available.
The Google Pixel 4 series and the Apple iPhone 11 series cameras are not sufficiently better to upgrade to these newer models. For the future if phone cameras could have a way to do 2-level panoramas; a way to have a stabilizer unit to hold the phones without needing a tripod; to have the lenses in the middle with a flash on both sides (or a ring-flash, wow, these features would be the end of point-and-shoot cameras for sure). We like in-camera stabilization but prefer an add-on to have even less shake.
Posted February 03, 2020
Most people say, "use solar panels." Great idea, except that the "electricity" generated by solar panels is not "true electrical power" whatsoever. Even a series of solar panels loses all its stored electricity within less than an hour (we know this since we used solar panels for many field trips: there was nowhere near enough electricity even in the solar panel battery to charge our equipment).
Keep in mind we are not a single professor out doing photography: our team is between five and eleven people. For an average stay (in one location) of four days.
This photograph shows only a portion of the equipment we have to charge EVERY EVENING!
Click to enlarge image

Example by Victor Mendoza of a Yellow Orchid, huevo con chorizo in Petexbatun with the Google Pixel 3.


Click to enlarge image

Tree flowers hanging over the edge of Arroyo Petexbatun during the several hour boat trip from Sayaxche to Hotel Ecologico Posada Caribe. Photo by Juan Pablo Fumagalli with Google Pixel 3. We also have two Google Pixel 3 XL "camera phones" because it helps if each member of the field trip team has a better-than-average camera available.

I say "only a portion" since some of the team charge their equipment in their rooms. And it takes time for the battery-charging personnel to gather up all the batteries and find the multiple chargers of every size and shape (since we have Canon, Nikon, and Sony batteries to charge (one Canon (EOS 1D X Mark II, two Nikon (D810 and D5) and three Sony cameras (Cyber-shot RX100 V, new model full-frame mirror-less Sony A9 II, and Sony A7R IV, 61 megapixels).
Plus the three special smart-phone cameras (Apple iPhone Xs and two Google Pixel phone cameras). Also have to charge all the phones of the team of 11 people).
Plus our DJI Mavic 2 Pro drone (we have 5 batteries for this).
And all our macro-flash equipment and regular flash equipment needs charging.
We reach the diverse eco-systems where we do photography by hiking (or taking a boat down the river and then hiking). So we don't have a car to charge equipment while we are driving.
Fortunately when we do field work at Parque Nacional Yaxha Nakum Naranjo the Hotel Ecolodge El Sombrero has electricity each evening. When we do field work along the Arroyo Petexbatun, the Hotel Ecologico Posada Caribe has electricity each evening for three helpful hours.
Posted January 23, 2020
A howler monkey is solid black. The sky behind him, if cloudy, is pure white. So in most photos the monkey is totally under-exposed and the sky is totally over-exposed.
So at Photokina (digital photography equipment trade show), I looked for a solution. A helpful individual in the broncolor booth showed me a powerful telescopic flash, Sirus L 800, and since it sounded awesome I bought one from B&H quickly.
But… after using it just 10 times, the WiFi failed, And when trying to figure out how to send it for being checked-and-repaired, after hours of wasting time trying to follow the instructions that said all the glass and everything inside had to be removed because they were too fragile to ship (but there were no instructions on how to remove any of these), I noticed that the sliding release bar (of thin plastic) was not working. And, when I turned the broncolor over, the broken piece fell out. Have no idea how long that had been broken.
In the center you can see the release "button." This is a key aspect that did not function. So I could not remove any of the front parts to ship.

The WiFi is what also failed (but I am not with my team with the cameras so I did not want to waste time trying to see what was wrong. Two on my team said the WiFi failed).


Here you can see that the spiral part is visible. It was not possible to push this back (and I did not want to force it).


I did not realize that the lower part was broken off until by coincidence I turned the unit over and I heard a loose part rattle inside. I turned the unit another angle and by pure luck the small piece fell out. Note: I am only assuming this piece broke and fell off, since this is the first time I have tried to release the front part.

I have sent it back and hope that this can be resolved, since my original idea was to write a review documenting how much better a broncolor was than other telescopic flash attachments (eg, BetterBeamer). My idea was to see if a broncolor could be used in a pair (for example, their Broncolor Siros 800 L Battery-Powered 2-Light Outdoor Kit 2. so one Siros 800 to illuminate the howler monkey from the front, and the other from one side). But frankly, the amount of time I wasted doing the paperwork and trying to figure out how to pack the system, wore me down.
And the final touch was reading, on every page of broncolor shipping instructions, that the flash parts were so fragile that they should and could NEVER BE SHIPPED FOR REPAIR. If I am paying big bucks for Made in Switzerland quality, sorry, to see an honest admission of the fragility of the equipment, I would prefer to get my money back and find other alternatives. I have over 59 years of experience (literally) and never had a piece of equipment like this.
Posted January 07, 2020
Tips for Botanists to significantly improve photography.
We recently found a significant medicinal plant of Guatemala: Mikania species. In order to help our team and other botanists to identify the species we needed close-up photos of the flowers (and obviously of the leaves). We have available significant variety of excellent digital photography equipment.
We used: Nikon D810 camera (less heavy than our Nikon D5; the D5 is best for fast moving insects and especially to stop-in-flight fast moving birds). Nikon D810 is better than Nikon D800 and frankly I trust it more than a newer Nikon D850 (whose megapixel sensor is too big too soon for DSLR; if you want that file size jump to Phase One). And, Nikon D850 has awful splatter at high ISO.
Also used Apple iPhone Xs: great for panoramas (no need for a DSLR). But not viable for macro whatsoever. But for normal photographs, of ecosystems or entire trees the Apple iPhone Xs is a camera we take on 100% of our field trips in Guatemala.
Also our FLAAR team had a Google Pixel 3XL: great for panos, and awesome for macro (obviously not 2:1, but for close-up of the mass of flowers is better than most DSLR cameras). This is because of the in-phone processing software that can do stacked focus by itself. Plus the kind of lens, etc.
Click to enlarge image

Flowers of Mikania cordifolia, guaco, community of Chilocom, outside Santa Cruz Verapaz. Photographed with Nikon D810 and macro lens.


Click to enlarge image

Flowers of Mikania cordifolia, guaco, community of Chilocom, outside Santa Cruz Verapaz. photographed with Apple iPhone Xs.


Click to enlarge image

Flowers of Mikania cordifolia, guaco, community of Chilocom, outside Santa Cruz Verapaz. photographed with a Google Pixel.

Also used a Sony Cyber-shot RX10 Mark IV. Yes, even though we have Nikon D5 and Canon EOS 1D X Mark II (top of the line for DSLR) on a field trip in the rain forests, savannas or swamps, it definitely helps to have a quick-easy-zoom-lens system. Yes, we have 300mm, 400mm, 600mm, and 800mm prime lenses, but when hiking long distances, or in a boat, it is not always practical to stop, raise up the tripod, put on the gimbal, unpack the prime telephoto lens, etc. But I did use the Nikon AF-S FX NIKKOR 400mm f/2.8E FL ED Vibration Reduction Fixed Zoom Lens to photograph the Mikania flowers.
Posted December 20, 2019
Maria Alejandra Gutierrez let us know what she knew an experienced drone Haniel López "pilot." Since FLAAR Mesoamerica is a non-profit, we do not presently have funding to pay commercial fees, so we asked Haniel if he could do photography for us in exchange for transportation, hotel, and meals. Since the resulting aerial photographs were very nice, we would like to recommend his capabilities. Obviously if you are a funded project, he would appreciate a fair fee.
Contact info for Haniel López: telephone (+502) 4051 8180, lopezhaniel739@gmail.com
We have accomplished drone photography in past years. We have the following suggestions:
Do not attempt to do any drone usage in any parque nacional
Make sure there are no local birds that will be scared.
Make sure there are no raptors or other birds that will try to attract the drone
Be sure to have permission of the land-owner
Avoid doing drone aerial photography of property where you don't know the owner
Use a drone that is not a toy for weekend bikers and hikers (90% of the drones you see are hobby drones; their lenses are so wide-angle they are distorted and thus, literally, useless for scientific field work).
If you are doing drone photography for scholarly research (botany, zoology, geography, archaeology) we recommend the photography being totally non-commercial.
Post the photos so that students, professors, research institutes can have access to them
Post the photos so that local tour guides can learn what areas to take their tour groups to visit. You provide income for local families when you show flora or fauna or beautiful landscapes that tourists would want to experience.
As a year 2019 Christmas present for everyone, we show here the drone photos of the Hotel Ecologico Posada Caribe, Arroyo Petexbatun, Sayaxche, Peten, Guatemala. We will be posting and publishing more in the coming months.
Click to enlarge image

Petexbatun Tasistal, transition to the south towards tintal parallel to nearby Arroyo Petexbatun, December 2019.


Click to enlarge image

Eastern end of the tasistal is towards top middle. A tasistal is local name for an area that is "solid masses of tasiste palm" in a seasonally inundated flatland area. Note that everything around the tasistal is taller trees and more diversity of tree species.


Click to enlarge image

The Hotel Ecologico Posada Caribe is along the shore of Arroyo Petexbatun. Drive to Sayaxche (and leave your vehicle in selected secure parking area) and be taken to the hotel in a motor boat.

Click to enlarge image

The team at FLAAR (USA) has known the owner of this hotel and his family for many decades. We have spent many December and Christmas field trips here. Great rustic getaway.


Click to enlarge image

Behind the hotel there are lagoons, swamps, bogs, and a remarkably biodiverse habitat that deserves to be studied in the future. For any field work in any remote area a drone is essential. Equally essential is to avoid all birds (some hours are best for this), plus keep the drone high enough.

Posted December 10, 2019
We prepared our holiday season message by writing the words with chile chocolate on top of a bed of cacao beans. We bought these in the Q'eqchi' Mayan markets of Coban, Alta Verapaz, Guatemala, last weekend.
Chile chocolate is a special chile used to flavor Maya cacao drinks. The cacao beans from Theobroma cacao trees are the source of cocoa, used to make chocolate. Probably most cocoa today is raised and harvested in Africa but cacao trees are native to southern Mexico, adjacent Guatemala and nearby countries.
Both the Maya, Aztec, Zapotec, Mixtec and everyone else in Mexico, Guatemala, Belize, Honduras, etc. all grew and drank liquids made with cacao. Several dozen other plants were used as flavorings. We have worked for many years to find each plant. We did this because the last time I spoke with Yale University professor Dr. Michael Coe, he said that if he had time to rewrite his cacao book he would do much more research on all the flavorings. So I accepted this as an inspirational challenge. FLAAR (USA) and FLAAR Mesoamerica (Guatemala) now have one of the largest photo archive in the world of the flowers, seeds, and other plant parts used to flavor cacao of the Aztec, Maya and their neighbors.
If a chocolate or cacao or cocoa company is interested in a joint project, we have enough material for five volumes, coffee-table book style, with high-resolution digital photographs. We would like to show the world lots of new options for flavoring cocoa. And we would like to help preserve the Maya and Mesoamerica cultural heritage since each year in the Mayan markets fewer and fewer of these flavorings are being sold.
Posted August 21, 2019
In 50 years of doing research on flora and fauna of Mesoamerica, I have seldom seen high-resolution photographs of an entire ecosystem. Lundell published some in 1937 but most field reports and for sure most peer-reviewed journals don't feature full-page size photographs. Double-page spreads almost seem taboo in scientific journals. Our flora and fauna web sites are read by over half a million people so we prefer to show our findings in the best way (even if our style is not traditional).
We at FLAAR Mesoamerica are initiating new approaches to documenting our discoveries in ecosystems and individual flora or fauna. For our recent year's work in Parque Nacional Yaxha Nakum Naranjo we used super-telephoto lenses and high-resolution cameras (Nikon D5 and Canon EOS 1D X Mark II). This is equipment that most capable biologists do not bring with them on field work. And when hiking many kilometers (meaning there is not time to stop and set up all this equipment) we use iPhone Xs and Google Pixel 3XL and comparable level of other brands and models.
Most capable ecologists and botanists will prefer a drone, and/or will use a basic camera to take snapshots. But so far drones are not permitted for research in some national parks of Guatemala (for fear of upsetting the local birds). We respect this decision and the closest we can come is doing panoramas from the ground (or often standing on a ladder).
The full-color PDF available to you here is a brief introduction to what a wide-format inkjet printer can achieve to help doing research, for an added feature in a lecture presentation, and as material for exhibiting on the wall. Since FLAAR (USA) and FLAAR Mesoamerica (Guatemala) are all research and educational institutes, our goal is to share knowledge. We don't mind sharing secrets on how to accomplish better research and how to show the results in a more meaningful way because we wish to share specifically to assist other scholars and students.
Posted August 21, 2019
The Phase One training sessions are great opportunities. I also look forward to visiting their booth at Photokina 2020, but at a training session in your home city there are not hundreds of other camera booths to tempt you away. So at this educational event in Bullivant Gallery (near downtown St Louis) I learned a lot from the Phase One instructor, Murray Elliott, of megapixels DIGITAL.
It is definitely helpful to be able to have a Phase One XF with 150MP digital back in your own hands. Read more on the Phase One medium format digital options.
Posted August 19, 2019
At a Phase One training session (at Bullivant Gallery, of Robert Bullivant), there were three different Phase One medium format digital backs each on a different camera. One of the cameras used was a Cambo WRS-1600. This session, last week, in St Louis, MO, was by Murray Elliott of megapixels DIGITAL.
It was nice to see this model of Cambo WRS-1600 camera and the quality of it and the Phase One system, plus lenses by Rodenstock, Schneider, and Phase One.
Updated July 24, 2019
For over 50 years I have concentrated on improving photographic techniques in field work, starting at Tikal, age 19, in 1965. My photos of the discovery of the Tomb of the Jade Jaguar were more detailed than any National Geographic coverage of any Mayan tomb of that decade.
In the 1970's my photography of the Teotihuacan style giant Tlaloc stela (Yaxha Stela 11) can today allow even more accurate drawings be made (since the nice drawings by epigraphers should be amended and improved). And the photography of the Nim Li Punit stelae of Belize were unprecedented in the effort to put a "tripod" high up in the roof over the site's largest stone stela which was flat on the ground. My photography always could be improved but in each case it was "ahead of its time."
Now at Yaxha Nakum Naranjo the team of FLAAR Mesoamerica is introducing the concept of doing panorama photography to document ecosystem diversity. We are not yet aware of any other ecological project in the Mayan areas that features panorama photography: yes, drones are great (and do things that panos can't record), but to help botanists, zoologists, ecologists, geologists, and archaeologists see what is available to study further at Parque Nacional Yaxha Nakum Naranjo we are introducing panorama photography.
Click to enlarge
This panorama photo shows the Cibal, and the photo is by Dr. Nicholas Hellmuth with an iPhone Xs.
Surely we will find other ecologists and biologists who use panorama images to document the areas they are studying, but in the meantime we would like to introduce a range of options to share our experiences with colleagues (our goal is to help rather than to hoard and hide).
We are reviewing the pros and cons of iPhone Xs, Google Pixel 3XL and Huawei Mate 20 (Huawei Mate 30 got consistently bad reviews for overcoloration (fake colors)). We have tested many tripod head accessories to hold these on a tripod (and compared quality of a pano with no tripod, actually quite good).
Click to enlarge
This panorama photo shows the beauty of Rio Holmul, and the photo is by David Arrivillaga, FLAAR Mesoamerica team with a Google Pixel 3XL.
We have Nikon D5, Nikon D810, and Canon EOS 1Dx to test on L-shaped pano head of Manfrotto (works nicely). Obviously these images you can enlarge to 1 meter high to 3.2 meters long (we tend to do panos of 90 to 120 degrees; immersive panos and other technologies we will also test in the future).
Gigapan was great but the company self-destructed and the Made in China batteries last only one or two panos (hundred-photos-per-pano). Plus you have to process all the photos yourself back in the office. We have a tri-linear scanning panorama camera that we used from 1996 onward, but the accessories are no longer available and a tri-linear scanner can't handle leaves and branches that blow in the wind not all the tall ferns in Yaxha bogs and cibal-savannas that also move with the wind.
As soon as we have Novoflex panorama tripod heads to evaluate, we will publish reviews of their Made in Germany equipment.
Updated December 17, 2019. First Posted June 17, 2019
We prefer to use prime lenses (not zoom lenses) when photographing from where we can set up all our equipment. If we are in a boat out on a river, swamp, or lake, then you need a good-brand of zoom lens, since you don't have time to stop the boat to change lenses every time you have a nice bird or flower in front of you... Since the team consists of more than just Dr Nicholas, it helps to have several cameras.
For photographing water birds we use 300mm (on Canon EOS 1DX Mark II) and 400mm, 600mm, and 800mm telephoto lenses (with Nikon D810 or Nikon D5). Most other photographers use these lenses for sports photography or by bird photography. We suggest that entomologists should consider using these lenses when documenting arboreal nests.
Some arboreal ant nests are only 3 meters from the ground, so if we have a ladder we can use a 100mm macro or 200mm tele-macro lens (180mm tele-macro on Canon). But there is another species of arboreal ant nests that are so high in trees it takes an 800mm lens. And to see an individual nest you would need a digiscope (which our project could only have if a considerate individual or company could donate one that would be equivalent to 2000mm up to 3000mm.
The nest we are photographing here is of the wasp species Synoeca septentrionales. We have found the same giant wasp nests in Izabal area of Guatemala and surely you can find them in most national parks in Peten, Izabal and much of Alta Verapaz. The nest here we found in front of the restaurant of Hotel Ecolodge El Sombrero, but it was so far in front that it took an 800mm lens to capture the nest without cropping it (from using a 200mm, 400mm, or 600mm lens).
I then added the special 1.25x tele-extender to show you the slight difference. But to photograph an individual wasp, so that an entomologist could see the details, would really help if a digiscope could be provided to our long-range research project. We would like to find and photograph every arboreal nest: bees, wasps, termites, ants, and of course birds, plus all the nearby treetop orchids, bromeliads, and arboreal parasitic plants (mostly vines, that have photogenic flowers).
Updated June 14, 2019, first edition posted June 11, 2019
Click to enlarge image

Agamia agami, Agami heron, Lake Yaxha
Canon EOS-1D X Mark II,
Canon EF 300mm f/2.8L IS II
USM lens, settings: f/2.8,
speed 1/1000, ISO 1600 , Peten, Guatemala.


Click to enlarge image

Agamia agami, Agami heron, Lake Yaxha, Peten, Guatemala.

Canon EOS-1D X Mark II,
Canon EF 300mm f/2.8L IS II
USM lens, settings: f/29,
speed 1/125, ISO 6400

Click to enlarge image

Agamia agami, Agami heron, Lake Yaxha, Peten, Guatemala.

Canon EOS-1D X Mark II,
Canon EF 300mm f/2.8L IS II
USM lens, settings: f/16,
speed 1/800, ISO 20000
Suggestions for improvement: the middle photo is at a low speed (1/125th). To freeze the wings of a bird in flight you need at least 1/1000th of a second (as you see in the photograph at the left).
So we hope it helps to show a bird-in-flight photograph (the one in the middle) where the wings are moving faster than the camera shutter (so the wings are totally blurred).
I would also suggest that f/2.8 (wide open) is 90% of the time not a good idea. I use f/12 to f/14 (with my Nikon D5). Use at least f/8.
The photo at the far right is f/16. That's only needed if you have to have more depth of focus. Should be f/12 to lower the ISA (shown here at 20,000 which either is a typographic error or a setting error).
Of the three photos here, the one at the left is by far the best (because the sun is shining on the bird). However I would raise the ISO far beyond 1600 in order to get rid of the wide-open f/2.8.
Every individual photographer has their own preferences, but my suggestions are: never use f/16 or above (in the era of film f/16 and f/22 were my favorite settings and my photos were used by National Geographic and by Hasselblad Magazine). But with digital sensors you do not want those settings any more.
Never use f/4 or f/2.8. I actually almost never use f/5.6. But that's because I have special cameras such as Nikon D5 that allow high ISO with minimal downsides. If you have an entry-level camera you may need to use f/5.6 or f/8 in order to keep ISO reasonable. The photo at the left has the front wing out of focus, in part due to the setting wide open (f/2.8). Nonetheless it's a good photo since the bird itself and the other wing are acceptably focused.
This bird is very rare and we appreciate that Maria Alejandra Gutierrez photographed it. I was in the front of the same boat but since my Nikon D5 and 800mm prime lens were on a tripod, and as the front of the boat was too narrow for me to move around my tripod to shoot backwards, I was not able to photograph this bird. Maria Alejandra was in the back of the boat (so she was in front of the bird, and had no tripod to tie-her-down).
And for a bird in flight, around 1/1500th of a second is essential, or if some species, 1/2000th of a second. But in an emergency 1/800th of a second is okay (as the bird at the far right, which is not flying and not walking fast either). If it's a bright sunny day and the bird is bright white, and flying, 1/3000th of a second is even better way to "freeze" every feather so none are blurred.
All the photos above were taken by Maria Alejandra Gutierrez, FLAAR Mesoamerica. She is in a boat which is rocking from side to side due to the waves in the lake or river. So even with a tripod your camera is moving. However all these photos are without any tripod (which is precisely why she was able to capture a photo opportunity that I was not able to).
Posted April 11, 2019
FLAAR has an iPhone Xs and a Google Pixel 3 XL exclusively as lightweight portable cameras for using on field trips.
These phones take nice panoramas (better quality than the Osmo Pocket; but the Osmo Pocket is helpful for video in a remote area where it would not be realistic to have heavy video equipment).
But when Paulo Nunez (web master for FLAAR Reports and FLAAR Mesoamerica) showed me a snapshot he had taken of an insect in the FLAAR Mayan Ethnobotanical Research Garden (around our office in Guatemala City), I could not believe the macro quality.
When I went outside to see what size the insect was, it was so small I could not find it without putting on my glasses: only a few millimeters long (less than a centimeter).
I love my iPhone Xs camera and the Google Pixel 3 XL takes multi-layer panoramas (look at www.maya-ethnobotany). But the Huawei Mate 20 Pro beats them.
Our next acquisition will be the Huawei P30 Pro.
I hope that Apple can launch a smart phone with significantly better macro, and noticeably better telephoto, plus multi-row panorama options.
Which is better camera for photographing tropical flowers? Point-and-shoot or iPhone Xs, Google Pixel 3 XL or Huawei P20 pro?
Posted March 15, 2019
Our first photos of Mayan temples and pyramids in 1961, was a Leica III (probably IIIG or whatever). Then Rolliflex by 1965 at Tikal at age 19; then Hasselblad by 1969; then 4x5" Linhof, then 8x10" Linhof to photograph Puuc, Chenes, and Rio Bec temples, palaces and pyramids in the 1990's.
Then Leaf and Phase One (on Hasselblad). Now Nikon D5 and Canon EOS 1DX Mark II.
But when the iPhone Xs smartphone camera came out, I was tempted. Then Paulo (FLAAR Mesoamerica webmaster) suggested the Google Pixel 3 XL. Then he got the Huawei Mate 20 pro.
We have two initial review comparisons: first on iPhone Xs vs Google Pixel 3 XL.
Then all three cameras (photographing chocolate tree flowers and cocoa fruits (cacao), shown on our www.maya-ethnobotany.org
We will be doing more testing in coming weeks.
Birds are waiting for you at Lake Yaxha (Peten, Guatemala)
Posted Jan. 30, 2019
Click to enlarge
Photograph by Maria Alejandra Gutierrez, FLAAR Mesoamerica, with Canon EOS 1DX Mark II and Canon EF 300mm f/2.8L IS II USM Lens. f/2.8, speed 1/4000, ISO 400
Dozens of species of waterbirds and shore birds are doing their dances so you can photograph them along the shores of Lake Yaxha.
So plan a lake waterbird and shorebird tour while you also head to the Classic and (Yucatan style) Post Classic Mayan temples on Topoxte Island.
Parque Nacional Yaxha Nakum Naranjo has birds of every size, color, and species. Plus lots of Mayan palace architecture, ballcourts, pyramids, acropolises for you to explore. If you visit our www.Maya-ethnobotany.org you can see the gorgeous tropical flowers in this paradise of exotic plants.
Hotel Ecolodge El Sombrero is available at entrance to the park. You can reserve a lancha at this hotel to take you birdwatching in the early morning (when most birds are available). However you can also see waterbirds later in the morning.
This hotel is directly on the shore of Lake Yaxha so you can watch the sunset with a cold beer or fresh water or lemonade, seated in comfort as you experience the sun setting into the hill at the far southwest side of the Lake Yaxha. The hotel web site is www.elsombreroecolodge.com/en-us
Apple iPhone Xs for panoramas compared with Google Pixel 3 XL
Posted Jan. 29, 2019
During testing these two smartphones at Parque Nacional Yaxha Nakum Naranjo (Peten, Guatemala, Central America) I noticed that the colors recorded by the Apple iPhone Xs remind me of the colors of Kodachrome film many decades ago. The colors produced by the Google Pixel 3 XL are comparable to Fujifilm color (slides). So it depends on what level of color you (or your client) prefers.
We (Nicholas Hellmuth with the iPhone Xs and Juan Pablo Fumagalli with the Google Pixel XL) then spent three days testing these telephones for panorama photography out in the Mayan rain forests of Central America. The stabilizer I bought turned out to be more harm than good; most brands hold the phone only horizontally and if vertically the camera lens should be in the middle, not on the left of the turning axis). So we got better panos with no stabilizer.
Click to enlarge
This panorama photo shows a unique morning glory vine eco-system on one side of Rio Ixtinto, not far from Topoxte Island, Lake Yaxha. Every inch of the ground and every bush is complete covered by morning glory vines. 98% are one species; 2% are a slightly different color (that we estimate may be a different species, or a variation).

Photograph by Juan Pablo Fumagalli taken with the Google Pixel 3 XL, as part of a test comparison between the iPhone Xs and Google Pixel 3 XL.

Parque Nacional Yaxha Nakum Naranjo, January 2019.
The iPhone Xs panos were awesome quality, as were those of the Google Pixel 3 XL. Benefit of the Google is that you can do two rows so you have a higher photograph. On our next field trip we will do more test panos to suggest various techniques: for example, is the resulting pano more sharp if the phone is on top of a tripod (even if you are turning it with your hand and not the tripod).
We would also like to compare the iPhone Xs, Google Pixel 3 XL with panos from a NOVOFLEX pano tripod head system featuring a Sony mirrorless camera: if you want to do a photo exhibit with your photos 2 meters high or 3 meters long, a smartphone is not yet there. GigaPan could do 10+ meters long, but the company went belly up in 2013 and the replacement battery chargers are utter low-bid junk. But as soon as we can find a battery charger (and batteries that hold the charge) we will also continue to utilize the GigaPan.
Click to enlarge
Panoramic photo by Juan Pablo Fumagalli taken with the Google Pixel.
But in the meantime, a Sony + NOVOFLEX panorama VR-System PRO II will allow us to document that "don't stop buying digital cameras just because the iPhone Xs and Google Pixel 3 XL are so easy to use." We started doing panorama photography with a BetterLight tri-linear scanner circa 1998: 29,000 individual pixel rows (because Photoshop in those days could not handle more than 30,000 pixels or whatever). We enlarged these to 5 meters long; other BetterLight photos we have enlarged to over 15 meters long (about 16 yards).
And don't forget medium format quality: Phase One with Capture One software. So as soon as we get more equipment we have the jungles of Guatemala waiting to be photographed (I first photographed these Mayan area rain forests in 1961 in Tabasco and Chiapas, Mexico; then 1963, 1964, and 1965 in Tikal, Peten, Guatemala: all with Leica in that century). At age 19 I was living in the rain forest for 12 straight months; at age 30-ish for several months each year for five years!
Apple iPhone Xs vs Google Pixel 3 XL Can mobile photo cameras beat point-and-shoot cameras?
Posted Jan. 8, 2019
Last year the Huawei P10 camera was so good we threw away our other phone brands. Then the Apple iPhone Xs came out: it was so good I threw away all my point-and-shoot cameras (literally).
Now the Huawei Mate 20 Pro is out, in theory with Leica lens quality. And our technology manager at FLAAR Mesoamerica, Paulo Núñez told me about the Google Pixel 3 XL. So our long-range goal is to test the Apple iPhone Xs vs Google Pixel 3 XL vs Huawei Mate 20 Pro (as soon as we have one available). In the meantime, here are samples of the Apple iPhone Xs vs Google Pixel 3 XL.
The photos are in the FLAAR Mayan Ethnobotanical Research Garden, Guatemala, Central America.
Presently we use the absolute top model of Nikon and the corresponding yet different top model of Canon. We would enjoy testing a Leaf or a Phase One medium format digital camera and Capture One software (as soon as these are available for long-term evaluation). But in the meantime, here are the mobile phones which are spelling the end for point-and-shoot cameras. That said, I would like to test a good solid Sony point-and-shoot with a nice telephoto capability: telephoto capability is weak on cell phone cameras.
Photo by Josefina showing the Google phone in use.
She used an iPhone 6.

Photo by Josefina with iPhone 6 showing the
iPhone Xs camera in use.
Photo by Josefina with iPhone 6 showing the
iPhone Xs camera in use.

Photo by Josefina showing the Google phone in use.
She used an iPhone 6.
To see complete comparison, click here.
To see results of plants taken with Nikon D810, Nikon D5, and Canon EOS 1DX Mark II, see: www.maya-ethnobotany.org and www.maya-archaeology.org.
To see photos of insects and waterbirds of the remote Mayan rain forest areas, taken with high-resolution cameras, see: www.Maya-ethnozoology.org.
Testing, evaluation & reviews on panorama tripod head equipment
Posted Dec. 27, 2018
During over 2 decades we have used and written reviews on digital photography camera and tripod heads for panorama photography. Now, in 2018 going into 2019, we are back in the world of panorama photography out in the tropical rain forests of Guatemala.
We are doing panoramas of the jungles that you see when you climb up the Mayan pyramids and temples. And we are doing panoramic photographs of the pyramid-temples, palaces, acropolises and plazas.
For all kinds of panorama photography it helps if you have appropriate equipment specifically made for achieving good panoramas (in other words, don't try to jerry-rig miscellaneous tripod heads if you wish to achieve serious panoramas).
We started this year with an aging but awesome GigaPan: impressive technology but the company collapsed in 2013 so the replacement batteries and replacement battery chargers are junk made in China. The original GigaPan was from NASA and Carnegie Mellon University, so remarkable technology.
Until we can get batteries which hold their charge, we are switching to L-shaped tripod head accessories. You need an L-bracket to hold your camera vertically.
If you have no L-bracket, your camera is horizontal so your panorama is too small top to bottom (unless you use a wide-angle lens which distorts everything you are trying to photograph).
Manfrotto 303PLUS panoramic photography head system using a Manfrotto 300N pan rotational unit. The sliding plates are to help you achieve nodal point positioning for your lens.

Into this Manfrotto 303PLUS panoramic photography tripod head we put the Bogen 3288 (Manfrotto 340) L-shaped bracket. This way the camera can be vertical to achieve an ample panoramic photo height without needed to use a lens so wide that it distorts everything.

Although this unit is solid enough to hold any DSLR camera, it is best if you have a mirrorless camera such as the Sony alpha series or the new Canon mirrorless or Nikon mirrorless systems. But none of these lightweight digital cameras existed with this Manfrotto panorama photo tripod head system was made.
Our present L-bracket system is the Bogen 3288 (Manfrotto 340) that we show here. At Photokina 2018 we spent time in the NOVOFLEX booth since they specialize in panoramic camera tripod head accessories. But since we do not have a NOVOFLEX L-bracket system yet, we are evaluating and writing about the Bogen 3288, Manfrotto 340 L-bracket on the Manfrotto 303PLUS panoramic photography tripod head system.
Here is the FLAAR Mesoamerica plant and animal photography team at Parque Nacional Yaxha Nakum Naranjo
Posted Nov. 28, 2018
Senaida (camera assistant on field trips and plant researcher and graphic designer back in main office), Gaby (camera assistant), Shaila (teaches us that kids also like to visit Yaxha), Ricardo (park ranger helps with equipment), Pedro (plant assistant and helps carry the equipment), Alex (park ranger) Teco (Moises Daniel, bird, orchid, and plant specialist at Yaxha for 16 years who also assists in carrying the equipment where 4WD can't pass), and a very happy Dr Nicholas since there are so many awesome vines, bushes, water plants, shore plants, giant trees, and photogenic mushrooms to learn about every day.
This national park is definitely worth visiting.
Our equipment consists of: Canon EOS 1D X Mark II camera, plus 5x macro and 180mm tele-macro lenses, plus 300mm telephoto. All eight are Canon lenses: we never use an after-market lens on our Canon.
Since we evaluate 35mm DSLR cameras it is essential that we have more than one brand, so we also have a Nikon D810 and Nikon D5 camera. We would like to try out Sony mirrorless cameras with their new SAL 500mm f/4.0G telephoto lens (since sometimes it's more more practical to hike long distances with no tripod; you can move the camera much faster if you don't have to set up a tripod. That said, we prefer to use tripods on 90% of our photography.
For lenses a wide variety including one Sigma, one Zeiss but alll telephoto lenses are solely Nikon for their quality:
Nikon AF-Micro-NIKKOR 200mm f/4D IF-ED Macro
Nikon AF-S NIKKOR 400mm f/2.8E FL ED VR
Nikon AF-S NIKKOR 600mm f/4e FL ED VR
Nikon AF-S NIKKOR 800mm f/5.6E FL ED VR with its dedicated Nikon AF-S
Teleconverter TC800-1.25E ED
We have Novoflex macro and panorama equipment (but would like to evaluate the L-positioned system of Novoflex).
We have a diverse range of macro lighting: three ring lights, and several other macro light systems.
We recently added a remarkable Broncolor Siros 800 L WiFi/RFS 2 with wireless accessory for the Nikon. If you are photographing orchids, bromeliads, or monkeys high in the jungle canopy this Swiss-made lighting is essential.
We have five Gitzo tripods; we use only Gitzo since they last for decades (some of ours are over 40 years old).
Plus of course we have light reflectors (but not much sunlight under the jungle canopy). We have plant clamps and a diverse range of accessories (since we have been doing this kind of photography for decades).
If you would like to learn from Professor Hellmuth in-person, if a donation can cover the cost of a one-week field trip for the FLAAR team, you are welcome to fly yourself down and join us. The hotel Ecolodge El Sombrero is at the entrance to the park and is comfy at a reasonable cost for you. We can explain how to get to Yaxha to join us. Donations to FLAAR are tax deductible.
We also do bird photography, focused on waterbirds of Lake Yaxha and adjacent Rio Ixtinto. Plus of course there is all the archaeology of Yaxha.
Sony was champion of Mirrorless cameras for years
Posted November 14, 2018
Now, with Mirrorless cameras from Nikon and Canon (visible to the world at Photokina 2018), what is the future for Sony mirrorless?
I started with Leica (in 1961) and kept using Leica cameras and Leitz lenses until 1990's. In those years Leica was 1000% better than any other brand.
But in subsequent years Nikon achieved professional quality, and I got a Nikon camera and 15mm wide-angle lens for less cost than just a Leitz 15mm lens. I now have Nikon D810 and Nikon D5: awesome digital technology for photographing birds-in-flight.
I did not sample a Canon until a few years ago; tried several models and now have a Canon EOS 1DX Mark II. To write honest reviews, you need to actually have more than one brand.
But any Canon camera and the Canon EF 180mm f/3.5L Macro USM lens requires a fork lift truck to carry: this lens alone "weighs a ton." So if I want to hike through the tropical jungles of Yaxha to photograph a bird or animal before it disappears, there is not time to set up a tripod. I need a camera and lens all together, ready to fire. The Canon is too heavy (even with a smaller camera, the lens is far far too heavy).
So the Sony 400mm f/2.8 GM OSS prime telephoto lens may cause me to stop using Canon cameras and Canon lenses the weight of a cement block, and jump to Sony, either an A7 III or the more elite Sony A9, or, the Sony A7R to capture 42.4 megapixels.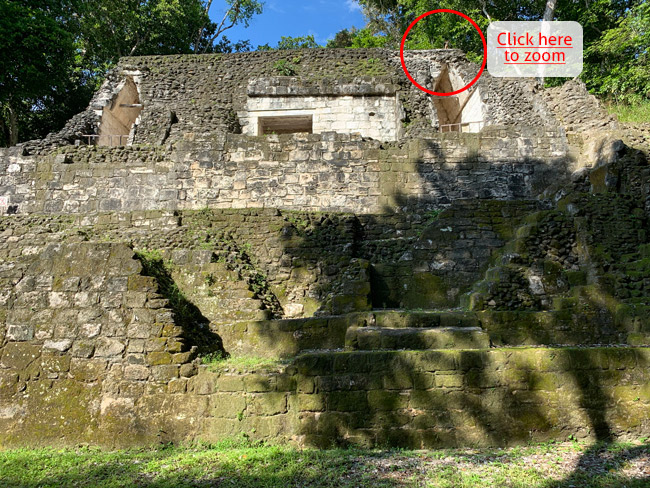 Click here to enlarge image.
Entire palace, with fox at upper right, iPhone
Last month, while walking through the 8th century Mayan palaces, pyramids, and temples of Yaxha (Peten, Guatemala), I noticed a cute fox resting on top of a palace, looking down at me.

I did a quick zoom with my iPhone Xs, and captured the second image.

BUT, if I had a Sony A7R and their new Sony 400mm f/2.8 GM OSS prime telephoto lens, I would have been able to capture an image of the fox at high resolution.

I lived at Yaxha for five years (while mapping the site 1970-1974) and then have been photographing for the park administration every month since August 2018. But this is the first time in half a century that I experienced a fox watching me. So a pity that I did not have a Sony mirrorless camera and their new lens.
As soon as a Sony mirrorless camera and the awesome 400 prime Sony telephoto lens is available, we can compare it with our older Nikon and Canon traditional cameras as we continue to do photography every month in Parque Nacional Yaxha Nakum Naranjo.
Bird photography tips on How to stop a bird in flight (with your camera)
Posted Nov. 2, 2018
This is a Snowy Egret, Egretta thula. Several are visible each month (August, September, October) that we have taken a boat tour of the south shore of Lake Yaxha (towards the islands of Cante, Topoxte, Paxte). We will be back in November, December, January and onward, to do more photography of the waterbirds of Parque Nacional Yaxha Naranjo Nakum.
To stop a bird in flight it helps significantly to have a camera that can utilize high ISO without making the photo fuzzy. It helps to have the speed at 1/2000th or up to 1/4000th of a second (which is why you need high ISO). Many birdwatchers use wide-open f/stop. I prefer at least f/8 or f/10.
It is also essential that burst speed shots does not slow down or even stop your camera processing system: Nikon D5 accepts only special memory cards made specifically for high speed. Canon EOS 1DX Mark II accepts one fast memory card but also one older style normal one. Helps to have a sturdy Gitzo tripod and a Wimberley WH-200 model gimbal head Version II.
Click here to enlarge image.
Photo by Nicholas Hellmuth, FLAAR, www.Maya-ethnozoology.org, Nikon D5, 800mm, f/5.6, 1/4000, ISO 500. Shot at burst speed. Since the bird was flying away from the camera I am not sure why it is even halfway still in focus. Our telephoto lenses are new and I am getting used to them.
There are enough waterbirds, shore birds, and of course toucans, raptors, parrots, hummingbirds at Parque Nacional Yaxha Naranjo Nakum to stay one or two nights. Ecolodge El Sombrero hotel is at park entrance and offers boat trips for bird watching (and to visit 8th-14th century Classic and Post Classic Mayan temples and palaces on Topoxte Island). Flowers of every size, shape, and color will be waiting for you to photograph along the shore (even aquatic orchids were flowering last week).
500mm, 600mm or 800mm prime telephoto lenses are best. Of course if you prefer just to enjoy seeing the birds then your binoculars are plenty to enjoy Lake Yaxha and Rio Ixtinto.
Gitzo G1548GT Mk2 Carbon Fiber tripod, via Manfrotto (The Vitec Group)
Posted Oct. 15, 2018
Click here to enlarge image.
Photo taken using Gitzo G1548GT Mk2 tripod. ISO 1250, 1/3200th second, f/4
Parque Nacional Yaxha Nakum Naranjo is a beautiful peaceful place to experience waterbirds, toucans, raptors, and my absolute favorite bird: the boat-billed heron. But for impressive majesty of a bird taking off in flight my favorite is the great white heron (seen here, above). This bird is also called the great white egret.
To achieve good bird photography it helps to have good equipment: solidly constructed (not low-bid cheap copy-cat). We use Nikon D5, Nikon AF-S Nikkor 600mm F/4E FL ED VR prime telephoto lens, Wimberley WH-200 Gimbal Head Version II on a Gitzo G1548GT Mk2 Carbon Fiber tripod, boat to cross Lake Yaxha courtesy of Ecolodge El Sombrero hotel, Yaxha, Peten, Guatemala.
To reach the birds so you can photograph them, a boat is essential; thus we appreciate that Gabriella, owner of the Ecolodge El Sombrero hotel, provided the boat, fuel, and boat captain to take us across the lake to get these great photos of the great white heron (also known as great white egret). Great hotel to stay at: www.elsombreroecolodge.com/en-us
50+ years ago, while a university student at Harvard I used a Tiltall tripod and Leica cameras.
40+ years ago I switched to Hasselblad cameras and experienced my first Gitzo tripod. Today, in 2018, we have three different models of Gitzo tripods. It helps to have a sturdy tripod to hold the weight of a Nikon D5 digital camera and the 600mm telephoto bird lens.
Click here to enlarge image. Here is the Gitzo tripod and Wimberley gimbal (and Nikon D5 camera with 600mm lens) that took the bird photo shown above.
The birds of Lake Yaxha are so photogenic it really helps to have appropriate equipment. You can frame your photos for your home, office, or for giclee fine art prints for friends.
This snapshot (with an iPhone Xs) shows the Gitzo G1548GT Mk2 Carbon Fiber tripod and the most recent model of the Wimberley WH-200 gimbal tripod head II, to hold the weight of a Nikon D5 (top of the Nikon line) and Nikon AF-S NIKKOR 600mm f/4E FL ED VR telephoto prime lens.
We are in Parque Nacional Yaxha Nakum Naranjo, making a photographic inventory (to donate to the park administrators and to Guatemalan botanists and zoologists) of all waterbirds in the park. We are also working in this lake, swamp, river, and hilly area to find and photograph pollinators and other important flora and fauna.
Consider visiting this awesome national park in Central America. I lived here for several months a year during 1970-1974 and now have returned to be here one week every month for an entire year (since different birds fly in, and different plants flower each month). We stay at the Ecolodge El Sombrero hotel, at the entrance to the park. Boats and information on bird-watching and Mayan archaeology information are available from Gabriella, the owner of the hotel (she has lived here for many decades so knows the orchids, birds, and archaeology of the entire Parque Nacional Yaxha Nakum Naranjo, including Topoxte Island).
Digital Photography Reviews "start" at Photokina 2018
Updated Oct. 1, 2018, First edition Posted Aug. 10, 2018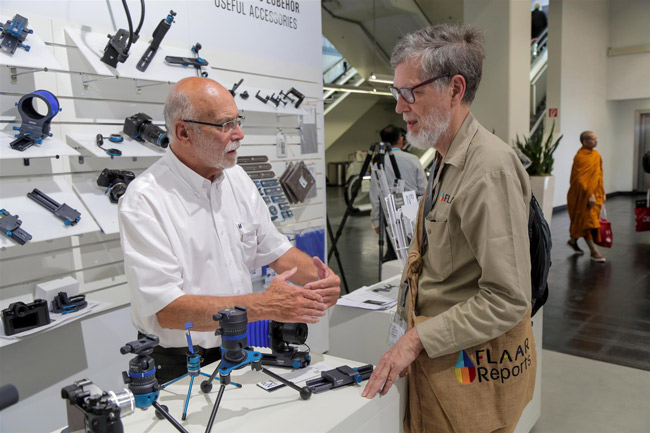 Dr Nicholas Hellmuth doing some research at Novoflex booth. Dr Hellmuth is heading the new photography project at Parque Nacional Yaxha Nakum Naranjo to document all the awesome plants and animals there.
Two days at Photokina 2018 (Sept 26 and 27) allowed two of us from FLAAR (USA) and FLAAR Mesoamerica (Guatemala) to learn a lot.
Dozens of brands were no longer present but if Elinchrom studio lighting booth was missing then I found everything I needed at the broncolor booth.
If Arca-Swiss was had no booth whatsoever exhibiting their over-engineered and frankly impractical tripod heads, then you can find plenty at the Novoflex booth.
I did miss the Seitz booth because I wanted to test their panorama system but Novoflex had plenty of different options. And of course all the giant brands were present: Canon, Nikon, Sony, Sigma and more.
Mirrorless cameras were everywhere, as were medium format digital options: more on all this in subsequent comments.
Click to enlarge Savage booth. We enjoyed visiting the booth of SAVAGE Universal Corporation; they continue to offer far more than their original backdrop material (which we have used and recommended for over 30+ years).
| | |
| --- | --- |
| | You can have as a free download our Photokina 2016 report with recomendations, comments and brands who were present. Also with photo studio equipment exhibited and digital camara reviews. |
Photographing a tiny bee with a 600mm lens?
Is this possible?
Posted May 8, 2018
While a guest at hotel Ecolodge El Sombrero, outside the nice park at Yaxha, Peten, Guatemala, I noticed that an allspice tree was flowering near the hotel restaurant. The leaves provide a tea that I am familiar with from having lived 6 years in Peten (12 months as student intern in archaeology at Tikal in 1965; 5 seasons during five years in 1970's as founder of the Projecto Yaxha which created the national park and mapped the Mayan ruins together with archaeologist Miguel Orrego).
Pimienta gorda is sold in all supermarkets in Guatemala and in most supermarkets in USA (as allspice, a single spice with flavors of multiple spices).
Since the trees were high, and since they were on the other side of the hotel garden, I decided to use a 600mm prime telephoto lens to capture images of the flowers. Much to my surprise, when we enlarged them there was a visible bee feeding on the flowers. Graphic designer at FLAAR, Melanny Quiñonez, noticed the bee and enlarged it so you can see it. I am surprised at the quality with the lens wide open at f/4.0. This is why it helps to have a sturdy Gitzo tripod with Wimberley WH-200 gimbal tripod head II.
Polaroid is comparable; another company has bought or licensed the old name. Polaroid had a booth of acceptable size and had the best design of a bag as a handlout.
Here is the full width and height of the photo. If you click on the ENLARGE button, you can see the bee. Nikon D5 camera, AF-S NIKKOR 600mm f/4E FL ED VR prime telephoto lens, ISO 1000, f/4.0, 1/1600 sec. Photo by Nicholas Hellmuth, FLAAR, www.maya-ethnozoology.org
The Parque Nacional Yaxha Nakum Naranjo is a great place to visit for both Mayan pyramids, temples, ballcourts, palaces, and sacbes, plus to experience majestic trees, vines, orchids, and birds. So great place for eco-tourism and birdwatching. To spend the night at the Ecolodge El Sombrero allows you to experience having howler monkeys doing their macho howling for you as a symphony with opera singer.
Photography Brands at CES 2018, Las Vegas
Posted Jan 12, 2018
Since the background of FLAAR is from the world of photography, I could not resist visiting CES 2018 to see what photography brands and products were available. Of course the real reason for visiting CES is to see and experience what will be new in the future. Nonetheless, I also still do digital photography of flowers, birds, landscapes, Mayan house architecture, cave formations, etc.
Canon and Nikon had large booths. Both Canon and Nikon booths had all their cameras and all their lenses. Although their booths at CES were not as large as at Photokina in Germany, their booths at CES were plenty big enough, and well staffed with hospitable helpful staff.
"Kodak" had two booths (in different halls); one two stories and of ample size. I say "Kodak" since many people feel that it is companies which have bought rights to the bankrupt name, but are not really the original Kodak other than the licensed name.
Polaroid is comparable; another company has bought or licensed the old name. Polaroid had a booth of acceptable size and had the best design of a bag as a handlout.
Tiffen is still the original Tiffen; they had a booth of all their brands: lowel lighting, STEADICAM, zing and lots more.
There were many booths with virtual reality equipment; the list above is for traditional photography brands. No Pentax, no Olympus, no Leica, no medium format (so no PhaseOne, no Hasselblad).
There were many booths with 360-degree cameras such as VUZE (Human Eyes).
During CES also had a meeting with a knowledgeable and experienced Photokina representative Darrin Stern, Director of New Business Development. I have attended Photokina since circa 1998 and feel there are literally thousands of people from USA, Canada and all Mexico, Central America and South America who should visit Photokina. But until there are FLAAR Reports documenting what there is to see and learn there, most of the visitors to Photokina are from Germany and nearby. We hope to change that.
CES, awesome for digital innovation, but zilch PMA@CES?
Posted Jan 3, 2018
FLAAR Reports also keeps track of digital technology trends, so will be at largest digital expo in the Americas, CES, next week, Las Vegas. Dr Nicholas will be studying 3D, VR; will also visit, HumanEyes, and much more.
I had hoped MASSIVit 3D printer company would have a booth; but did not yet find it in exhibitor list. But at least Artec 3D has a booth as do several other 3D companies.
Last time I was at CES was when PMA (photo expo) tried to wake up and survive as PMA@CES. But gradually PMA evaporated no matter what. The only digital photo related companies I found so far at CES are Canon, HumanEyes, Kodak, Manfrotto Distribution and Carl ZEISS (Zeiss Multimedia Devices).
All the more reason to attend Photokina in Cologne this autumn.
Surprised to see AnaJet in the exhibitor list since they have been missing from most sign expos since bought by Ricoh. Ricoh also listed.
I will also visit Indiegogo and Mattel.
Sun Innovations is listed; will be curious whether this is the once worldwide Russian printer and ink company of Novosibirsk.
Happy Holidays, December and January New Year 2018
Posted December 22, 2017
FLAAR Reports has two divisions; you are now on one of the web sites of the tropical Mesoamerica flora and fauna team. If you are interested in wide-format inkjet printers, we have an entire network to explain this technology: www.wide-format-printers.org
There is also a growing team of illustrators and graphic designers who do educational children's books (to show the world the remarkable plants and animals of 2000 years of Mayan civilization in Guatemala, Mexico, Belize, Honduras, and El Salvador).
To experience remarkable tropical flowers of Guatemala, enjoy our www.maya-ethnobotany.org.
To experience remarkable animals of Guatemala and mayan culture, enjoy our www.maya-ethnozoology.org.
To see our newly launched cartoon book web site, look at our www.mayan-characters-value-based-education.org. Here you can see a video of Dr Nicholas interacting with a 350 pound tapir and her spotted baby.
After testing Nikon 200mm, 400mm, and 600mm lenses
We are considering testing digiscoping system featuring Leica APO-Televid spotting scope models.
Posted July 26, 2017
We evaluate digital photography equipment for over a decade. Now we are ready to test and evaluate a digiscoping system because even a 400mm and 600mm prime telephoto lens can't capture a "close up" of a flower, rare tropical fruit, high up in a tree across a canyon!
Having experience with all three of these prime Nikkor telephoto lenses will allow us to more meaningfully evaluate a Leica digiscoping system. We waited since the ones available last year were not for full-frame format.
We have a Canon EOS 1DX Mark II, a Nikon D810 and a Nikon D5.
Zeiss Lens Hood problems, the Zeiss sun shade fails totally
Updated April 3, 2017
Posted January 5, 2017
I have a high respect for Zeiss lenses. The original Made in Germany Zeiss lenses for my Hasselblad ELX cameras still work today (more than I can say for these models which Hasselblad abandoned; can't even get batteries for them any more).
But Zeiss lenses, most of them at least, are no longer made in Germany (though fortunately not made in China). Kit lenses of Nikon, Made in Thailand six or more years ago, have been cheap junk, though professional Nikkor lenses Made in Japan last for decades.
The Zeiss lens shade for my relatively new Zeiss Makro-Planar 2/100 ZF.2 100mm lens no longer clicks into place on the lens. Nor does it click into place when you try to pack the lens away.
Not what I expect for Zeiss.
Zeiss Makro-Planar 2/100 ZF.2, serial # 15825847.
It is impossible to even tape the sun shade onto the lens since this lens has to turn when focusing (since all these Zeiss lenses are manual, not auto-focus).
I will be writing Zeiss today to ask for a replacement and filing a complaint in appropriate places because this is what you expect from a lens made cheaply. And not what I expect from a lens shade made in Japan either.
I assume it is something on the lens shade, but since I do all my photography in the jungles of Guatemala, it is not easy to return an item for repair, especially since I work as a consultant for wide-format inkjet printer trade shows in Shanghai, Istanbul, Dubai, and Johannesburg, plus was in Taipai last month (the Zeiss lens went to zero of these locations since I use my DSLR cameras only in Guatemala).
So I am almost never at my desk, but when I saw how many photographers had problems, this raised alarms. Thousands of people around the world read FLAAR reviews of digital equipment because we are not a commercial PR whatever, and we actually use the equipment we write about.
Since we do not ask for kickbacks, our readers realize they are more likely to get the truth from Dr Nicholas's comments than from a commercial blog.
FLAAR Mesoamerica has the honor to invite you to…
Posted Febraury 13, 2017
Plantas Comestibles Nutritivas para Mejorar Significativamente la Dieta y Salud de los Niños en las Zonas Rurales de Guatemala
This conference is made to present the importance of nutrition among Guatemalan children, especially in rural areas, and the health benefits that this can have in the Mayan society.
Useful items from Savage Universal Corp. can encourage a professional level of photography
Posted Dec 9, 2016
Here we are holding the newly arrived products from SAVAGE which we will evaluate.

Front left: Four Mayan-speaking student interns help us write children's books on the plants and animals of Guatemala. Twelve university students do the illustrations for the children's books. Dr Nicholas (Hellmuth, in the back), writes the storyboards (based on being in Guatemala over 54 years). Ten other staff work also work at FLAAR Reports main office including several photographers.
We saw Richard Pressman (Chairman) and Richard Memoli (VP Sales) in the booth at Photokina 2016. In previous years we have also met Syl Hank (President).
Here is the professionally designed booth at Photokina 2016. We at FLAAR have preferred the backdrop paper from SAVAGE for over 20 years.
We appreciate the shipment of Widetone Seamless backdrop paper from Savage Universal Corporation.
Plus two rolls of vinyl, a background material we have not used before. Some of the things we photograph are from the rivers or lakes, so paper gets stained with water. So we want to try vinyl in these situations.
Also we have received to evaluate the MacroART Variable Auto-Extension Tube, and the Macro ART Adjustable Dual Arm LED light system (two lights).
We will be posting more information on the advantages of this equipment during the coming year (2017). In the meantime, you can learn more about the diverse range of products available from Savage from their web site www.savageuniversal.com.
We also find it useful to visit their stand at photography trade shows; we recently were at their stand at Photokina 2016.
Most recently updated July 26, 2017.
Previously updated April 3 and January 5 ,2017.
Previously updated Feb. 13, 2017.
Previously updated December 9, 2016.

Architectural Photography
Special cameras for architectural photography
Digital infrared photography
B&W Digital Photography
Macro Photography
Underwater photography
Canon PowerShot D10 underwater
FLAAR Reports evaluate and review 35mm DSLR, compact digital cameras, and point-and-shoot-digital cameras for underwater photography. We comment on the underwater housings that were NOT satisfactory, as well as what better underwater housings we look forward to testing next.
Studio Flash & Portable Flash
Nicholas Hellmuth and his photography equipment evaluation teams will be testing portable flash in caves and out in the jungles of Guatemala, Central America. We have a preliminary report on studio flash and portable flash from Photokina 2010, but as soon as we acquire additional equipment, we will issue more test results as full-color FLAAR Reports.
Reviews on Large format Digital Camera Backs
Reviews on Studio and Portable Cameras to hold Medium Format Backs
Reviews on Medium Format Digital Backs
Reviews on 35mm Digital Cameras
Nikon D700, report coming next month from Jaime Leonardo
Canon Rebel T2i, report coming next month from Sofia Monzon
Nicholas Hellmuth with the FLAAR photographic equipment during the shooting session at La Ruta Maya Foundation.
FLAAR receives HP Z3200 ps Photography printer for review
We had an HP Z3100 but prefer to evaluate the more recent model, so we are now evaluating the HP Z3200.
To learn our comments, you can access the full-color PDF
Reviews begin of architectural cameras
For architectural cameras there is the Sinar arTec, Arca-Swiss, Alpa, Linhof TECHNO, Silvestri and several models from Cambo.
This week we visited Cambo camera world headquarters and inspected how these cameras are manufactured.
Photokina 2010 highlights reviewed
Three of us from FLAAAR were at Photokina and there are now five FLAAR Reports on all the digital cameras and studio equipment that we inspected.
Silvestri sends camera for review for 2011