Architectural Photography
Special cameras for architectural photography
Digital infrared photography
B&W Digital Photography
Macro Photography
Underwater photography
Canon PowerShot D10 underwater
FLAAR Reports evaluate and review 35mm DSLR, compact digital cameras, and point-and-shoot-digital cameras for underwater photography. We comment on the underwater housings that were NOT satisfactory, as well as what better underwater housings we look forward to testing next.
Studio Flash & Portable Flash
Nicholas Hellmuth and his photography equipment evaluation teams will be testing portable flash in caves and out in the jungles of Guatemala, Central America. We have a preliminary report on studio flash and portable flash from Photokina 2010, but as soon as we acquire additional equipment, we will issue more test results as full-color FLAAR Reports.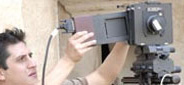 Reviews on Large format Digital Camera Backs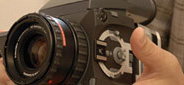 Reviews on Studio and Portable Cameras to hold Medium Format Backs
Reviews on Medium Format Digital Backs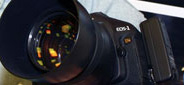 Reviews on 35mm Digital Cameras
Nikon D700, report coming next month from Jaime Leonardo
Canon Rebel T2i, report coming next month from Sofia Monzon

Nicholas Hellmuth with the FLAAR photographic equipment during the shooting session at La Ruta Maya Foundation.
FLAAR receives HP Z3200 ps Photography printer for review
We had an HP Z3100 but prefer to evaluate the more recent model, so we are now evaluating the HP Z3200.
To learn our comments, you can access the full-color PDF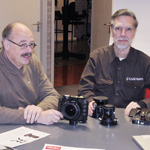 Reviews begin of architectural cameras
For architectural cameras there is the Sinar arTec, Arca-Swiss, Alpa, Linhof TECHNO, Silvestri and several models from Cambo.
This week we visited Cambo camera world headquarters and inspected how these cameras are manufactured.
Photokina 2010 highlights reviewed
Three of us from FLAAAR were at Photokina and there are now five FLAAR Reports on all the digital cameras and studio equipment that we inspected.
Silvestri sends camera for review for 2011