After testing Nikon 200mm, 400mm, and 600mm lenses
We are considering testing digiscoping system from SWAROVSKI OPTIK
Posted July 26, 2017
We evaluate digital photography equipment for over a decade. Now we are ready to test and evaluate a digiscoping system because even a 400mm and 600mm prime telephoto lens can't capture a "close up" of a flower, rare tropical fruit, high up in a tree across a canyon!
Having experience with all three of these prime Nikkor telephoto lenses will allow us to more meaningfully evaluate a SWAROVSKI OPTIK digiscoping system. We waited since the ones available last year were not for full-frame format.
We have a Canon EOS 1DX Mark II, a Nikon D810 and a Nikon D5.

Zeiss Lens Hood problems, the Zeiss sun shade fails totally
Updated April 3, 2017
Posted January 5, 2017
I have a high respect for Zeiss lenses. The original Made in Germany Zeiss lenses for my Hasselblad ELX cameras still work today (more than I can say for these models which Hasselblad abandoned; can't even get batteries for them any more).
But Zeiss lenses, most of them at least, are no longer made in Germany (though fortunately not made in China). Kit lenses of Nikon, Made in Thailand six or more years ago, have been cheap junk, though professional Nikkor lenses Made in Japan last for decades.
The Zeiss lens shade for my relatively new Zeiss Makro-Planar 2/100 ZF.2 100mm lens no longer clicks into place on the lens. Nor does it click into place when you try to pack the lens away.
Not what I expect for Zeiss.
Zeiss Makro-Planar 2/100 ZF.2, serial # 15825847.
It is impossible to even tape the sun shade onto the lens since this lens has to turn when focusing (since all these Zeiss lenses are manual, not auto-focus).
I will be writing Zeiss today to ask for a replacement and filing a complaint in appropriate places because this is what you expect from a lens made cheaply. And not what I expect from a lens shade made in Japan either.
I assume it is something on the lens shade, but since I do all my photography in the jungles of Guatemala, it is not easy to return an item for repair, especially since I work as a consultant for wide-format inkjet printer trade shows in Shanghai, Istanbul, Dubai, and Johannesburg, plus was in Taipai last month (the Zeiss lens went to zero of these locations since I use my DSLR cameras only in Guatemala).
So I am almost never at my desk, but when I saw how many photographers had problems, this raised alarms. Thousands of people around the world read FLAAR reviews of digital equipment because we are not a commercial PR whatever, and we actually use the equipment we write about.
Since we do not ask for kickbacks, our readers realize they are more likely to get the truth from Dr Nicholas's comments than from a commercial blog.

FLAAR Mesoamerica has the honor to invite you to…
Posted Febraury 13, 2017
Plantas Comestibles Nutritivas para Mejorar Significativamente la Dieta y Salud de los Niños en las Zonas Rurales de Guatemala
This conference is made to present the importance of nutrition among Guatemalan children, especially in rural areas, and the health benefits that this can have in the Mayan society.

Useful items from Savage Universal Corp. can encourage a professional level of photography
Posted Dec 9, 2016
Here we are holding the newly arrived products from SAVAGE which we will evaluate.

Front left: Four Mayan-speaking student interns help us write children's books on the plants and animals of Guatemala. Twelve university students do the illustrations for the children's books. Dr Nicholas (Hellmuth, in the back), writes the storyboards (based on being in Guatemala over 54 years). Ten other staff work also work at FLAAR Reports main office including several photographers.
We saw Richard Pressman (Chairman) and Richard Memoli (VP Sales) in the booth at Photokina 2016. In previous years we have also met Syl Hank (President).
Here is the professionally designed booth at Photokina 2016. We at FLAAR have preferred the backdrop paper from SAVAGE for over 20 years.
We appreciate the shipment of Widetone Seamless backdrop paper from Savage Universal Corporation.
Plus two rolls of vinyl, a background material we have not used before. Some of the things we photograph are from the rivers or lakes, so paper gets stained with water. So we want to try vinyl in these situations.
Also we have received to evaluate the MacroART Variable Auto-Extension Tube, and the Macro ART Adjustable Dual Arm LED light system (two lights).
We will be posting more information on the advantages of this equipment during the coming year (2017). In the meantime, you can learn more about the diverse range of products available from Savage from their web site www.savageuniversal.com.
We also find it useful to visit their stand at photography trade shows; we recently were at their stand at Photokina 2016.

Lexar memory card finally fails totally:
but kindly replaced by Lexar
Updated January 2017; first posted November 28, 2016
We have a nice 1000x (speed), 128GB, SDxc memory card from Lexar.
But the unLOCK button slides to LOCK position when we insert the card into the camera.
We have never had this problem with any other brand of memory card (as you can guess, we test cards of many brands).
At Photokina we noticed several other brands which we look forward to evaluating in the future.
If Lexar has a better card that they can send us, then we will give it a try. But in the meantime, I am really disappointed at this issue with this Lexar memory card.
Lexar did have the courtesy to send us a replacement card, and as soon as I fly to my USA office I will pick it up. Hopefully it will last an adequate time.

Dr. Nicholas and two assistants are attending Photokina 2016
Updated Oct 12, from original post August 8, 2016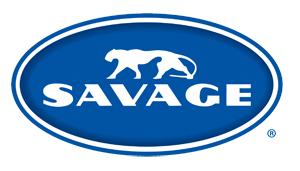 SAVAGE Universal had a nice booth filled with all kinds of products we have not noticed there in earlier years. We are interested in many of their new products. We will do a separate page on SAVAGE products as soon as possible.
SWAROVSKI OPTIK offers digiscoping combinations. In a few months they should have new models which we would like to evaluate for opening up potential new markets (more than bird photography). We feel that more photographers should learn the differences between a SWAROVSKI telescope on your camera compared to a normal telephoto lens.
The Leica and Sinar booth was hospitable. The new model of the Leica S system is a medium-format camera we could definitely compare with our past years experience with Hasselblad, Leaf, Phase One, and other high resolution cameras. Since we had attended three international trade shows before Photokina and attended two more after Photokina, the overall trip was about 46,000 miles (about 74,000 kilometers) of flights to three continents in just one month. But as soon as possible we will update pertinent pages on this digital photography site.
During early December we will take 15 of our staff in three 4WD vehicles to remote jungle-covered mountain areas of Guatemala. This would be a great place to test, evaluate and write reviews on the new products we saw at Photokina.
The FLAAR team of PRESS consists of Dr Nicholas, camera and photography editor Erick Flores, and camera and photography assistant editor Senaida Ba. Back in our home office there are about 25 of us on the FLAAR teams.

Photographing flowers with light-and-shadow style, using sunlight
Posted April 6, 2016
Cordia dodecandra, ciricote (pronounced more like siricote) is photogenic because of the potential of light-and-shadow.
Here we are far from civilization so there is no electricity for a portable studio. Although many flowers are best photographed with an overcast sky, this shape of flower is best in full sun. But you have to look for the best angle of the flower itself, and relative to light and shadow on the petals.
We at FLAAR specialize in photographing native Neotropical flowers of Guatemala. Nicholas Hellmuth has been visiting Guatemala since about age 17 or 18, circa 1963.
Every several years (over the last 10 years) we have refined our manner of photography. Dr Nicholas has his own style; Sofia Monzon has her different style. The photos from this week (April 2016) are NOT examples of fine art photograph style because the tree was so high we could not get the camera to see the front of the flower. We had to use a 200mm Nikkor lens; on a Nikon D810.
If the limb had been lower, we could have moved it and used a plant clamp to keep the flowers at the precise angle where the lighting is best. But in the meantime, at least the image we captured reveals the inherent natural beauty of this flower of the Mayan Lowland area of El Peten, Guatemala, en route to the Las Guacamayas Biological Station.

This is a "Photokina year"
Posted Jan. 5, 2016, to start the New Year.
Updated Jan. 6, 2016.
Because Photokina is still worth attending, it is not worth trying to find what is left of old PMA. In recent years, PMA@CES was, at best, only barely viable. CES by itself is worth attending, and so if you are already in Las Vegas, perhaps there may be a remnant of PMA. However the www.pmai.org web site is so non-functional I could not even find a link to PMA at CES 2016. But Nikon introduced their new D5 this week at CES (not a peep about PMA).
PhotoPlus (Photo East, or whatever it is called), we used to attend every year except in a Photokina year, since 90% of what is in New York is better at Photokina. But if you live in New York then obviously PhotoPlus is worth attending. And, there are some 10% of brands at PhotoPlus in New York which are absent at Cologne, or if present at Photokina have more exhibits near their hometown in New York.
Photokina is no longer what it used to be, in part because no more Kodak hall, no more flatbed scanner exhibits, no more major printer exhibits (some, but not what it was 10 years ago). Kodak barely exists and when they exhibit, not much is exciting any more.
Most photography products are now from China, and this has knocked many of the previous prestige brands out of business, such as sending Metz into bankruptcy. No battery made in China functions adequately in a Metz flash Made in Germany. The old Metz batteries (Made in Germany) held up for 10 to 20 years. Their batteries recently (Made in China) barely held up for 20 months!
And tripods have gotten cheap and rinky dink. Fortunately I still have my original Gitzo tripods, the high ones. I have used sequential models of Gitzo tripods for over 30 years. For lighting I switched from my favorite (Lowell) to fluorescent from Westcott (since flowers can't take the heat of tungsten halogen).
Nonetheless, for a serious photographer, whether pro, pro-sumer, hobby photographer, and especially if a student, we still recommend attending Photokina 2016. There is no photography trade show in China that comes close (for printers, nowadays APPPEXPO in Shanghai beats every other printer or signage expo for wide-format inkjet printers at introductory and mid-range). Plus, brands such as Phase One have awesome technology (I used to use only Hasselblad and Leica for decades; but I have not been inspired by either of these brands in the last ten years). My Nikon D812 achieves awesome results (although Phase One gray balance techniques are a thousand times better than anything offered by Canon or Nikon). Leaf was a brand that I enjoyed evaluating in past years, but have not had one now for many years.
I will also be curious to see what Sony offers at Photokina; not much new with Sony at CES 2016 this week.
So we hope to see you at Photokina 2016. Glasstek in Duesseldorf and a ceramic printer expo in Rimini, Italy are all the same week as Photokina. All three are worth attending. FLAAR Reports will be at all three.
In the meantime, we at FLAAR Reports will be issuing additional reviews of
• studio lighting (fluorescent vs tungsten halogen)
• ring-lights and other macro photography lighting
• light stands (high quality such as Avenger and Matthews C-Stands)
• Mirror-less cameras (such as Sony) compared with traditional DSLR
• 3D "scanning" techniques but using a normal DSLR camera

APPPEXPO 2016 in Shanghai, worth attending in March
Posted Dec. 20, 2015
FIVE of us will attend APPPEXPO 2016 in Shanghai. Yes, this printer & signage trade show has an exhibitor list big enough that we fly five FLAAR Reports evaluators to China.
Plus Shanghai is a beautiful peaceful city, so worth taking your employees (and your family) to visit. March 9, 10, 11, and 12, 2016.
For more information visit
www.apppexpo.com/index/2/EN

Once you have a great digital photograph
it helps to know all the options for wide-format enlargements
Posted August 5, 2015
Whether you do fine art photography, product photography, wedding photography, architectural photography, or any other theme, sooner or later you may wish to print your images in large format.
So it helps to learn about the different brands of printers. There is a lot more out there besides just Epson, HP and Canon. The best way to learn everything else which is available is to attend a signage expo, so two of us are flying to Istanbul this coming week.
Last week I attended another printer expo in Johannesburg (lecturing about printing on textiles).  You should experiment with having your fine art photos printed on silk or other fabrics. Just be aware that not all colors reproduce well on textiles. And areas in shadow or dark colors tend to lose detail. This is why we attend printer trade shows, to learn about different inks and different materials, far more than fine art canvas or photo paper!
You can also print your photographs on thick and rigid material, and you can do a pseudo 3D printing also (we have FLAAR Reports on many aspects of 3D printing).
We hope to see you at Sign Istanbul 2015, 10-13 September, visible on www.IFO.com.tr or www.SignIstanbul.com.

SIGGRAPH 2015 is essential for students and faculty in addition to all individuals working in computer graphics
Posted June 16, 2015
Already twelve years ago FLAAR was invited to SIGGRAPH (2003), we exhibited in the guerilla studio. However this was not a commercial exhibit, this was an educational display to show our tests, evaluations, and review articles which we write.
And over half a million people read our press reports on wide-format inkjet printers, inks, substrates, and software.
Now, with an additional decade of experience, we will be attending SIGGRAPH to write about it so our almost half a million people a year (who read our reports on digital photography equipment) can learn about SIGGRAPH.
SIGGRAPH 2015,
conferences, 9-13 August 2015
Exhibition, 11-13-August 2015
Melanny Quinonez has been researching and writing about Wacom pen tablets and Andrea Mendoza has researched information related to 3D technologies.

Best 400mm prime telephoto lens? Nikon or Canon?
Posted May 25, 2015
Sorry Sigma and Tamron, but we have had bad experiences over the years and no longer test these brands (sorry, we do not receive kickbacks via sales commissions, so we don't push every brand just to get money (we have no spouse or children to support as seemingly do other camera PR people)).
Nikon or Canon for telephoto; and Schneider for normal lens sizes (Zeiss has not received good reviews recently, much to our surprise). We would also consider testing a Sony lens (if we had a Sony camera to use it on).
So now we test the high-end of 400mm telephoto lens, Nikon AF-S NIKKOR 400mm f/2.8E FL ED VR. It costs more than the normal Nikon 400mm and Canon 400mm if bought together!
Here is the lens being unpacked. We take the lens to the Cuchumatanes mountains of Highland Guatemala tomorrow morning, in a 4WD pickup, to photograph flowers. Yes, flowers, not birds.
We at FLAAR (Reports) evaluation institute do unique applications. Telephoto lenses are made for sports and birds. We will use test this lens for bird species of rivers, lakes, and both oceans of Guatemala later. But this week we focus on Magnolia quetzal species, a hard-to-find magnolia flower. This is not the garden variety magnolia of Florida or the rest of Southern USA.
As soon as we can test a Canon 300mm, 400mm, 500mm, or 600mm lens we will do so. To pay for the Nikon lens we will do a crowd-funding project (in the meantime, since our proposal is not yet posted, donations are welcomed at FrontDesk "at" FLAAR.org).
A review is more honest if we pay for the lens we are evaluating.
Here is Nicholas Hellmuth holding the new Nikkor Nikon AF-S NIKKOR 400mm f/2.8E FL ED VR prime telephoto lens which we just obtained for review for bird and flower photography in Guatemala. Photo assistant, Josefina Sequen, is at the right.
You can check our review on the Nikkor Nikon AF-S NIKKOR 400mm f/2.8E FL ED VR prime telephoto lens here, and our www.maya-ethnobotany.org page in wich we cover the Magnolia Quetzal using the Nikon 400mm Lens


Triple Level Sensors encourage misleading advertising claims
Posted March 19, 2015
The Foveon three-layer DSLR sensor a decade ago gushed out more PR releases than any other digital product of its time. Only Memjet (MEMS printheads) outdid Foveon on inflated claims.
We tested one of the early generation SIGMA cameras with a Foveon sensor (a decade ago) and found the color was inadequate and in general the results were not impressive. I would estimate that in the subsequent ten years they have improved all aspects, but any claim that a three-level sensor produces an image of huge megapixel size varies from ridiculous to dubious.
Already in 2013 there were news releases about 75 megapixel multi-layer sensors. But and If this is a triple-level sensor, then divide the silly exaggerated number by three and you find out that this is at most a 25 megapixel sensor exaggerated by 300 percent. So let us hope that the new 50 megapixel sensor is really one single layer at 50 megapixels, and not a PR exaggeration.
I can symphonize Canon desire to compete with Phase One, Leaf, and what is left of Hasselblad. 50 years ago I began using a Leica; then I moved up to Hasselblad, and from that to 4x5 Linhof and Cambo and then 8x10 Linhof.
In the digital world I have used medium format for many years: it is ironic that Kodak was an exceptional medium format back (the company was a disaster but their backs were great). I have used Leaf and Phase One and Hasselblad backs. These images blew away anything you could do with a Leica of past years. And Phase One and Leaf today, I am as content with them as with 4x5 Linhof, Rodenstock and Schneider lenses of 25 years ago.
I am content with my Nikon D800E and Canon EOS 1Ds Mark III because we do only macro photography (of flowers and insects), and only for web pages and PDFs. At this small size their quality is awesome (www.maya-ethnobotany.org shows examples with both).
But, sorry, if you do landscape or architectural photography, or photograph for billboards, I would definitely prefer a Phase One IQ160 or Leaf Credo 50.
Once it is clearly and openly stated who makes the sensor of the Canon EOS 5Ds and whether it is a traditional sensor or a multi-layer sensor, then I can update my comments. Presently the spec sheet says High-sensitivity, high-resolution, large single-plate CMOS sensor. I sure hope "single plate" is a single level sensor. If so, then this is acceptable as a true 50 megapixel sensor. But even with this, it will be tough for Canon (or Nikon) to beat Phase One and Leaf on overall hardware and software (such as Capture One).

Drones for doing photography of trees and archaeology
Posted Jan. 19, 2015
Although we could not inspect drones at CES 2015 (since FLAAR works in Dubai at SGI (aka Sign Middle East) the same week each year), we did inspect drones at Photokina 2014 in Cologne, Germany.
Now we are initiating long-term evaluation of drones and especially the cameras they carry. This past weekend we brought in an experienced drone pilot, Juan Carlos Fernandez, who used his drone to photograph giant Ceiba pentandra trees and the beautiful yellow flowers of palo blanco trees Tabebuia donnell-smithii in the Costa Sur area of Guatemala (not far from the Pacific Ocean, in Central America).
Once I saw the results on a full size Mac computer monitor, I immediately realized that the distortion of these ultra-wide-angle style drone cameras was not the kind needed for scientific measurement.
Here is a photograph of a Palo Blanco Tree, Tabebuia donnell-smithii, Photographed with a Phantom Vision Drone
The photos accomplished by Juan Carlos from the drone were spectacular but the lens is too wide-angle (because the standard cameras are for bikers and hikers, not for botanists or archaeologists).
We will now do further research to learn which drones and which cameras can provide results which are comparable to normal DSLR or even point-and-shoot digital cameras.
If you wish a drone to impress friends and relatives, any normal drone and its "GoPro" kind of camera is great. If you need drone services in Guatemala we recommend Juan Carlos Fernandez. And if you need to see considerable areas from above, the normal style drones are fine.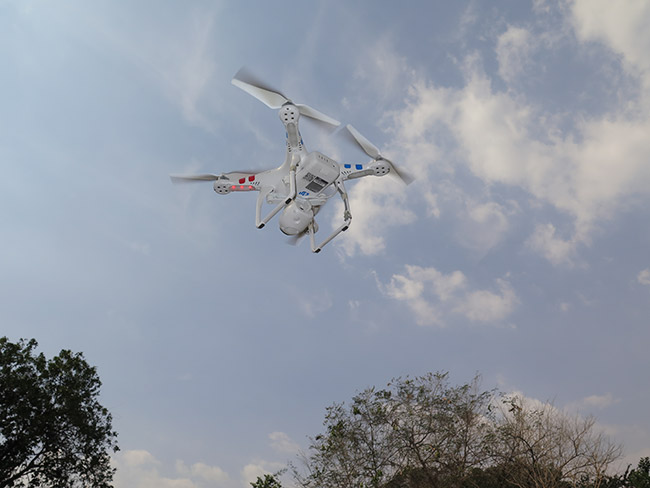 The drone, a Phantom Vision in action during our field trip.
But if you seek to do 3D imaging, or any kind of measurement, the cameras on normal drones are too wide-angle (far too much circular distortion).
As time and funding permits, we will be updating our evaluations of drones and GoPro-like cameras. Our goal is to assist botanists, agronomists, zoologists, archaeologists, and others who need images from above. By providing our evaluations we can save you lots of your funds to help you avoid buying an inappropriate technology (both of drone and camera).



The digital photography equipment with problems, of recent years
Posted Jan. 2, 2015
Canon G16 (now about a year old) takes great photos, except when there is anything pure white or bright in the image. Then the photo varies between weird and unusable.

Canon G16 is tooooo sloowww to take a photo and even more slow to take a second image (same issue as G1x).
If you want what may be a pseudo-review or a sham-review, go to any of the top sites which push you to buy cameras so they can get a kickback sales commission.

If they actually really used the camera out in the real world, that helps (but does not always keep the "review" from being a sham or pseudo-review (which is most easily defined as a way to encourage you to buy so they get sales commission).

How many other supposed review web sites report the issues about these two Canon cameras?

How many review sites warned the world of the quirks and problems of the Canon 100-400 telephoto (we hope the new model of 2014 is better)?

Worst, most inadequate products of the last two years
Posted Jan. 2, 2015
The PLAMP from Wimberley, about three years ago was the worst product I have been stuck with for the past decades. Now they seem to have a newer model (perhaps they listened to my comments when I wrote them, but so far they have not had the courtesy of sending me any replacements).

The plant clamps from a competing company were also inadequate.

Why do all the commercial "review" sites not mention these problems?

Most defective polarizing filters of the last 20 years
Posted January 2, 2015
TWO of our expensive B+W polarizing filters both have a pool of gunk which developed in the middle. We will try to take a photo and show this. But at least these B+W filters did not totally fall apart as did our CALUMET MC 72mm Circular polarizer, with a JAPAN name on it, suggesting it is made in Japan.

Since many used filters are sold on e-Bay, we hope it helps to know what brands and products fall apart or get pools of gunk in the middle.

Yes, these filters are many years old. But yes, they were EXPENSIVE and were brand names we are supposed to trust. I will do my best to find time to see if B+W will replace it, since Made in Germany should mean quality for at least 30 to 40 years (Leicas lasted a long time in the old days). Not one of my Zeiss lenses (the ones Made In Germany) fell apart; all still work even after 40 years of international travel.

For 2014 we will have reviews on nice products (Westcott fluorescent lights, for example) but over the last five years, one by one, the once independent photo review sites all switched to become commercial. We understand this (spouses and children are expensive, as is life in general). But we prefer to help photographers know what equipment to avoid, based on actually using it.

Reviews of point-and-shoot digital cameras: Canon Powershot G1X
Updated Jan. 2, 2015, first posted Jan 2, 2013
We also continue to write about the better point-and-shoot digital cameras. The Canon Powershot G1X was by far the best we have found so far, but it is verrrryyy slow: slow to take the photo after you press the button. And even more time delay before you can take the next shot.
A friend in Italy bought a G1X because we told him we liked it, but he found it so slow that he gave it away to someone else and bought a mirrorless Sony or comparable.
This is the difference between a sham review (a faux review) which merely wants to collect a commission on click-through sales. Sorry, we do not sell cameras. So we tell the truth.
But, as long as you do not need to photograph sports, the resulting photos are so good they rarely require much Photoshop work. The results of this camera are the best of any point-and-shoot I have had since the 1990's.

But by now in 2015, the GIX is rather worn out. We got a G16 which is also too slow and had many glitches after we had it about 8 months. We are tempted to stop getting Canon point-and-shoot cameras and moving  perhaps to Sony or Nikon.
We at the FLAAR digital imaging research institute will be issuing lots of new reviews on this digital camera review website this year (2015).

To help photographers make their buying decisions for Christmas 2014
First posted December. 2014
To help photographers decide what is good to consider all during 2015, Nicholas Hellmuth and the FLAAR Reports team of photographers and graphic designers are preparing new series of reviews of camera equipment.
Digital photography camera, lens, and lighting equipment reviews for 2015
Products available from Manfrotto Distribution

Reviews, evaluations, recommendations for studio lighting, fluorescent vs tungsten halogen.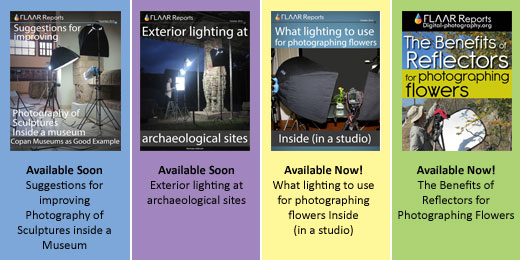 FLAAR digital photography camera equipment reviews for 2015
Based on what we saw at Photokina 2014 plus our own experience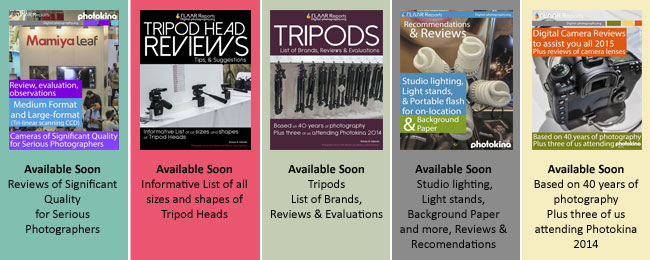 Photokina 2014 continues to be #1 photo expo worldwide
Updated Sept. 16, first day of Photokina
First posted Sept 2, 2014
After a week covering Sign Istanbul in Turkey, we flew direct to Cologne, Germany. The first day at Photokina was very busy: lots of visitors.
Yes, Photokina is smaller every year as companies like Kodak have only a tiny booth: six years ago Kodak occupied an entire hall. But Photokina still has no equal anywhere for the world of digital photography.

At Photokina we will be looking at:


• Large-format digital camera systems: other than scanning for giclee, how can these cameras compete with medium format and good "35mm" high-res DSLR cameras?
• Large-format camera bodies for holding medium format or even for holding DSLR cameras, such as Sinar, Cambo, Alpa, etc.
• Medium-format digital camera systems. Eight years ago Sinar was king, but so much has changed. Who is king now? Phase One or Hasselblad? Who else is a competitor? Eight years ago Leaf was awesome. Ten years ago even Heidelberg had a medium format digital back. We have tested Kodak's medium format digital back many years ago. Lots have changed, but medium format is still more sophisticated than DSLR size.
• 35mm DSLR cameras with high-resolution and professional quality.
• telephoto lenses for bird and other long-distance photography
• bird-watching telescopes which can also be used as telephoto lenses for bird photography
• studio lighting equipment
• portable lighting equipment
• underwater cameras (and cases for using normal cameras underwater) (we study water lilies in jungle rivers of Guatemala; and the PhD dissertation of the FLAAR director was on underwater cosmology and iconography of the Mayan civilization 300 BC to AD 900).
• drones and comparable modern technology (to photograph remote jungle areas including deep cenote-like cave entrances and volcanic cones (we have four volcanos visible from our office windows).
• 3D scanning capability, including 3D imaging software but using your normal DSLR camera (and needing only one camera, not dozens or even two separate cameras).

Photographers around the world have purchased hundreds of thousands of dollars worth of digital photography and lighting equipment and tripods on the basis of FLAAR Reviews because we actually use the cameras we evaluate.

Content farms merely copy-and-paste from PR releases and just want to profit from your purchases. FLAAR does not accept sales commissions (and we definitely do not accept PR releases).

FLAAR was one of the few web sites in the world which does not suck up to camera manufacturers. Content farms claim every lens and all cameras are great.... and want you to buy them to earn a sales commission.

No, sorry, this is not appropriate. Many lens are cheap junk (most Nikkor lenses made in Thailand several years ago are a good example of inadequate quality).

Some camera manufacturers could be cheating on their claims for megapixel size: Sigma multiplies their megapixel size 300% ! Their megapixel size is tiny so they use the three layers (red, blue, and green) to allow them to multiple the pixel size by 3X.

And some accessories break quickly: Plamps from Wimberley have an engineering inadequacy and potentially cheap components and break during use. Since we respect the renown of their gimbal tripod heads for birdwatchers, we are surprised they can't make a plant clamp that does not fall apart.

We are proud to provide photographers around the world with actual documentation of which camera products are good (we use Gitzo tripods and WJ Westcott studio lighting every week), and which brands and specific equipment is inadequate.

We have over 40 years of photography experience so can document, for example, that Metz flash equipment can last several decades.


A place for everything you wish to experience for photo printing
Updated April 27,2014. First Posted April 4, 2014
The entire system of FLAAR Reports began with evaluating cameras and lenses and tripods.
Then in 1997 we began to evaluate printers to print digital images.
By 2001 the FLAAR style of writing realistic evaluations (instead of silly PR claims) became sufficiently popular that we received a grant for five years.
The grant over the five years resulted in over a million people a year reading our digital printer and photo evaluations being read.
Yes, this is not a camera expo, this is a printer expo, and mostly for signage. But if you are a photographer or into fine art giclee, we highly recommend attending APPPEXPO in Shanghai. To get an attendee pass, sign up and register here: www.apppexpo.com/2/EN/Visitor
Below are the new FLAAR Reports related with "what to expect" at APPPEXPO 2014
Besides, Shanghai is worth the trip just to enjoy photographing the modern architecture and the traditional historical architecture.
Below are the new LAAR Reports in spanish related with "what to expect" at APPPEXPO 2014

To experience new ways to print photos, consider ISA 2014
Updated April 21, 2014
First posted Dec 13, 2013
Although this is named ISA International Sign Expo it covers a lot more than signage. You can find manufacturers and distributors of art canvas and photo papers.
Plus, nowadays you can print your photos in raised relief, like a stained glass window. Or you can print your photos on metal, wood, ceramic, or stone.
You can have your photos decorate honeycomb sandwich board to create life-sized 3-dimensional "sculptures".
FLAAR has reports on each aspect of all this. And at ISA you can see and experience all the exciting new ink chemistries and unusual printable substrates.
www.SignExpo.org is their web site, definitely worth visiting.
So we hope to visit you at ISA in 2014 in friendly Orlando, Florida.

MORE PROBLEMS with my Nikon D800E
Posted Feb 13, 2013
Serious vignetting on right side (not as much on left side) with Nikkor AF-S Micro 60mm 1:2.8 G ED lens.
Why does Nikon work so hard to create so many issues and thereby suggest that people should buy a Canon EOS instead of a Nikon?
Also battery cover fell off: this is the cheapest designed and cheapest  made Nikon I have had in 40 years of photography.
A shame, since the photo quality of images is awesome; as good as a Phase One P25+. But with the vignetting the results of the Nikon look cheap. I will see if this is some undesired software setting that was turned on my mistake.

Evaluation & digital photography review projects for 2013
Posted Jan. 14, 2013
Below is a list of equipment we are interested in receiving for evaluation in 2013
studio lighting equipment: fluorescent & tungsten halogen.
studio light stands: pro quality.
backdrops, especially background paper (and vinyl for wet things).
tripods, especially tall tripods (for photographing things high in trees).
Low tripods (for doing macro close-ups of ants, scorpions, tarantulas).
memory cards (CF size and SD cards).
500mm, 600mm, 800mm telephoto lenses.
firing multiple flashes simumtanously (mainly out in the field).
telephoto flash accessories (for projecting flash in bird photography).
underwater cameras (point-and-shoot).
underwater housings for DSLR cameras.
wide angle photography (architecture, eco-systems).
panorama photography (Guatemala is our favorite place for this).
carrying cases (especially weather and dust-proof cases).
gigs for holding DSRL video systems.
studio lighting equipment: fluorescent & tungsten halogen.
studio light stands: pro quality.
backdrops, especially background paper (and vinyl for wet things).
tripods, especially tall tripods (for photographing things high in trees).
Low tripods (for doing macro close-ups of ants, scorpions, tarantulas).
memory cards (CF size and SD cards).
500mm, 600mm, 800mm telephoto lenses.
firing multiple flashes simumtanously (mainly out in the field).
telephoto flash accessories (for projecting flash in bird photography).
underwater cameras (point-and-shoot).
underwater housings for DSLR cameras.
wide angle photography (architecture, eco-systems).
panorama photography (Guatemala is our favorite place for this).
carrying cases (especially weather and dust-proof cases).
gigs for holding DSRL video systems.
We specialize in evaluating digital cameras and studio photography equipment also out on location photography. Our evalutions and reviews of digital camera equipment are related to:
Architectural photography (Hellmuth family background via HOK Architects).
Landscape photography (Ozark Mountain area, and all of Mesoamerica).
Panoramic photography.
Eco-system photography: swamps, tropical rain forests, deserts, volcanos (Guatemala has every eco-system except glaciers!).
Bird photography (imagine the gorgeous birds in Central America).
Arachnids (spiders, scorpions), Amblypygids (my favorite).
Bees, especially the friendly stingless bees (Meliponia).
Lightning bugs, especially the giant ones the size of a healthy cockroach.
Butterflies (we raise several species already).
Reptiles, especially crocodilians and venomous snakes (worshipped as deities by the Maya and Aztec for millenia).
Other reptiles: turtles, especially sea turtles and snapping turtles.
Amphibians, especially remarkable toxic toads (not the dart frogs of South America, but the toxic toads of Guatemala).
Shellfish, crustaceans and mollusk (again, pictured in murals and mythology a thousand years ago).
Felines (jaguars, pumas, margay, jaguarundi, etc).
Bats (especially vampire and one other absolutely even more deadly incredible bat of Guatemala; plus necter-feeding bats).
Tropical flowers (especially those eaten, used as flavorings for cacao a thousand years ago, and/or sacred flowers).
Tobacco and all other plants smoked by Aztec and Maya (sorry, we do not test their chemicals; we only photograph their awesome flowers).
Plants which produce natural organic dye for native cotton (for Maya clothing).

PMA@CES 2013 and CES 2013
Posted Jan. 7, 2013. Updated Jan. 11, 2013; updated Feb 6, 2013
PMA is working hard to recuperate from the downsizing of the PMA expo which so many of us photographers are used to from the 1990's and early 2000's.
We looked forward to bringing to the thousands of photographers who read our digital camera reviews news from PMA@CES 2013. But what we found was that many booths of camera companies were not in the PMA section whatsoever: Nikon and many others were far away in the main CES halls.
It was nice to see the new lighting equipment of Lowel, in the booth of Tiffen. I visited this booth twice, because both Lowel and Tiffen are well known names in the photo equipment industry.
Since we already have Canon EOS 1Ds Mark III and a Nikon D800E, I spent time in the Pentax booth to inspect their medium format, and their DSLR camera, as we are looking for a DSLR+telephoto lens to test for bird photography.
We visited easyCover Cameracase, a rubber-like outer shell to put around your Canon or Nikon. It works on all entry-level and mid-range DSLR cameras of the two brands.
Since Hoodman was not present, we visited SanDisk and Lexar.
Manfrotto Distribution had a hotel suite office, which I was able to reach a few minutes before the expo closed on the last day. I like Gitzo tripods and Manfrotto tripod heads (plus Avenger light stands and other great products).
What was left in the PMA section was rather modest. It looked no better than 2012, and actually had fewer booths.
Attendance at PMA was most politely described as barely present, which is a surprise since less than 100 meters away over 150,000 people are attending CES.
Although thousands of products are at CES 2013, we at FLAAR Reports look for practical equipment, which is useful to graphic designers, photographers, and illustrators. We have enjoyed seeing Wacom at Photokina every two years, and at other expos, and now at CES 2013. We will have a web page on these products later this month, and hope to begin evaluating Wacom tablets with review articles by February.
But it was great to see the booth of SAVAGE backdrops. They have several innovative new products. We will be updating our discussions of SAVAGE products during March and April this year.
From PMA we flew to Dubai, where FLAAR is a consultant to the organizers of that expo. We are also consultants to organizers of digital printing expos in Istanbul, Johannesburg and USA, and we are VIP guests at digital printing technology expos in China.

Latest digital SLR camera reviews: Nikon D800E issues
Posted Jan 2, 2013 Updated Jan 11, 2013, Updated again Jan 16, 2012
The Nikon D800E has been a disappointment so far. It feels flimsy; it feels cheap.
Sorry, even though I tend to have better experience with Nikon cameras than Canon (over the last 20 years), the blunt truth is that the Canon EOS 1Ds Mark III is so good that it will be tough for another camera to impress me (except for a Hasselblad or Phase One medium format: they are light-years ahead in quality, especially with CaptureOne software; though my older version Capture One crashes several times a day).
The Nikon D800E finally (after less than 20 hours using it) refused to accept a CF card. All our CF cards work just fine with our Canon and Phase One (sorry, can't blame this on the CF card).
We sent the camera back to Nikon and we will request a full refund, including shipping, if we don't receive a complete NEW replacement camera.
So far Nikon of course has not responded. No surprise (though it is an international holiday period). Finally we learned that it took FIVE WORKING DAYS for the camera to get from receipt (on Jan 2nd) to them sending an acknowledgement (Jan 9th). So an entire week was lost within Nikon Inc repair facility.
Since I liked my Nikon D100, Nikon D200, and Nikon D300, and since the original Canon EOS 5D was a clunker, and one of the subsequent Canon EOS 1-something or other could not focus in the dark (unfortunately I was in a huge cave in Serbia for the test field trip), I was hoping to find a great Nikon.
I visited the Nikon booth at CES and the polite person in the booth said that I should not have expected a camera anywhere near the solid build quality of the Canon EOS 1Ds Mark III from a Nikon D800E. At least he was honest.
I telephoned Nikon repair department, stunned that that it took one week to get from receipt desk to repair desk. Finally they let me speak to a manger.
48 hours later the camera came back to me by FedEx or UPS overnight delivery, in time for my flight to Dubai, so I will praise their manager staff.
Now I will see how the camera functions out in the real world once I get back to Guatemala (where we do our evaluations, since I have all my Canon equipment for the assignments in Dubai).

Photokina 2012
Cologne, Germany
Updated on Sept. 18, 2012. First posted Sept. 17, 2012.
Nicholas and Sofia were in Cologne, Germany, taking notes on what we saw at Photokina 2012. We already have a new Canon 1GX (to see if it is a good compact camera) and we have our own new Nikon D800E (to check out DSLR and video capability).
Our main interest was to see how medium-format digital backs are holding up to increased megapixel sizes claimed by Nikon. We at FLAAR Reports use both medium format digital backs, Canon EOS and Nikon D-series cameras.
We avoid being sham-reviewers or pseudo-reviewers. FLAAR Reports actually uses the cameras which we write about (and we do not get kick-backs or even sales commissions). We do not get click-thru kick-backs either.
If you want a review which is merely a PR trick pretending to be a "review" then the FLAAR Reports is not the place to be. Sorry, we are photographers (research photographers), not a commercial sales front.
Precisely because FLAAR Reports are truthful, people notice what we write. We love Photokina, but, wow, the expo really shrunk, and some halls look semi-abandoned (Hall 6) and Hall 5.1 looked like a cheap half-empty basement.
Being low-bid getting rid of carpets in the aisle makes the place look cheap (and abandoned). Making aisles double width and triple width merely reminded you that the exhibitor list shrunk (entire Manfrotto Gitzo booth has disappeared from Hall 9; maybe it is elsewhere?).
Hall 2.1 still had the glory of the Photokina of the last 14 years, but Hall 1 seems to have disappeared totally.
We found lots to see and learn about, but the organization sure has fallen. Zilch in Cologne airport to welcome people. Very sad. We will work hard to find what is still worthwhile seeing at Photokina 2012, but really was a shock to see how pathetic some halls have become. Fortunately a few halls are still vibrant (and the expo is larger than PMA@CES + PhotoPlus (PhotoEast) put together. But definitely needs something to improve the perception.

Exhibit of digital photographs of FLAAR
posted Sept 24, 2012
An exhibit of about 75 photographs of Nicholas Hellmuth and Sofia Monzon show sacred tropical flowers of Guatemala. This beauty of the gorgeous flowers is revealed with impressive photographs taken with Canon and Hasselblad cameras, mostly at 21 megapixels.
You can see this exhibit at the Missouri Botanical Garden in St Louis, or in the FLAAR Reports which are being issued this week.

Most recently updated March 14, 2012. First posted March 5, 2012. Updated March 6, 2012.
During 2012 we will be evaluating water-based photo printers from HP, Canon, and Epson. The goal is to assist our over 496,000 readers (per year) to see better the pros and cons of HP Designjet, Canon iPF, and Epson Stylus Pro printers. We now have a list of all the Canon iPF imagePROGRAF printers of the last ten years. We also have a list of all Epson printers of the last twelve years (on our sister site, www.FineArtGicleePrinters.org). And, since we prefer to cover all three brands of aqueous printers with equal coverage, we have a list of all HP Designjet printers of the past fifteen years (on our web site devoted to water-based printers, www.wide-format-printers.org).
Here is a photograph of Dr Nicholas inspecting a recent-model printer at Graphics of the Americas expo, Miami, March 1-3, 2012. Two weeks later he was in Beijing inspecting additional models of Epson Stylus Pro printers which are available primarily only in China.

PHOTOKINA 2012, yes, "it's a PHOTOKINA Year"
Photokina is held every two years, in the autumn, in beautiful Cologne, Germany.
FLAAR photographer Eduardo Sacayon had an exhibit there last year and perhaps we at FLAAR may exhibit again.

I have faithfully attended Photokina every two years since 1998, and I look forward to attending again.
We recommend this Photokina 2012 expo for:
Pro photographers
Pro-sumer photographers
Hobby photographers
Beginner photographers
Students
Distributors of photo equipment
Manufacturers of photo equipment
Individuals in the inkjet printing industry (printers, inks, media)

We look forward to seeing the exhibitor list Photokina 2012 and I am looking forward to seeing all the equipment and all the exhibits.


PMA@CES
PMA is co-located with CES in Las Vegas
First posted 26 Sept 2011
Updated Jan 10, 2012; updated Jan 16, 2012; updated Jan 30, 2012.

I enjoyed PMA for many years, but too many trade show organizations did not provide adequate events as the Internet took over the role of display for products. If you can see everything on the Internet, why go to a trade show if it is dull and boring.


What sealed the fate of PMA was selecting Anaheim as location and then Epson pulling out one year and then Canon pulling out the next year. I stopped even looking at what was left of their exhibitor list.


Evidently enough people at PMA woke up to reality and they did what other floundering trade shows are doing: co-locating. So, PMA@CES is attempting to be relevant.
Sadly the PMA exhibitor list on their (inadequate) web site the days before the expo opened was so short I could hardly believe this was the PMA that I used to visit year after year. Major manufacturers are simply not present. I was really surprised and totally disappointed.
Plus photo related exhibitors which are present (either at CES or PMA locations) were either not listed at all or poorly listed.
But there were several items of photography equipment that I wished to evaluate and write reviews on, so now I am at PMA. I will try to find something nice to say about the expo (though there is no signage to guide you through The Venetian complex for PMA whatsoever, zilch. As if PMA does not want to exist). Even inside The Venetian, supposedly where PMA is supposed to be, there were no directional signs to PMA.
| | |
| --- | --- |
| | Available next week |
But once I eventually found the area of PMA, it was nicely organized inside (even if not in the catalog and especially not on any web site). I saw lots of colleagues and had many informative discussions. Met owners and managers of several new companies.
Plus I visited key booths of photo equipment in the CES area several miles away from The Venetian (at the Las Vegas Convention Center) such as Manfrotto. I enjoyed stopping at the CELESTRON booth, to see their impressive telescope that can take a digital camera.
Four FLAAR Reports will result: a free download on camera equipment at PMA + at CES; free download of general comments on CES; and a special consulting report for trade show organizers who would like to learn how to avoid the issues (one on PMA@CES; the other consulting PDF on CES by itself), headaches, problems, omissions, inadequacies that were so glaring at CES. All four should be ready by Friday this week. You can order the report on how to improve management of your trade show by writing FrontDesk "at" FLAAR.org. The other two reports will be free downloads as soon as they are finished.

Digital photography is alive and well at PhotoPlus in New York
First posted November 3, 2011

Daniela and Nicholas spent two days at PhotoPlus in NY. A surprise blizzard dumped so much snow on New York the third day, we were stuck out at the NY Botanical Garden and never made it back to the city in time to get to the third day of the photo show.
The FLAAR Report on tripods, tripod heads, digital cameras, accessories exhibited at PhotoPlus will be out this coming week.

PhotoPlus 2011 exhibitor list in New York
First posted 26 Sept 2011
Last year was a Photokina Year, so I skipped PhotoPlus. But in 2011, there is no Photokina, so it's good to visit PhotoPlus in New York. So I will be at PhotoPlus 2011 together with biologist and student photographer Daniela Da'Costa. I am curious what I will find in the PhotoPlus 2011 exhibitor list.

Most recently updated March 19, 2015.
Previously updated January 19 and 2nd, 2015.
Previously updated December 2, 2014; September 16, 2 and April 21, 2014.
Previously updated Feb. 13, Jan. 16, Jan. 14, Jan. 2, 2013,
Previously updated March 5, January 3, 2012, September 26, 2011 and September 12, 2011.
Updated frequently during 2001-2010.
Architectural Photography
Special cameras for architectural photography
Digital infrared photography
B&W Digital Photography
Macro Photography
Underwater photography
Canon PowerShot D10 underwater
FLAAR Reports evaluate and review 35mm DSLR, compact digital cameras, and point-and-shoot-digital cameras for underwater photography. We comment on the underwater housings that were NOT satisfactory, as well as what better underwater housings we look forward to testing next.
Studio Flash & Portable Flash
Nicholas Hellmuth and his photography equipment evaluation teams will be testing portable flash in caves and out in the jungles of Guatemala, Central America. We have a preliminary report on studio flash and portable flash from Photokina 2010, but as soon as we acquire additional equipment, we will issue more test results as full-color FLAAR Reports.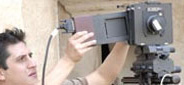 Reviews on Large format Digital Camera Backs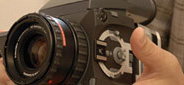 Reviews on Studio and Portable Cameras to hold Medium Format Backs
Reviews on Medium Format Digital Backs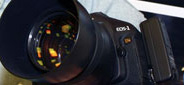 Reviews on 35mm Digital Cameras
Nikon D700, report coming next month from Jaime Leonardo
Canon Rebel T2i, report coming next month from Sofia Monzon

Nicholas Hellmuth with the FLAAR photographic equipment during the shooting session at La Ruta Maya Foundation.
FLAAR receives HP Z3200 ps Photography printer for review
We had an HP Z3100 but prefer to evaluate the more recent model, so we are now evaluating the HP Z3200.
To learn our comments, you can access the full-color PDF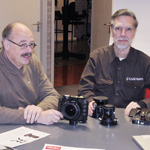 Reviews begin of architectural cameras
For architectural cameras there is the Sinar arTec, Arca-Swiss, Alpa, Linhof TECHNO, Silvestri and several models from Cambo.
This week we visited Cambo camera world headquarters and inspected how these cameras are manufactured.
Photokina 2010 highlights reviewed
Three of us from FLAAAR were at Photokina and there are now five FLAAR Reports on all the digital cameras and studio equipment that we inspected.
Silvestri sends camera for review for 2011